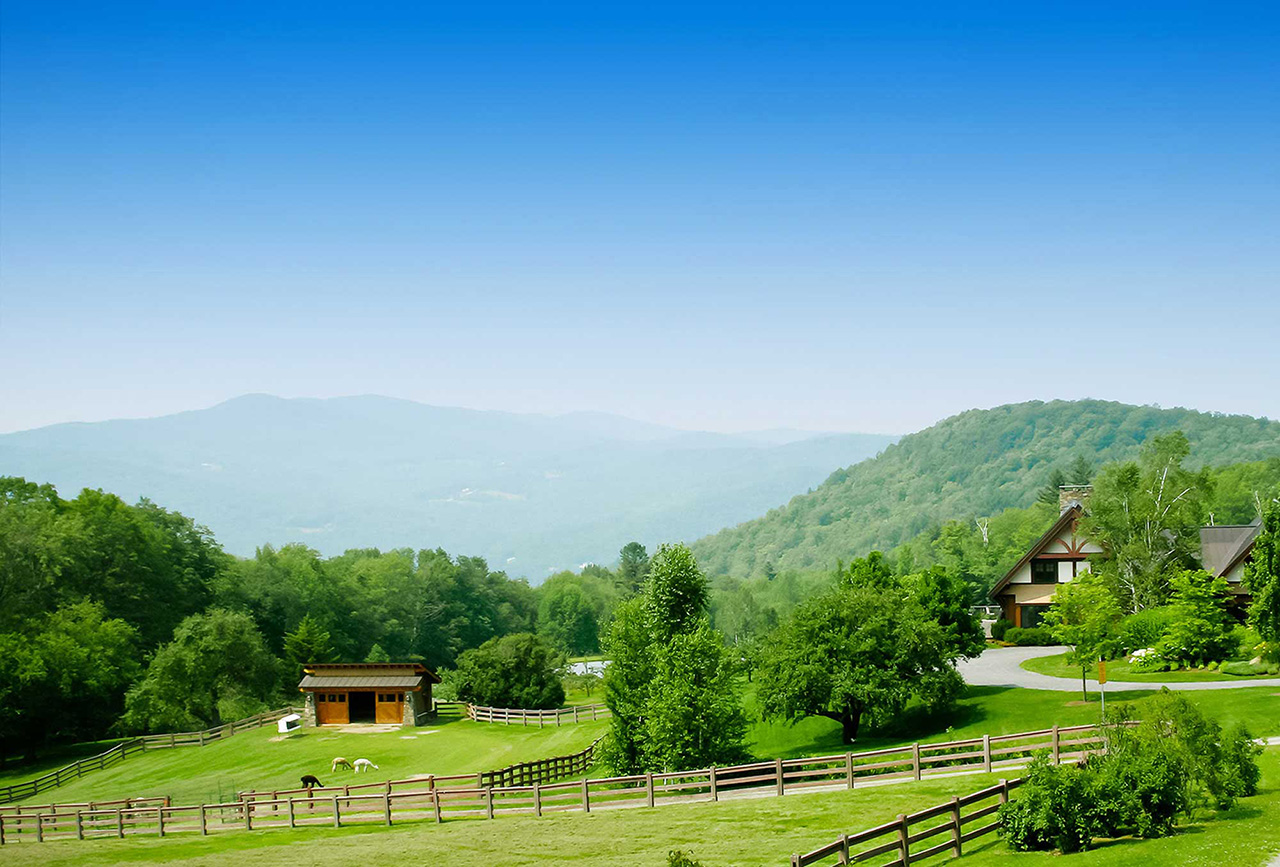 When the phone rang in early March, a family from New York with two young kids was looking for an immediate rental in Vermont where they could find what was desperately lacking in the locked-down city: landscape-scale social distance. The family isn't going back. They're now looking to buy something permanent in the corner of Vermont where they sought refuge. They are not alone. Anecdotal and hard data points to an out-migration of urban residents that we haven't seen in recent memory after decades of densification of urban living. In a recent New York Times article, FlatRate Moving reported a 78% increase in moves from NYC to CT, a 48% increase to Long Island, and 38% to NJ from March 15 to April 28 compared to 2019. Our internal web and social traffic has shown a significant increase in buyer interest with remote properties like Taylor Farm and marketing campaigns on Kingdom Properties receiving the most traffic.
By all measures, the New England residential market is down across the board with inventory and sales off -25% to -40% year-over-year since late March, depending on location. But a strange thing has happened along the way. The buyer pool appears to have dropped by a smaller percentage, say -15% to -20% by some measures (Redfin buyer activity data), and not at all by other measures (mortgage applications up for six consecutive weeks and +6.7% higher than a year ago). The 10% to 20% spread between buyer demand and seller supply is shaping the market in ways that may seem counter-intuitive amidst a global pandemic, stay-at-home orders, and record unemployment claims.

For the seven counties that make up Eastern Massachusetts, the story is one that began with a housing shortage before the pandemic hit. For the last seven weeks, available inventory has ranged from -25% to -36% below the 2019 inventory levels for the same period. Another indicator of the current seller market is the low percentage of price changes relative to total sales year-over-year. As of May 22, 2019, 41% of year-to-date sales had price changes, whereas in 2020 only 26% of year-to-date sales had price changes. The bottom line: sellers aren't budging on prices, not with more buyers than available houses.
More broadly across New England, the problem is similar but with the added catalyst of the Covid diaspora leaving New York, Boston, and other cities for a rural work-from-home, quality-of-life existence. With more buyers than sellers, multiple bids are not uncommon. Compounding the problem is a lack of new inventory to replace the homes that sell, go under contract, or come off the market. The two accompanying charts of new listings and pending sales across our New England markets show a snapshot of the gap in the trajectories of supply (new listings) and demand (pending sales). The highest increases in new listings are in seasonal markets where late May and June are the traditional starts of their peak selling seasons. In the primary home markets around Boston, Rhode Island, and Southern New Hampshire, the new listings are not keeping pace with the cumulative loss of inventory through sales, contracts, or cancelations.
The residential housing market is looking like the bright spot in this otherwise bleak economic landscape. It has the potential to lead the way to a broader recovery into 2021. After the Great Recession in 2008 and 2009, suburban markets with long commutes and empty nests fell out of favor. Rural living lacked amenities and proximity to employment centers for office workers. Instead, buyers wanted the convenience and vibrancy of the urban markets with dining, entertainment, and proximity to all the services they need. Covid-19 has shifted the housing calculus. LandVest brokers from Coastal Maine to the Adirondacks to Monument Street in Concord, Massachusetts are hearing from buyers looking to find homes with more interior space for kids and work-from-home routines and access to outdoor amenities like trails, parks, and farmland.
With historically low-interest rates, and historically high personal savings and credit scores, this recession is not like the ones that have come before. We went into this with strong economic fundamentals by almost all measures. The reshaping of the residential housing market may have a lot to say about what the economy looks like on the other side.
If you're contemplating a change in your live-work-play balance and want to know more about New England real estate, reach out to one of our expert brokers or check out one of these great properties.
Slater W. Anderson is the Managing Director of Real Estate at LandVest, Inc. and can be reached by email at sanderson@landvest.com.
Header Image: Greenrange Farm