How Superlative Wisdom and Utmost Dedication Achieve Clientele Needs for the Long Run
The Commonwealth of Pennsylvania is known for its 86,000 milesi of streams and rivers within its borders, and cares deeply about preserving the quality of them. Here at LandVest, we share that passion and commitment to protecting water resources for the public and our clients. However, streams can create access challenges when they intersect forestland. Sedimentation, erosion, and changes to streamflow can occur when heavy equipment crosses streams, while stream crossing structures can cost clients large sums of money.
The LandVest Ridgway, Pennsylvania staff experienced this exact scenario when approximately 400 acres of a forested property currently managed for a client in Southwestern PA could only be accessed through an existing ford through Rummel Run. The current crossing site needs to be upgraded to prevent road and stream degradation during upcoming timber harvests.
With the abundant permitting and watershed management knowledge that Kate Morgan, Environmental Specialist, possesses, this hindrance to some was only a small bump in the road for the LandVest Ridgway team.
Located in East Wheatfield and Jackson Townships, the Vintondale tract, a 900-acre forest owned by N.E.R. Timberlands LLC and managed by LandVest, is a high-quality Allegheny Hardwood forest dominated by mature red maple, black cherry, and miscellaneous hardwoods. This contiguous forest is encumbered by a conservation easement and is certified to the Forest Stewardship Council® Forest Management and Chain of Custody Standards – FSC® C120428, requiring the land stewards to comply with principles and standards LandVest Timberland Division has upheld on its clients' properties for decades. Coinciding with the codes of these agreements, through sound management, LandVest foresters aim to maintain and improve this working forest by following a ten-year forest management plan prepared by LandVest.
Initially, a bridge crossing was considered;  however, bridge construction requires significant excavation of the stream banks, a build-up of the roadbed on each side, and substantial capital investment. Knowing the client's desire for an economically efficient and low-maintenance solution for the long run, Kate thought of upgrading the existing ford. Ford crossings are often avoided because they involve driving straight through watercourses. Kate's understanding of the site conditions and knowledge of applicable federal and state regulations made this a viable option. A traditional stone upgrade to the ford was considered, but the periodic maintenance requirements and costs eliminated this as a viable option. Kate determined that installing Flexamat® Plus, a tied concrete block mat that includes an underlayment made from recycled soda bottlesii, would achieve the aforementioned objectives, ultimately saving N.E.R. Timberlands tens of thousands of dollars, and require significantly less design effort compared to a concrete and steel bridge. She first heard of the product during an engaging presentation at the 2018 Elk and Cameron County Best Management Practices (BMPs) Workshop, which she participated in and helped coordinate during her time as an Assistant District Manager for the Cameron County Conservation District. Flexamat® is not only economical, but it strengthens the existing ford crossing by stabilizing the stream bed without impacting stream flow dynamics, does not alter thermal regimes, and construction can be completed in only a few days' time.
A Flexamat® engineer calculated the specifications, factoring in future log truck traffic and site conditions Kate gathered during a visit to the stream crossing location. She noted the drainage area, annual precipitation, the percentage forested in the watershed above the ford, and utilized the USGS program Stream Stats to gain a better grasp of the drainage characteristics.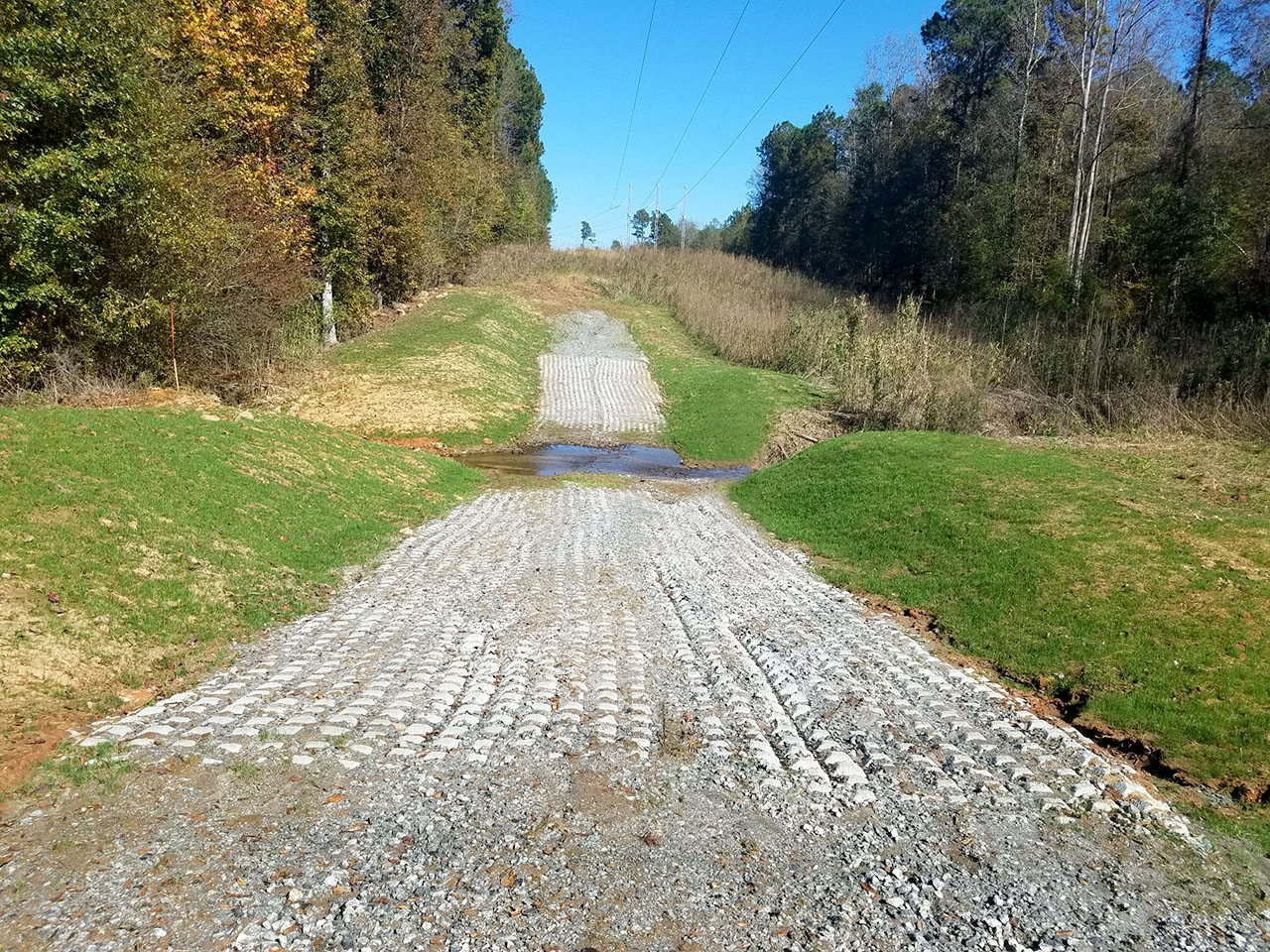 Before the 50'x16' Flexamat® Plus roll installation commences, BMP's will be constructed making the crossing as durable as possible while simultaneously limiting stream disturbance. During low-flow conditions, a temporary sandbag dam will be installed upstream to manage clean water unimpacted by the instream, excavation activities. This water will bypass the excavation at the ford crossing before re-entering the stream channel well below the project area. Additionally, a pumped water filter bag will be available onsite to treat any sediment-laden water that could develop at the excavation site. After the BMPs are installed, the crossing site will be excavated and the Flexamat® Plus will be installed over a stable stone foundation along with an aggregate base. After the Flexamat® Plus is trenched and anchored and level with the streambed, BMPs used during the construction process will be removed. The entire construction process will only take a few days, but the crossing will be able to endure log truck traffic without the need for longstanding regular maintenance. Kate will be on site throughout the construction process ensuring the ford upgrades are completed properly, protecting stream quality and guaranteeing the client is receiving the utmost quality service. The crossing site will then be inspected periodically to ensure continued functionality.
Innovative thinking, unparalleled experience, attention to detail, fiscal responsibility and environmental consciousness combined to develop a solution for this challenging situation. This is just one of many examples of LandVest's dedication to exceeding clients' expectations and employing exemplary forest management to sustain healthy, productive forests, wildlife habitat and local, regional and global economies.
Author's note: Stay tuned for future updates on the progress and results of this exciting project.
---
iShader, N. (2018, January 25). DEP Integrated Water Quality Report Approved by U.S. EPA. Retrieved February 26, 2020, from https://www.media.pa.gov/pages/DEP_details.aspx?newsid=940
ii"Types of Flexamat, Options, Customize Flexamat." Flexamat, 7 June 2019, www.flexamat.com/technical-information/types-of-flexamat.