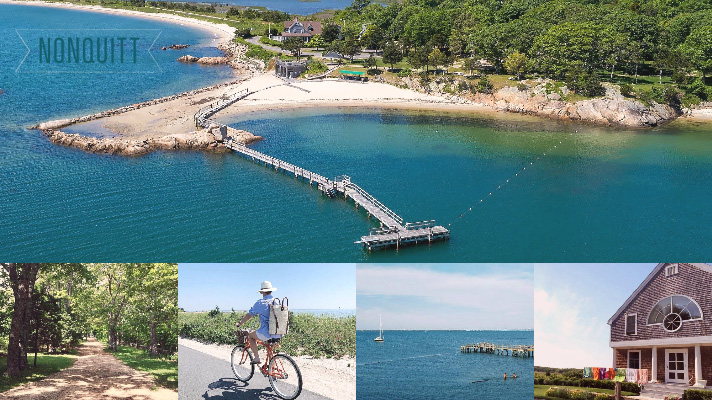 Tucked away around several coves along Dartmouth's coast, is the little-known beach community called Nonquitt. It was founded in the late 1800s as an artist's colony. Inspired by the tranquil and understated elegance of the natural landscape, Nonquitt has long been a destination for families from Boston, New York, Philadelphia and Providence. Many of these original homes pass from one generation to the next or are sold from within. Properties offered on the open market are a rare opportunity to buy into the exclusive community.
Amidst the 455-acre gated enclave, you will find three sandy beaches, a nine-hole golf course with no tee-times, six tennis courts, its own little post office, The Casino, and a community center. Wildflowers mark the waterfront landscape, and bike paths are well-worn from decades of leisurely exploration. The architecture is primarily gambrel and gingerbread-style cedar-shingled homes that were not winterized, as residents typically arrived at the start of summer and left before Labor Day, but modern Nonquitt properties are suitable for year-round living.
One such year-round resident is LandVest luxury real estate agent, Betsy Lawrence. She recently listed 5 King Philip Street in Nonquitt. We were able to get from her, her top 5 things she loves about the property and Nonquitt:
5 King Street has a great, Great Room. Mahogany ceiling, radiant heat, and balcony overlooking it!
Steps from the 6 tennis courts and 9 holes of Nonquitt golf, the Post Office, and the Casino.
Tons of storage throughout including a huge, very dry basement suitable for finishing.
The barn – great for storage, Ping-Pong table, and also has many possibilities for future expansion.
Built in 2012, the property has modern amenities, but looks like an historic Nonquitt house that's been here forever!
Today, Nonquitt is largely inhabited by families, unlikely to discuss one of New England's best-kept secrets. But if you're curious, and want to see this place for yourself, you'll have to obtain a personal invitation from a resident – or the resident real estate agent.
For more info on 5 King Philip Street or for other Nonquitt listings, contact Betsy Lawrence, blawrence@landvest.com.
Images sourced from Halsey Fulton and Nonquitt Instagram