Market Highlights
HIGH-END $2,000,000+ MARKET HIGHLIGHTS
Inventory up 3% (193 vs 187 last year).
Sales volume up 5% (record 117 vs record 111 last year).
Top sale: Crocker's Path, East Dennis, $19,250,000. LandVest Record Sale
LandVest's markets continue to perform strongly with significant record sales.
In 2019, strong inventory and demand suggest a balanced market, but buyers at the high-end continue to be value-conscious and have little tolerance for compromise. As usual, special properties expertly presented, reaching out to a broad market with a strong value proposition, will be well-received by the market.
---
Active Listings
At the end of 2019, the high-end inventory was increased 3% to 193 listings compared to 187 last year and the record of 232 listings in 2015. Historically speaking, the inventory is on par with the ten-year average of 199 listings.
---
High-End Sales
Record performance in 2019 with 117 sales, up 5% from last year's record of 111 sales and the ten-year average of 87 sales. The Cape high-end market has been strong since 2012, breaking the annual 100 sales barrier for the first time in 2018. This record performance in sales, the booming stock market (Dow Jones US Total Stock Market Index up 31%), historically low-interest rates (three interest rate reductions in 2019), and strong consumer confidence (Conference Board Consumer Confidence Index) bode well for another record year for high-end real estate on Cape Cod. On the other hand, climate change is likely to have increasing negative effects on the market, especially vulnerable coastal properties. It will be interesting to see how climate risk impacts property values, both on the negative side and also on the positive.
---
Year End – Top Sale
Property: Crocker's Path • Town: East Dennis • Selling price: $19,250,000
LandVest Record Sale: 62-acre waterfront compound with 3 dwellings, barn with apartment, and 3 building lots. All-time record in Dennis and on Cape Cod Bay, Cape Cod record for 2019, and second highest sale ever on Cape Cod.
---
Highest & Median Sale
---
Days on Market
Days on market for high-end sales in 2019 increased 6% to 345 from 324 last year, but below the ten-year average of 382. The high mark of 421 days on market was set in 2010, while the low mark was 319 days in 2012. The range of days on market for these sales in 2019 is remarkably wide from 1 day to more than 10 years.


---
Sales by Town
In 2019, all 15 towns on Cape Cod had sales at or above the $2,000,000+ level. Barnstable is the leader with 23 sales and a ten-year average of 22 sales. Within Barnstable, Osterville accounted for 12 of these sales. Chatham followed with 21 sales and a ten-year average of 19 sales and Falmouth had 19 sales, up significantly from its ten-year average of 12 sales. Mashpee and Orleans have smaller sales volumes but are performing at record levels with 11 and 9 sales respectively.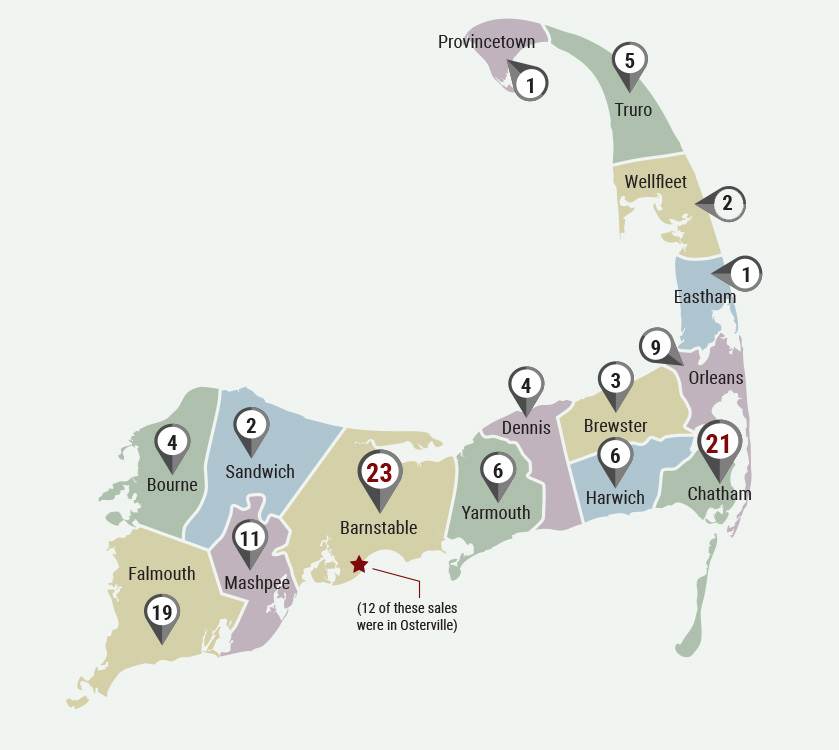 Sea Winds Falmouth | $3,900,000
East Dennis Waterfront Compound East Dennis, | $19,250,000
Main Street Development OpportunityChatham, MA | $3,950,000
---
For additional information about LandVest's brokerage, real estate consulting, and appraisal services, please contact:
Stewart Young | syoung@landvest.com | 617-359-8930 or
Jamie Crowley | jcrowley@landvest.com | 508-982-4029
Click here to to see available Cape Cod Real Estate listings.