Deep in what is now forest past our property in the early/mid-19th century, there was a village and workshops, the cellar holes of which can be found off the trails that run toward Reading, Vermont.  In the early to mid-20th century, the area around the house, on the other side of Darling Road, was high summer pasture.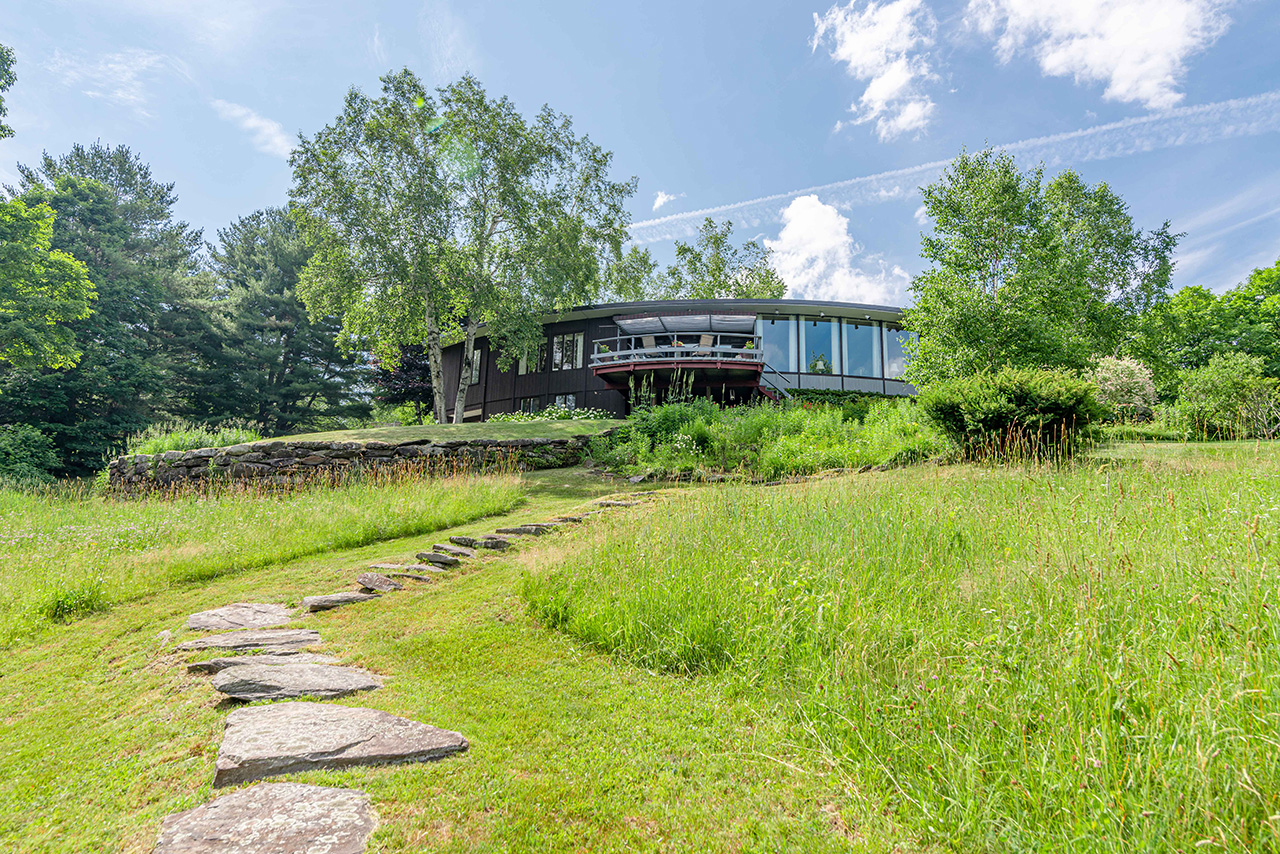 The family that built High Riding was the first to live on the top of the hill since the 19th century. They had a wonderful vision to see what the view could be. It was at first a weekend home.  Then they added to it and it became their primary residence.  Initially, the driveway came straight from Darling Road.  A Princeton classmate and friend of theirs who lived across the valley and was well known for his classic horse and carriage driving (he stabled at the Queen's stables in London and drove the Queen Mother to Ascot), found it difficult to turn around in a straight driveway — so they changed it to create the circle in front of the house.
The architect of High Riding— Harvey Stevenson — was NYC Mayor Fiorello LaGuardia's "chief architect."  If NYC had been attacked during WWII, he's the person who would have decided which damaged building would be repaired and which would be torn down. Fortunately, he didn't have much to do.
Stevenson was integral to the design and building of the East River Drive/FDR Highway, with its gentle curves. We've always thought that might have inspired the curved structure of High Riding.  We've been told that Max Boynton was the premier builder in Woodstock in his day.  Certainly, the curving walls must have been a challenge and required highly skilled craftspeople.  The quality of the materials used, and landscaping reflects an extraordinary aesthetic sensibility and imagination on the part of architect, builder and owners, one of whom was an artist (hence "the Studio").  I've often said, I doubt I'd have had the vision to build this, but we were smart enough to buy it and not change much.
Over the years, many people have asked if Frank Lloyd Wright was the architect.  The house and in some ways Japanese-style interior must have been very radical in their day.
When we were looking for our Vermont home, we had rigidly in mind a classic Vermont 19th century residence.  We didn't want to see a modern house.  But, finally were persuaded to take a look at High Riding.
We were smitten immediately by the extraordinary beauty of the setting and views, the innovative high-quality architecture of house and guest house, and the practical luxury and comfortable combination of house and guest house.
And suddenly we realized that a classic Vermont house closed you in from the outside, while High Riding, with its wonderful windows and expansive near, intermediate and distant views, brought the outside into the house from every room, while still always providing a sense of coziness and warmth.  Also, having moved from an 1875 Manhattan townhouse, we've enjoyed the absence of the need for constant maintenance of the building.
So many of our New York and Boston friends wished they could spend an extra day in their country houses.  We turned the situation on its head and figured out that we could live happily in our country house three or more days a week and travel easily to see people in New York/Boston and elsewhere for business three-four days a week.  The rest of the week we work from here as we can read, write, talk on the phone and be on-line from anywhere with high speed fiber optic internet.
We purchased in the fall of 1983 with the closing on Memorial Day in 1984.  There was a long time in between so that the previous owners (who built the house) could have time to build a new house in Woodstock Village and we could have time to arrange for rental/sale of our home in mid-town Manhattan. The previous owners remained our dear friends for the rest of their lives.  To this day, their children, grandchildren and great-grandchildren visit this special place.
When we bought the property the downstairs of the Studio was a workshop.  We turned it into high end office space and added a large new section for my office that allows me to enjoy the setting and views while working, with workspace for staff.
We completely rebuilt the house kitchen.  The deck off the kitchen provides the perfect view and comfortable hanging out space in summer and fall. The extraordinary views—near, intermediate and distant for 60 miles, all the way to Mt. Washington on a clear day—are breathtaking.  Many people tell us we have one of the best views in Central Vermont.  And the changing of the seasons combined with the almost 1,900 ft. elevation makes every day dramatic and different.
The den is [a favorite place].  It is a cozy space in every season with a lovely view, particularly in winter when the ground is covered in pristine white and snow is plowed up high along the sides of the driveway, and the wood stove creates a special atmosphere for reading or enjoying the interaction with grandchildren and visitors.  I keep hearing "Moonlight in Vermont" — and seeing it before my own eyes.
The tranquility, extreme quiet and absolute privacy, a sense that you are living alone in the forest, yet easy access to South Woodstock hamlet, Woodstock village and its high-end recreational amenities are far beyond what a village of its size could justify thanks to the Woodstock Inn and the generous Rockefeller heritage  — from cultural events, recreational opportunities (skiing, golf, biking, hiking, fishing, gold panning, and more) and good restaurants in Woodstock to the great benefit of being a short drive away from Dartmouth College and world-class Dartmouth Hitchcock Medical Center and all they bring to the region.  Accessible airports in Lebanon, NH (30 minutes), Burlington, VT and Manchester, NH (each 1:45 with easy no-traffic, scenic drive, and convenient parking) allow us to easily travel for business around the world.  High quality scheduled bus service to Boston airport from W. Lebanon via Dartmouth Coach, complete with internet.
We like the location in South Woodstock and being part of its warm, interesting community that always respects privacy — there when you want it, isolation when you want it.   We have the "just right" size living space created by having a house and guest house.  It's cozy, comfortable for the two of us and even grandkids sleeping over, and greatly expandable when family or guests visit. And of course, there is the ability for us to run our businesses and communicate around the world, but from beautiful surroundings in our Studio offices or from the house.
The lay of the land and the siting of the buildings create a harmony that we experience, and many people comment on.
A hidden sugar bush of about 800 maple trees is up near the ridge.  It is tapped by a sugar maker and we have our own "private" production of maple syrup for personal use and gift giving.
An exquisite carpet of moss is on a small hill deep in the woods.
There is a mystical feel to the land that we can't explain, but so many people have experienced it.  Don't know how many times Studio overnight guests have told us that they never slept so well.  Our first summer we were relaxing and enjoying the pond on a perfect Vermont summer day and I remember saying to my wife:  "If there really ever was a garden of Eden, this is what it must have been like."
~Stuart Matlins
High Riding is for sale.  For more information click here.