There are a few essentials needed for a game-day celebration:
Big screen – all the better to see with
Big menu – all the better to eat with
Big space – all the better to party with
Here we highlight a few homes where everyone can come and enjoy not only the action on the field, but the commercials and halftime show, too.
171 Littleton County Road | Harvard, MA
Want to feel like you're actually at the game? Immerse yourself and your friends in the media room of this country retreat. You'll have tiered seating, floor-to-ceiling screen, darkening blinds, and acoustic treatments – a perfect spot to host all the biggest fans!
Camp Endo | Jamaica, VT
Invite 21 of your friends and family to fill this state-of-the-art home theater. At this kingdom property, you can make a weekend out of it and work off some of the nervous energy by exploring the great outdoors when you're not in front of the big screen.
12 Smith's Point Road | Manchester-by-the-Sea, MA
Maybe not everyone wants to join in on the fun. With this movie theater in a new separate outbuilding, you can contain your celebrations.
East Bay | Islesboro, ME
Don't miss a second of the big game thanks to the bar/kitchen in this second-floor great room. Just wander over for food and drinks from the couch without missing a moment of the action.
Dedham Private Estate | Dedham, MA
The ground floor of this suburban Boston estate seems like it's built for a football party. Watch the game down the hall in the stadium-seating theater or hop onto a stool at the bar in the billiards room to keep an eye on all the plays happening on the screen.
Sophie's Way | Tremont, ME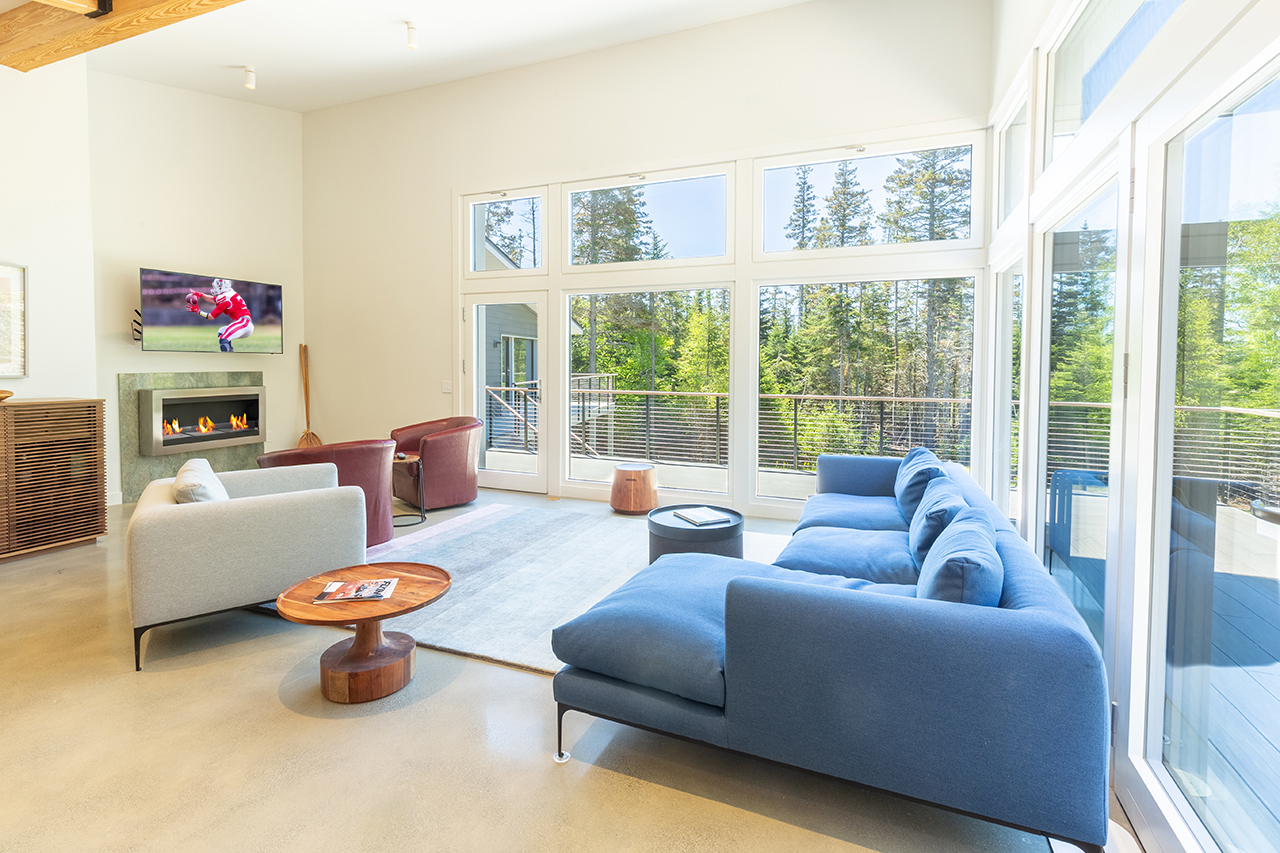 Live, eat, and cook all within view of the TV at this contemporary Maine home. The state-of-the-art technologies like the integrated sound system make for optimal game viewing and the open plan can accommodate every type of spectator.
Birch Tree Farm | Woodstock, VT
Lower the screen, kick back, and enjoy the game from the second level of the 7-stall bank barn on this family retreat. Or, if you prefer, you can all gather in this living space in the main house.
Prospect Cottage | Cushing, ME
In the walk-out basement of this private waterfront home, there's a lot of space for a gathering in the game room and adjoining media room. Relax after it's all over in the hot tub.
Stony Brook | Dorset, VT
It's hard in a room this pretty but try to keep your eyes on the game. With beamed ceilings and a cozy fireplace, you're probably going to have some people sticking around even after the final whistle blows.