Skip the in-store hunt or online browsing for gifts this year. Let us guide you to the perfect present for your loved ones. We have homes with docks for boaters, wine cellars for the wine enthusiasts, near skiing for the intrepid winter athletes, and plenty more. Follow along in this three-part series to find the perfect match.
For the Trendsetter
A home should reflect the people living there. When the inhabitants are the first to know about the latest style, gadget, or show, they need a home just as in-the-know as they are. In the Berkshires, a European-influenced country home designed by Dalia Tamari has top-of-the-line appliances and state-of-the-art operating systems.
A flexible layout like at 762 Barretts Mill Road is made even more modern with updates like the gorgeous white and grey designer kitchen.
For innovation and contemporary design, Sophie's Way combines technology and efficiency with light and airy spaces.
Updated baths, professional-grade kitchen appliances and custom lighting are a few of the excellent renovations made to 65 Chestnut Street, an 1860s home within walking distance to Camden Village.
See more homes for the Trendsetter.
For the Artist
Escape to this private Lake Champlain home to find inspiration. On the contemporary house's lower level is the artist's studio with access to the grounds.
Another home with water views, Meadowsedge overlooking Somesville Harbor in Maine, looks out over the fields and forest from the high-ceilinged artist's studio.
See more homes for the Artist.
For the Chef
Treat the baker or cook in your life to a home with one of these enviable kitchens. At the Bay Club, a gourmet eat-in kitchen opens to the family room.
Oak Hall's fully renovated kitchen has top-of-the-line appliances and cabinetry as well as details like a coffered ceiling, marble checkerboard floor, and French doors to an intimate outdoor deck.
This Concord home's navy-and-brass kitchen is centered around a 10-foot marble island, perfect for entertaining family and friends.  You can even head to the kitchen garden for fresh vegetables and herbs while making your favorite meals.
If you're looking to move into a more commercial cooking opportunity, it may be time to investigate opening a restaurant in your own backyard, like you could at this Eastford, CT home.
For the Wine Connoisseur
A cellar like this is key to keeping your wine collection in perfect condition. At 16 Rolling Lane, the climate-controlled wine cellar features a bluestone floor, tasting table, built-in custom wine storage, and a computerized inventory system.
See more homes for the Wine Connoisseur.
For the Author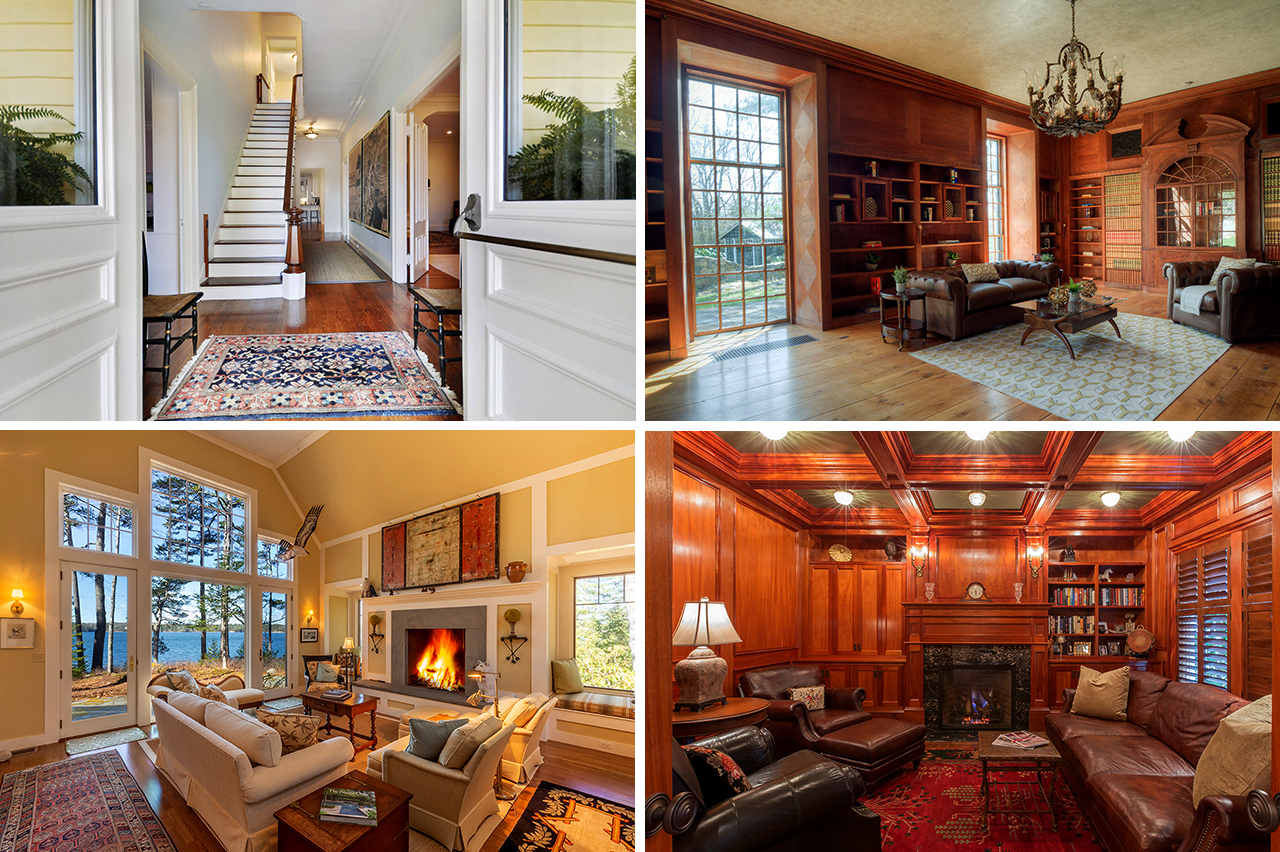 Where better to put pen to paper than in the town that Louisa May Alcott, Hawthorne, Emerson, and Thoreau called home? Natural light floods the warm and welcoming space in the first-floor office at this old Concord schoolhouse.
In Dedham, you can retreat to a stone castle that houses a library and wood-paneled great room with soaring ceilings.
Get in the right atmosphere with a classic cherry-paneled study and a roaring fire like at 18 High Ridge Drive.
If you're a transcendentalist at heart, a home like this on the Maine coast may be your best source for natural inspiration.
See more homes for the Author.
For the Historian
Morewood is a grand Tudor-style brick mansion with architecture adapted from the Elizabethan period, built in 1911 for Charles Whittlesey Power, then mayor of Pittsfield MA. It's even listed on the National Register of Historic Places.
Dating back to the late 1700s, this classic Vermont farmhouse has a Federal-style farmhouse and big red barn looking out to Dorset Peak and the surrounding mountains. With over 90 acres to roam as well as the 5000 conserved working acres next door, this is the perfect secluded retreat.
Cyrus Porter Brown was commissioned by publishing entrepreneur Curtis H.K. Curtis in 1902 to build this family estate in the desirable Beauchamp Point neighborhood. The estate's been passed down through generations and still features historic details.
Built in the 1790s, this Tamworth Colonial has been expanded and renovated over the years to create a home with entertainment space, game room, gym, and master suite.
See more homes for the Historian.
---
Stay tuned for Parts 2 and 3 to discover the perfect home for every lifestyle and setting.