Enjoy the Sweet Life Atop a Gorgeous Hillside with Stunning Panoramic Views
Have you ever wondered what it would be like to live in one of LandVest's properties? We invite our owners to tell us a bit about their experience, what they love about their homes and some of their history. The owner of 92 Washburn Hill Road in Lyme, New Hampshire, shares how she found this incredibly private authentic property with stunning views, open pastures, and stonewalls, just minutes to downtown Hanover.
My Wish List
I had been living in the concrete jungle that is NYC for the past 12 years and was longing for open space, fresh air, and grass under my feet. I was desperately longing for a sense of community. I wanted a place to have the animals I loved, where I could be outdoors in nature, hiking, skiing, gardening, etc. I bought and moved into this farm in the spring of 2015. Lyme has proven to be a delightful town where the people are warm and welcoming.
I was attracted to this property because of the land. I saw great potential here to create the farm of my dreams. Beautiful open meadows, views to die for, privacy, lots of water including a gushing stream at certain times of the year….these were all 'must-haves' on my farm wish list.
A Labor of Love
In the time I've been here, I've made many improvements, both to the land and the house. Within my first year of owning the property, I planted the avenue of hybrid maple trees up the drive including the three sugar maples around the house. I also had many of the stone walls rebuilt as they had been seriously neglected over the years. There were no daffodils or tulips in the gardens, so I planted 2,000 bulbs the first fall and have been planting over 1,000 more each autumn. The spring display is beyond spectacular. There are daffodils everywhere, all along the stone walls and in the meadows….every cheerful variety, all sorts of colors. I also planted the garden at the entrance to the farm…..there are roses, Bleeding Hearts, Lilly of the Valley, hydrangeas, tall grasses….the gardens here have given me great pleasure over the years, but I'd say the fall bulb planting has been my greatest labor of love.
As for improvements to the house, I replaced many of the windows in the old part of the home.  I put down beautiful new birchwood flooring upstairs. The floors really do look great. I replaced many of the light fixtures with LEDs. Now, the rooms are brighter and my electric bill has significantly dropped. And finally, I added a new porch on to the front of the house. The formal entrance was always lacking something and the porch has tied everything together beautifully. I picture many quiet summer evenings sitting on the new porch.
A Rich History
Ruth and Polly Whittemore were two sisters who inherited this farm from the three generations of ancestors before them. Ruth died in 2005 and Polly died in 1998. They were descendants of Lyme's first settlers. They continued the generations-old tradition at the farm, managing operations such as market gardening, maple sugaring and raising livestock for veal and pork. Their ancestors kept a flock of 200 sheep at the farm and raised corn, wheat, hay, potatoes and pumpkins and produced milk, butter and eggs. They also had an extensive orchard, growing cherries, plums, pears and 36 varieties of apples.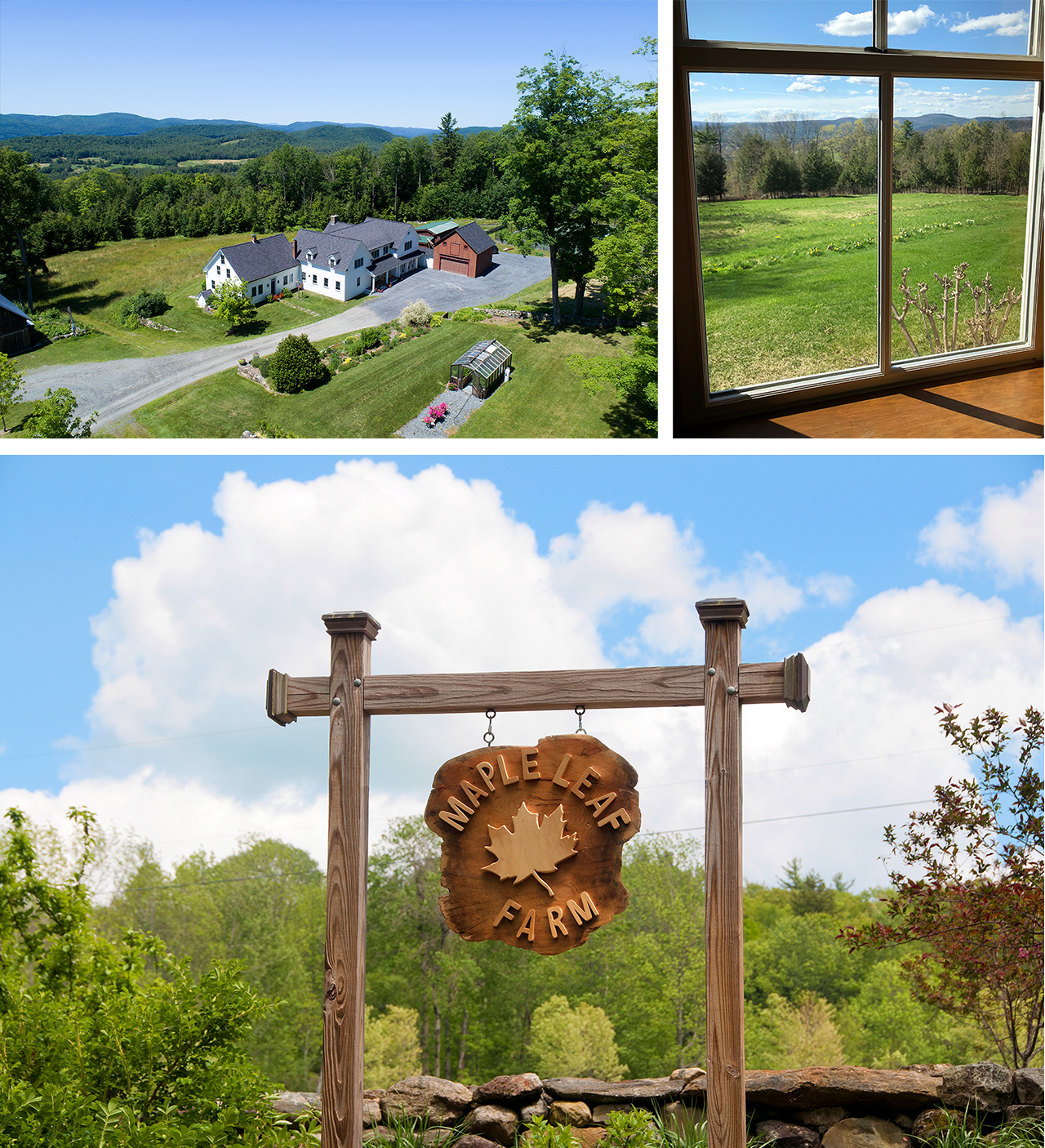 There are so many things I love about this property but if I had to choose the top 5, they would be:
Proximity to town – it's a lovely walk into Lyme!
Views from every room in the house and especially if you walk to the top of the hill to look out over Vermont
Privacy – you can't see or hear your neighbors
Open space – room to stretch your wings
Variety of outdoor pursuits at my doorstep – cross-country skiing, downhill skiing, sledding, snowshoeing, maple sugaring
---
For more information on Maple Leaf Farm click here. For all South/Central New Hampshire listings click here or contact Kristin Hayes Claire.