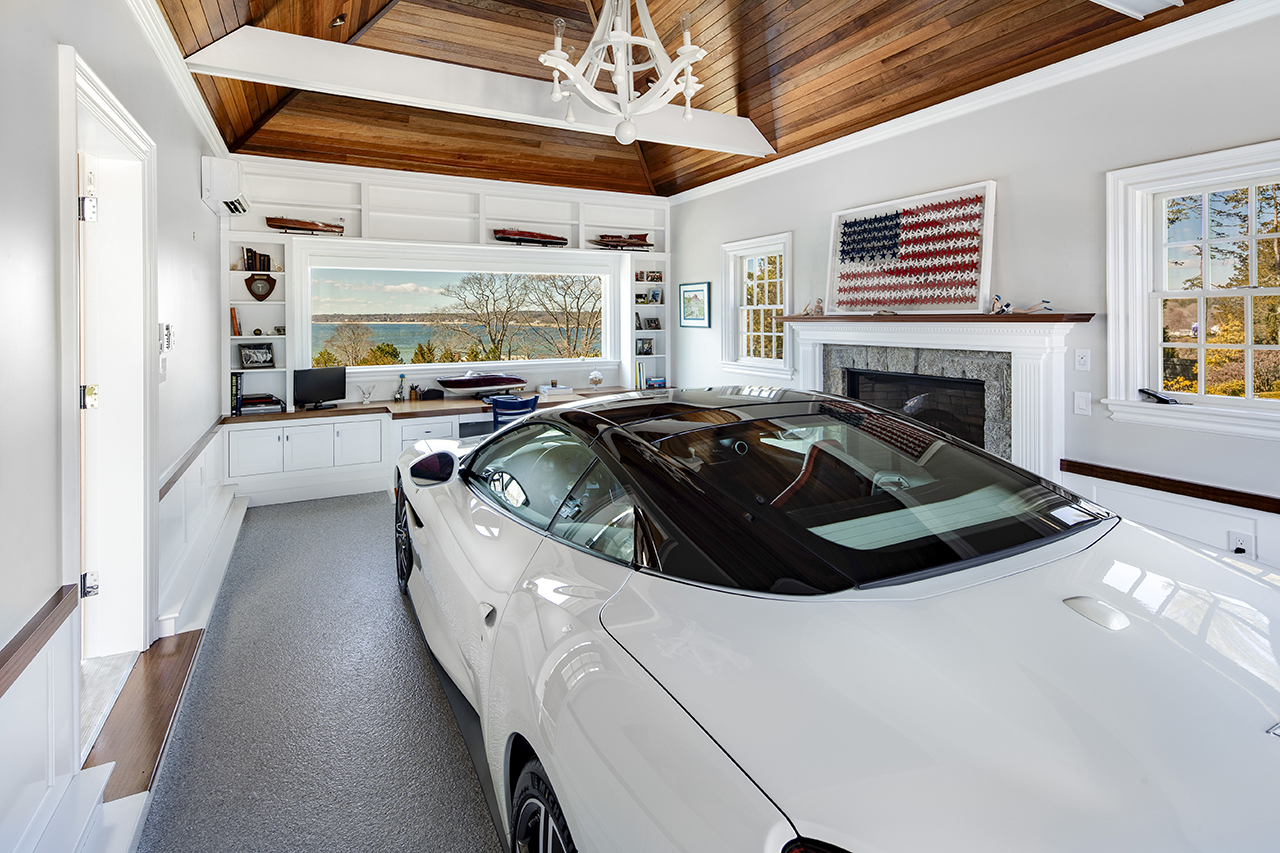 As the snow piles up, the rain beats down, the wind starts blowing, or the temperatures spike, the last thing you want is your car exposed and vulnerable to the elements. Spoil your set of wheels with its very own home within your home.
Whether yours is sporty, super, racing, or classic, your car will be treated well in a property with space meant to pamper your ride (and you):

12 Smith's Point | Manchester-by-the-Sea
Drive up to this 3-acre oceanfront property through the private Smith's Point enclave. This home includes garaging for up to 6 cars in attached and detached garages. A security system with cameras and motion detectors will keep watch over your collection. A full bath and plumbing for a kitchen top off this exceptional property.
Camp Endo | Jamaica, VT

A mountain kingdom on 417± acres with plenty of parking options. The main rustic-style home includes an attached garage. Along with a two-bedroom guest suite and a heated half-basketball court with surround sound, the adjacent barn also houses a 3-bay garage.
892 Gould Hill Road | Hopkinton, NH
The insulated and heated barn on this Hopkinton property is home to both automotive and equine transportation. One end has 4 stalls while the other has a finished and heated 3-car garage with a Forward Lift 10,000-pound two-post hydraulic lift. Storage cabinets, speakers, and workbenches with an Ingersoll-Rand air compressor and hard-line air complete this fully-equipped garage.
171 Littleton County Road | Harvard, MA
For a car enthusiast who has a collection already or is looking to start one, this 17-acre property down a semi-private drive has the room to grow. Along with the heated attached 2-car garage, there's an additional heated detached garage with a workshop, second floor storage, 1-ton rated "I" beam with wireless hoist, and cat 5 wiring. Both garages even have surround sound. Also on the property is a barn with two additional garage spots.
Rockwood Farm | Hamilton, MA
At this privately situated 9+ acre equestrian estate, you can park in a newly-built 4-car garage. The Carriage Barn also has a spacious, multi-use function space above – perfect for an office or living quarters.
Copper Beech Hill | Wenham, MA
Own a car for every day of the week? The carriage house/stable at this property on the 15th green at Myopia Hunt and Polo Club has parking for 3 cars, seven horse stalls, and a 3-bedroom apartment on the upper level. Two additional detached garages bring the total number of spaces to 7.
328 Clapboardtree Street | Westwood, MA
At the end of your daily commute to Boston, bring your car home to this three-story manor house overlooking over 6 acres of walled gardens, rolling lawns, and wooded groves. Features in this heated 3-car attached garage include automatic doors, a work bench, and even a wine refrigerator.
214 Lowder Street | Dedham, MA
There's no need to dread braving the cold in the winter thanks to the heated 3-car garage at this classic shingle-style mansion designed by Morehouse MacDonald. Auto-openers and a security system help make life easier, too. And for sports enthusiasts, there is an ice rink and skate house with locker room, bathroom, living room and even a garage for a Zamboni!
Foster Farm | Weston, VT
Just outside Weston village, this 28± acre property is the best in country living with broad views of rolling meadows and mountains. The Bank barn built in 2007 for antique cars, includes a 3-bay garage that can store 8 cars, is outfitted with a car lift and heated shop, and on the lower level a 4-stall stable. Plus an observatory in the silo and solar panels on the roof.
16 Rolling Lane | Dover, MA
Emerge from the tree-lined drive of this secluded and private eight-acre estate and have your choice of parking spots. The 3-car attached garage has an elevator to the in-law suite and the additional detached 2-car garage is heated. The detached garage also has a private apartment on the second floor.

---
Whether you're in the market for a new home or a new car, head to the 25th Annual Weston Antique and Classic Car Show this Saturday, September 21. Meet Catherine Bassick and check out these great properties from 8am – 3pm.