It's been said that every great design begins with an even greater story, and in the case of Camp Endo in Southern Vermont, that idea certainly holds true. Located less than five miles from Stratton Mountain Resort, Camp Endo's elevated position looks out over hundreds of acres of Green Mountain wilderness, surrounded by an extensive, connected trail network that provides a range of all-season hiking, biking, and ski opportunities for every level of enthusiast.
I think it's important to understand that Camp Endo is big, and it's beautiful, but it's built to be about love and sharing.
Camp Endo's primary log residence blends in seamlessly with the surrounding woodlands, but when Howard Fischer and his family initially set out to create their Western-style ski home on 400+ acres, their ambitions were slightly more measured.
"There's a song we sing during Passover with a word in it called Dayenu. What it means [in Hebrew] is, 'If that's all God had done for us, that would have been enough,'" Howard explains. "My wife is fond of calling the barn apartment [where we lived for the first year] Dayenu, because she would have been very happy to have that be the only building on the property," he laughs.
In fact, the very first building on Fischers' property wasn't a log home at all, but a historic, tobacco-drying barn that Howard found and transported north on a trip to the Connecticut River Valley. "We built our first residence around the framework of the barn," Howard says of the two-bedroom apartment where he, his wife, and their three boys once lived.
The rustic structure, which was made out of American chestnut wood, provided early inspiration for Howard, as it would other ventures at the property in the years to come. But even in those early days, the roots of Camp Endo's true character were there all along.
*****
"We moved into the house on Memorial Day weekend in 2005. It's built from logs that came from Maple Island, Michigan, and a company of the same name that specializes in building log homes," Howard says. "They had constructed the house in pieces at their lot in Michigan.
"They delivered the logs in 18 tractor trailers, and brought in two 80-foot cranes to construct the framework of the house—it was like Lincoln Logs!"
Inside, the finished house—which was featured in the 2012 book Rustic Living by Ralph Kylloe—reimagines a rustic ski lodge, with classic wood, bark, and stone detailing and an extensive open floor plan.
To be sure, Camp Endo offers everything you could want in a five-star, après-ski experience, from the gourmet chef's kitchen and massive stone fireplace in the Great Room, to the 22-seat home theater, heated half-basketball court, and sprawling deck, with its outdoor fireplace and expansive, southerly views. Yet for all its indoor luxuries, for Howard, the focus at Camp Endo has always been without.
"The whole idea is that, although it's this big, beautiful home, I wanted people to go outside. We built a giant chessboard in the woods, which is a 10-minute walk from the main house, because I wanted to entice my kids to get outdoors… the idea is, how do we bring the outside in, the inside out, and make it all part of what we do there?" Howard explains.
Outside of its role as a ski home, Camp Endo was also created to be a center for Howard's second passion of more than 25 years: mountain biking. "Over the last 15 years, we constructed somewhere between seven to eight miles of really hand-cut, hand-selected, single track that is all very rideable. Although, when I take a lot of my friends hiking, they can't believe that we ride [bikes] on it!" Howard says. "It's not all easy mountain biking—there's a lot of climbing, there's a lot of descending, a lot of rocks and roots.
"The house is actually named 'Camp Endo' over that aspect of mountain biking where you hit a rock, and your front wheels stop, and you fly over the handle-bars, end-over-end. Near the start of the driveway, in the mountain bike skills park, is a statue of a rider doing just that, which inspired the name."
Still, Howard stresses, there's plenty to do at Camp Endo for those with more moderate outdoor appetites. Summer brings the chance for a dip in the  swimming pond and plenty of options for moderate hikes or leisurely strolls from the house to the outdoor chessboard, or to various viewing spots around the property.
Everywhere you look at Camp Endo, in fact, a respect for the beauty and fragility of nature is evident. The property incorporates sustainable features, including a wind turbine and solar panels on the adjoining pole barn. And, in more recent years, Camp Endo has become the muse for Howard's dedication to various environmental causes—hosting a retreat for a government think tank on carbon tax initiatives, and even hosting a special research orchard for the American Chestnut Foundation.
The driving inspiration for that particular conservation effort? The old tobacco-drying barn, of course.
"The original barn is made out of [American] chestnut wood, which was a very popular hardwood to build buildings with back 150 to 200 years ago. About 125 years ago, the New York Botanical Garden [Bronx Zoo] brought in a Chinese chestnut tree, which brought with it a blight that killed almost all of the [native] chestnut trees on the East Coast—it was something like 9 million [acres of] trees," Howard explains.
In more recent decades, the American Chestnut Foundation has worked to create a blight-resistant hybrid species that would help to preserve and repopulate the American chestnut tree. More than a decade ago, Camp Endo became the site of one the organization's trial projects.
"We planted, over the course of three years, a total of 400 chestnut trees made up of six or seven different hybridized varieties," Howard says. "About a 15-minute walk from the house, we have 1 to 1.5 acres fenced-in with all these beautiful trees in it. We have a commitment with the American Chestnut Foundation that they will introduce the blight to all of the trees in the next year or two, to see which ones survive, and this will help them in their process.
"We started with these little chestnuts, [and now you look at them] and these trees are 10-15 feet tall. It's amazing."
*****
To what extent the American Chestnut Foundation's effort succeeds will likely be the inheritance of Camp Endo's next steward. For Howard's part, he hopes the home's new owners will make the place their own, while coming to discover its unique qualities in the same way that he and his family have.
"I love sitting on the screened-in porch and reading. We've got the little meditation room on the top of the tower—that's just a special place, because it's quiet, and it's high above," Howard explains, adding that he also loves the convenience of  the indoor log storage room,' inspired, along with the outdoor pollinator garden, by the Fischers' travels to Twin Farms Resort in Barnyard, Vermont.
"We'll sit in the great room on a cold, winter weekend, and I'll go through 10 bags of wood, and I don't have to put on my shoes or a coat to go out and get firewood. It's all there."
Thanks to its size and East Coast location (just 21 miles from Manchester), Camp Endo has been an ideal site for hosting corporate and non-profit outings, as well as personal gatherings for the Fischers' extended family and friends. Among these: grand, Great Room dinner parties–using veggies and fruit from their gardens–for dozens of attendees, and weekend meditation retreats for the couple and a few friends, led by a Buddhist teacher.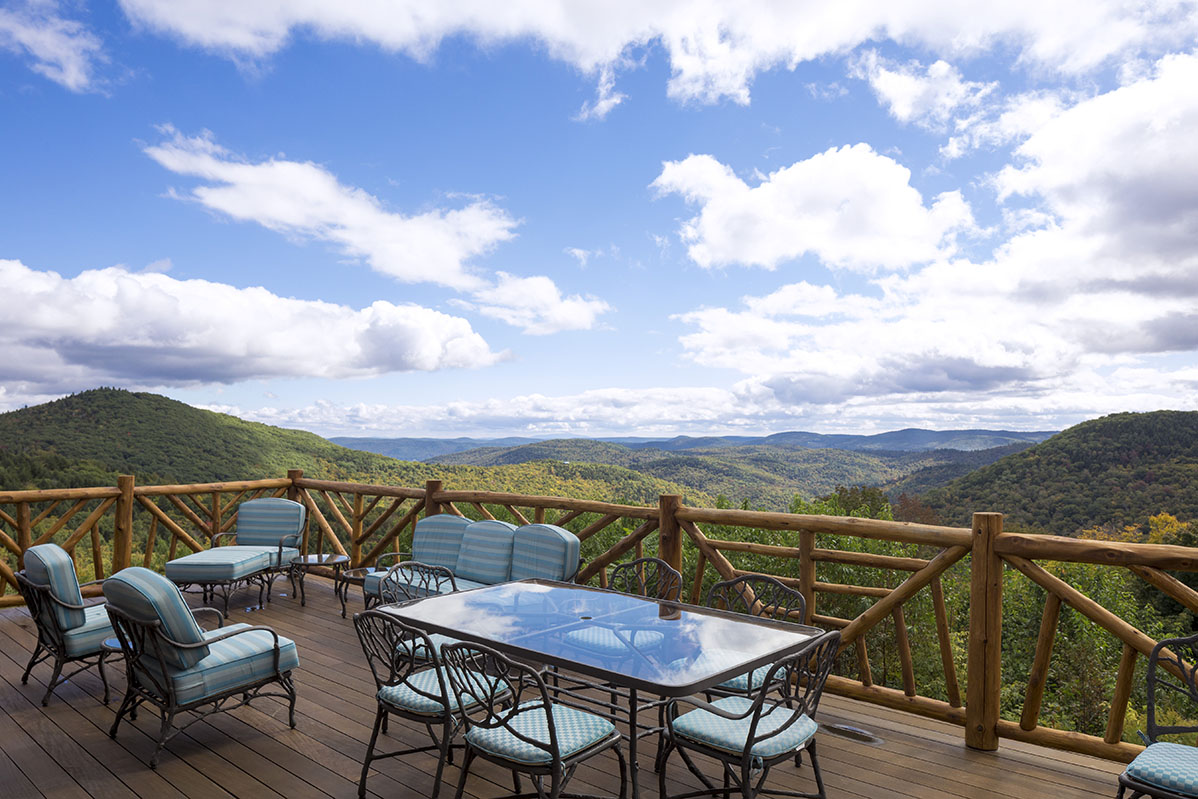 For Howard, however, the house's more solitary offerings are equally enjoyable. "We've got a very high point of view here, and I'll get up before dawn and the sunrise is beautiful. You can see the clouds, settling in the valleys below, and you can see storms out there for miles and watch the thunder and lightning.
"I think it's important to understand that Camp Endo is big, and it's beautiful, but it's built to be about love and sharing," Howard says. "It's a great place to bring people together to talk and to think, but at the same time, to enjoy the great outdoors.  It's a special gathering place…  I'm looking for another family who will carry on the legacy of the home and, also, share it with loved ones, adventurers, business associates and do-gooders. The house demands that and gets lonely and sad when it is not used."
Camp Endo is for sale.  For more information and to see additional photos, click here.