Have you ever wondered what it would be like to live in one of LandVest's properties? We invite our owners to tell us a bit about their experience, what they love about their homes and a bit of their history. The owners of 10 Miles River Road in Hamilton, MA shared what drew them to Hamilton, their ideal location, and some of their favorite features of this equestrian home.
How did you come about owning this property, and when?
This has been our primary home since 2006, when we moved to Massachusetts from Connecticut.   We were house-hunting on the North Shore, and had lined up appointments to see several listings, but not this one.  While driving around on our own the day before our appointments, we stumbled upon this one which had a "For Sale" sign in front of it.  We couldn't believe that we hadn't seen this home before, but we called our realtor and asked her to line up a tour for the next day.  We fell in love with the property the first time we saw it……and the rest is history!

We love the location. Given its proximity to Myopia Hunt Club, we can ride our horses through the golf course, and then end up on the Myopia polo field (the oldest still operating polo field in the US), and then onto miles and miles of horse trails.  We love the easy hacking to Ledyard Farm and Gathering Farm, two equestrian centers within easy reach.
The property is a perfect size for a hobby equestrian farm, with 2 barns that can hold 8 horses, an oversized riding ring, and access to a multitude of riding trails. The location has wonderful solitude and quiet, since we don't have a lot of neighbors.  Yet it's a 5-minute drive to all amenities, including several supermarkets and Starbucks.
The house is the converted late 1880s barn from a larger estate that once included this property.  We love the feel of the house. It's a Dutch Gambrel with a classic, New England barn feel, yet it's completely modernized inside.
Are there any recent significant improvements?
We redid (and expanded) the riding arena with a new base and fiber footing a few years ago.
In early 2019 we completely renovated all the bathrooms (and added a new one to create an en-suite room).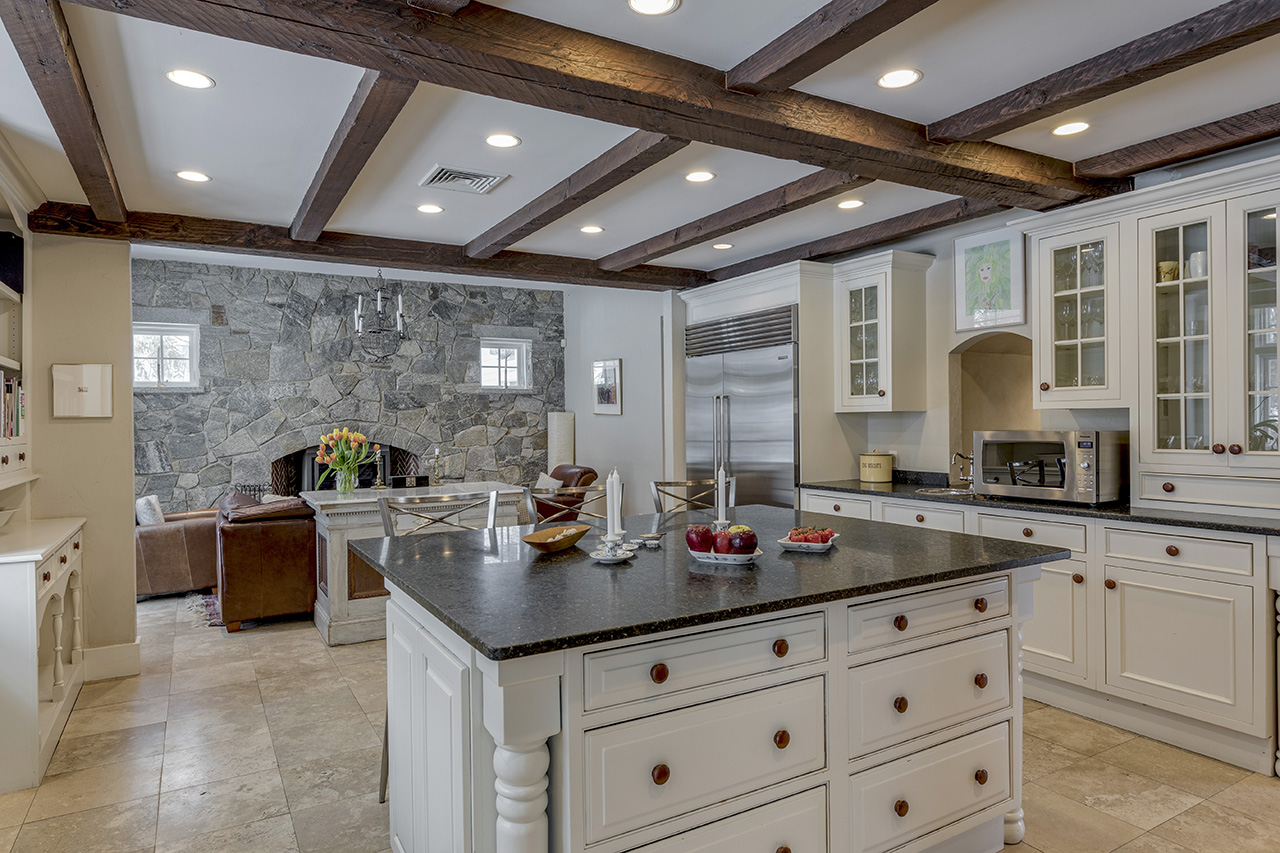 In late 2018, we installed a top-of-the-line Subzero fridge/freezer in the kitchen.  We added solar panels so we now produce more than 100% of our electricity from the sun. It's green, both environmentally and financially.

A few years ago we built a large chicken coop, with a predator-proof area for the hens to wander. It's hard to beat getting fresh eggs every day!


We added Dutch doors to all four stalls in the center aisle barn, giving the horses access to walk-out paddocks directly from the stalls. We also changed the stall doors to sliding doors with yokes and blanket bars.
What is your favorite room in the house and why?
Cyrus' favorite room is his wood-lined library and music room. Fie's favorite room is the open-concept kitchen and family room and, with the wood-burning fireplace, it is a perfect space to entertain!
Do you have a favorite spot on the property?
Some of our favorite spots on the property are the 2 outdoor patios.  One is where we love eating breakfast or lunch while watching the horses grazing in their pastures. The other one with an outdoor fireplace, is where we dine all summer.
What are your reasons for selling 10 Miles River Road?

We love the property, and it's been a tough decision to sell.  We are selling because we have found a larger, 15+ acre horse farm, which Fie needs as her equestrian business has expanded.
 – Owners, Cyrus and Fie
For additional information on 10 Miles River Road or other properties on the North Shore, please contact Sophie at soman@landvest.com or Lanse at lrobb@landvest.com.