The dominant topic in real estate in this cycle is the vast out-performance of urban versus rural areas in this recovery. The graphic below shows the rapid pace of land price appreciation (shown in blue) in urban areas compared to the decline (in red) in rural and exurban areas. Let's take a deeper look at what is going on.
Demographics are driving this chart
Aging baby boomers moving back in town and selling second (and third) homes, a smaller cohort of affluent Gen X and Y buyers, and the tide of millennials held back by student debt and fear of housing market instability.
Let's take a closer look at the Northeast: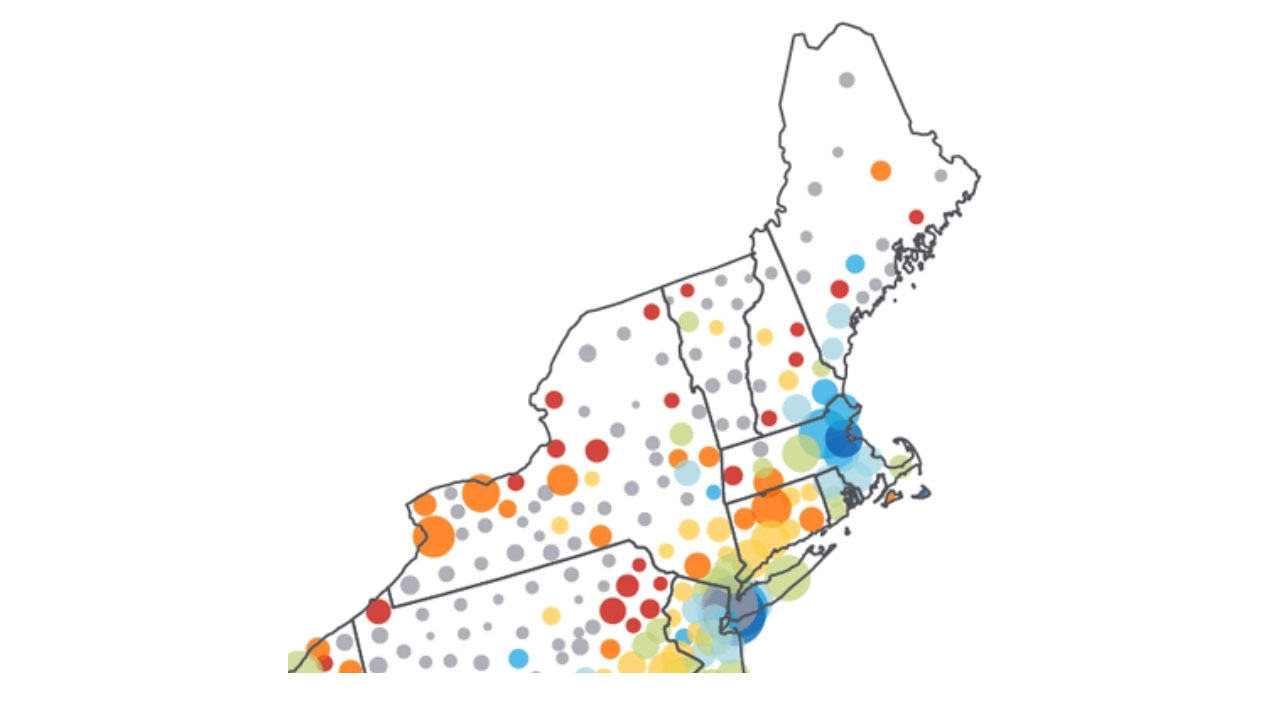 Cycles matter
The normal cyclical pattern of real estate price recoveries moving out from the core to the periphery has been much slower this cycle, but it is there. For example, take a look at the isolated bright blue dot in Maine. That's not the southern coast which has been smoking hot, and is the blue cluster on the map. The lonely bright blue dot is Kennebec County that is just north of the coastline. Kennebec County is the cheapest place to buy housing and commute to jobs in Portland, Brunswick or Camden.
The lay of the land has its influence
Terry Sortwell, who directs LandVest's MidCoast Maine brokerage along with his son Joe, reflected on the geographic factors driving the blue dot: " – The coast drives Maine's economy. Geology has been good to us, with gorgeous coastline matched by plenty of inland where housing is more affordable, supporting our growth. This is good for the future of Maine as an investment and as a place to live."
Joe Sortwell commented, "I know lots of people under the age of 50 who live on the Route 17 corridor between Camden and Augusta and work in the midcoast. This is also true for the Belfast area, people living in the more rural areas living off the Route 3 corridor between Augusta and Belfast. Same with Portland." All that points to a healthy future for Maine. (Interested in some great Maine real estate? We can help with that, too.)
Structural change hits (even affluent) homes
Look at all the red in Connecticut, especially compared to the vibrant blue in New York next door. Downsizing in financial services, the relocation of GE and a general shift away from Fairfield County as a corporate destination has exacerbated demographic shifts in some of the wealthiest communities in the country. In Greenwich, in-town is vibrant but further out, the big square footage builds of the last 20 years have been tough sells.
What we're watching for:
Maturing millennials
We are seeing the first waves of millennial buyers coming into the true luxury space. The themes? Authenticity, simplicity, sense of place – good news for what we do at LandVest.
Climate matters
Upcountry New England is seeing an influx of buyers looking for climate-resilient living. Clean water, clean air, and less traffic make for a better quality of life. Sound good? Then check out our listings in the Berkshires, Vermont and New Hampshire,
Rural outperforming Urban
New York City is three years into a softer real estate market after a huge run up to 2015. Supply is finally meeting demand in Boston. As a result, we are seeing the disparity shown in the chart above beginning to reverse. Some of this is driven by prosperity, this last cycle has made it possible for buyers to take advantage of great values outside of the city, for country and coastal properties. With luxury real estate and second homes, the path ahead depends on stability, both political and economic, and positive capital markets returns.
Stay tuned for the LandVest index, our annual look at the high end real estate market across New England and the Adirondacks. We are here to help anytime.