by Brian Handwerk for LandVest
More than 100 large wildfires are currently burning across the American West. And while 2018 is shaping up as one the more destructive fire seasons on record, the impacts of more frequent and larger fires have become all too familiar over much of this hot, dry decade. Despite the yeoman's efforts of firefighters and the expenditure of more than 2 billion dollars, more than 7 million acres of forest go up in flames each year and a dozen or more people lose their lives.
These fires recognize no property lines, and because of the West's unique land ownership patterns, large blazes typically impact private-, federal-, and state-owned lands at the same time.
When seen from the air or on a topographical map, much of the West resembles a checkerboard. This curious arrangement began when railroads opened the region to settlers. Congress divided ownership of adjacent lands into one square-mile units and gave every other section to the railroads, retaining the others for federal use. Much of that railroad land has subsequently ended up in the hands of private timber companies, and today their plantations alternate block by block with public land, often managed as wilderness areas.
Fortunately for timberland managers and owners, the fight against destructive fires in the region is a cooperative effort that also crosses boundaries and unites stakeholders behind common goals of putting out fires and saving forests.
In the Golden State, the Northern California Fire Co-op is the liaison between landowners and firefighting agencies like CAL FIRE and the U.S. Forest Service, which take the lead role when fires are sparked on their lands. Darin Quigley, a retired CAL FIRE Battalion Chief, is the Fire Co-op Coordinator. "It works well," he says of the partnership. "It gives private landowners an experienced individual to help them accomplish what they need on their land and get that information to the team."
The Hirz Fire, which has burned more than 46,150 acres in and around California's Shasta-Trinity National Forest, exemplifies this cooperation since crews started battling it on August 12.
Daily meetings gather timber industry and agency experts to chart the fire's progress, review deployment of firefighters and machinery, and map the construction of fire lines, critical stretches of forest stripped of all burnable fuel to halt a fire's spread in a specific direction.
"We're there to provide resources and help the agencies in any way we can," Quigley says. "We provide them with mapping and information on what we've been doing, we're sharing with them water dipping locations. Our ownership will get a grader in there and make sure rocks are off the roads and gates are open so that we are sharing access routes with them. It's steep country so your sense of direction is not intuitive, and a lot of times they are from out of the area so local knowledge is very much appreciated."
Landowners also share their own firefighting initiatives with the larger group so that efforts can be coordinated. "On this Hirz Fire, we started building fire lines on some of our ownership and provided those line locations to the fire command," explains LandVest California Operations Manager, Jim Henson. "Yesterday, CAL FIRE was deploying into the area on the north side of the fire to start building fire lines, tying our lines together across public lands."
LandVest's Paul Bertagna, a retired CAL FIRE Battalion Chief, notes that the Hirz Fire has even fostered some unusual frontline collaborations. "They've even embedded [timber company-owned] dozers with the forest service to assist them directly in the fire line itself," he says. "That's almost unprecedented."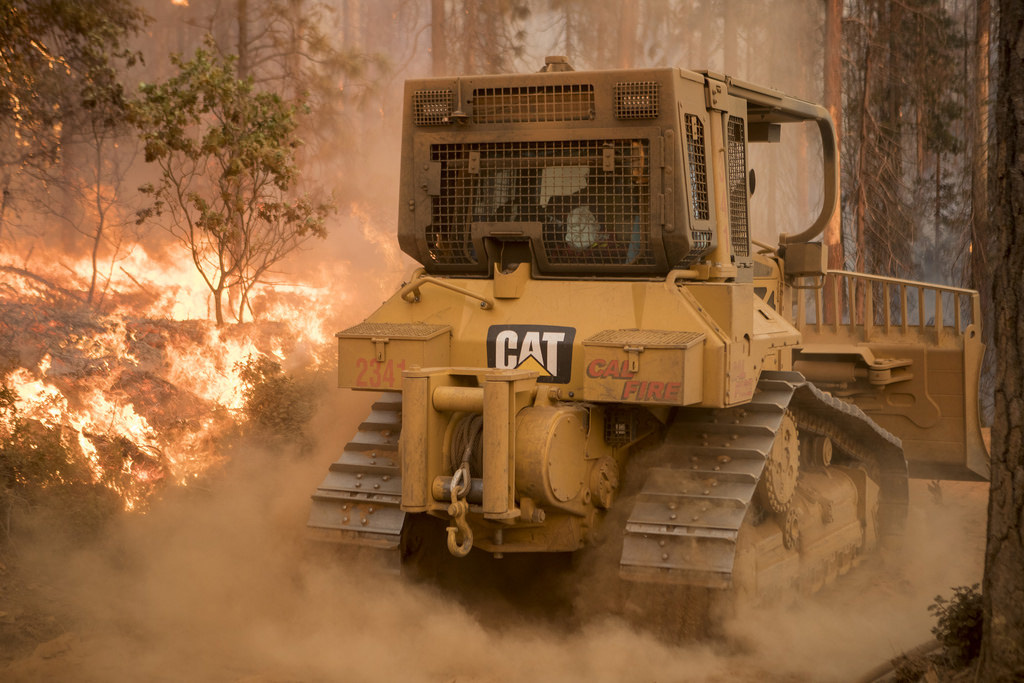 The alternating square-mile lots now in the hands of timber companies and government agencies can be very different environments even when clustered side by side. Federal land management goals typically focus on a longer rotation and more natural forest management—a more hands-off approach that directly impacts fire behavior.
"The checkerboard land is the really difficult land, and we're in that right now with the Hirz Fire," Quigley explains. "These forests are "extremely thick, the fuels per acre are incredible, so when it gets going, it's just going to burn all the way through it. It has to come to our land on the other end."
Jim Henson explains that current fire management methods can also differ once a blaze gets going. "In federal lands, national forests, BLM, or the park service, the objectives are fire management," he says. "In many areas they don't necessarily deem the immediate suppression of fire their priority."
In recent days, CAL FIRE is leading with a different approach. "CAL FIRE's mandate is to suppress all wildfires during the fire season," Henson says. "This particular fire is starting to approach more private lands, so CAL FIRE has been inserting themselves into the fire suppression with a more aggressive effort."
CAL FIRE crews man fire lines for a full 24 hours, he notes, and make heavy use of aerial efforts to hit fires with water and retardant. Such efforts help support a chief goal of timber managers—the protection of premerchantable plantations. These stands of young trees have been managed for a decade or two but haven't grown large enough to avoid incineration in a big, hot fire.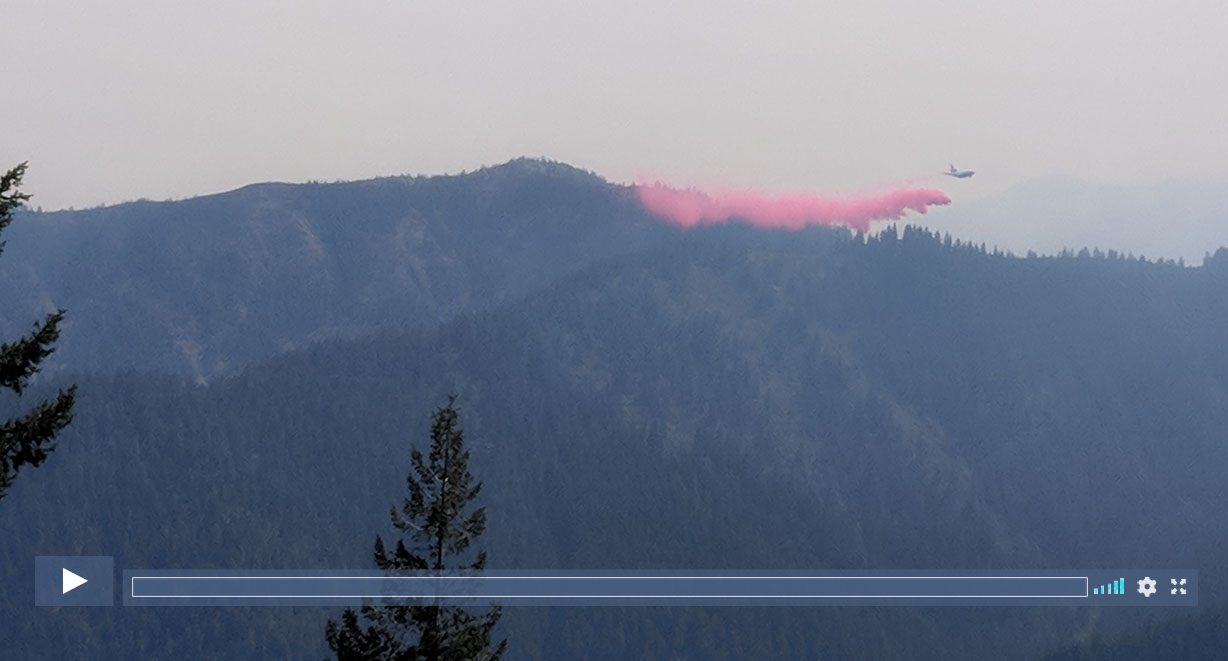 "What is catastrophic is when you lose acres of plantation, that's a total loss," Bertagna says. "You might have up to 30 years of work into a plantation and overnight it's gone. That's a major setback."
Older trees, though still killed by fires, often fare better from an investment perspective. Salvage logging allows land owners to recoup some revenue by selling what industry refers to as "black timber," though prices will be lower than those paid for unburned "green" wood. "It's a time-sensitive issue getting that timber removed," Henson says. "Some species like pine and white fir are susceptible to deterioration in 6 to 18 months, depending on the size."
Timing also plays a role in marketing such timber. After particularly bad fire seasons, mills may be inundated with such wood and can depress values.
Studies also suggest that salvage logging may make timberlands less susceptible to future fires, even after they are replanted. Fire-swept lands left unlogged may provide more wildlife habitat, a goal of some managers, but Quigley observes that they are also prone to burning again. "You have all this old growth material that's dead, and it all falls, and the brush grows up in it, and we're finding that we're going to have another fire through that section within the next 10-year period that puts our [adjacent] plantations at risk. We've had tracts where we've had fires coming off the federal forests and replanted twice in an eight-year period."
Changing climate, with its heat, drought, and winds, may make future forests still more susceptible to catastrophic fire. But the human factor also enters the equation. More people are living, vacationing, and driving through the West's forests—and they are also starting fires. Though most fire starts are accidental, humans are responsible for a huge percentage of them – more than 80 percent according to recent research.
"The Carr and the Hirz Fires were both started by vehicles," Paul Bertagna says. "There are a lot more cars these days, a lot more trailers, and a lot more people, so the fire starts are going up." Drawing on decades of firefighting experience, Bertagna stresses a need for public outreach and education on all manner of risky fire behaviors, from safe debris burning to handling flat trailer tires.
"Could at least some of these destructive fires have been prevented?" he asks. "Maybe so."
---
Update:  The Hirz Fire was nearly 100% contained on September 6 when a new fire erupted along Interstate 5 near the community of Lakeville, just west of the Hirz Fire.  The new incident, known as the Delta Fire, eventually joined up with the Hirz Fire on its east flank.  The Delta Fire, which has burned 57,000 acres, is being battled with over 1,600 personnel in unified command by CAL FIRE and the US Forest Service.  While still under investigation, the Delta Fire has been deemed as human-caused.
LandVest is the US leader in timberland management, real estate consulting, and real estate transaction services. Founded in 1968, LandVest manages over 2.2 million acres of timberland on behalf of institutional, family, and NGO owners. LandVest's technical, consulting, and transaction service groups provide appraisal, due diligence, and marketing services on over $2 billion in real estate assets annually.