Part III of LandVest's multi-part series highlighting some of our favorite islands, harbors, conserved locales, anchorages, and watering holes.
The 4th of July has come and gone and that means the summer season is in full swing here in Midcoast Maine. The streets of downtown Camden, along with its neighbors to the north and south, are bustling with visitors looking to take advantage of the amenities offered by the idyllic Midcoast towns and the water off its famously rocky, spruce-lined shores.
Camden is renowned for its windjammers which have played an important role in the town's history and livelihood for hundreds of years. Many were originally built right in town and used for commercial trips to larger cities on the east coast. As sailing ships were rendered commercially obsolete by rail and steam vessels, the windjammers were abandoned until they began to be refurbished in the 1930s and converted into recreational yachts available for charter. Each Labor Day weekend, the town of Camden pays tribute to these beautiful historic ships during the Camden Windjammer Festival. Many of the boats are also available for afternoon or day sails (Schooner Surprise is one of our favorites), and several offer longer overnight excursions.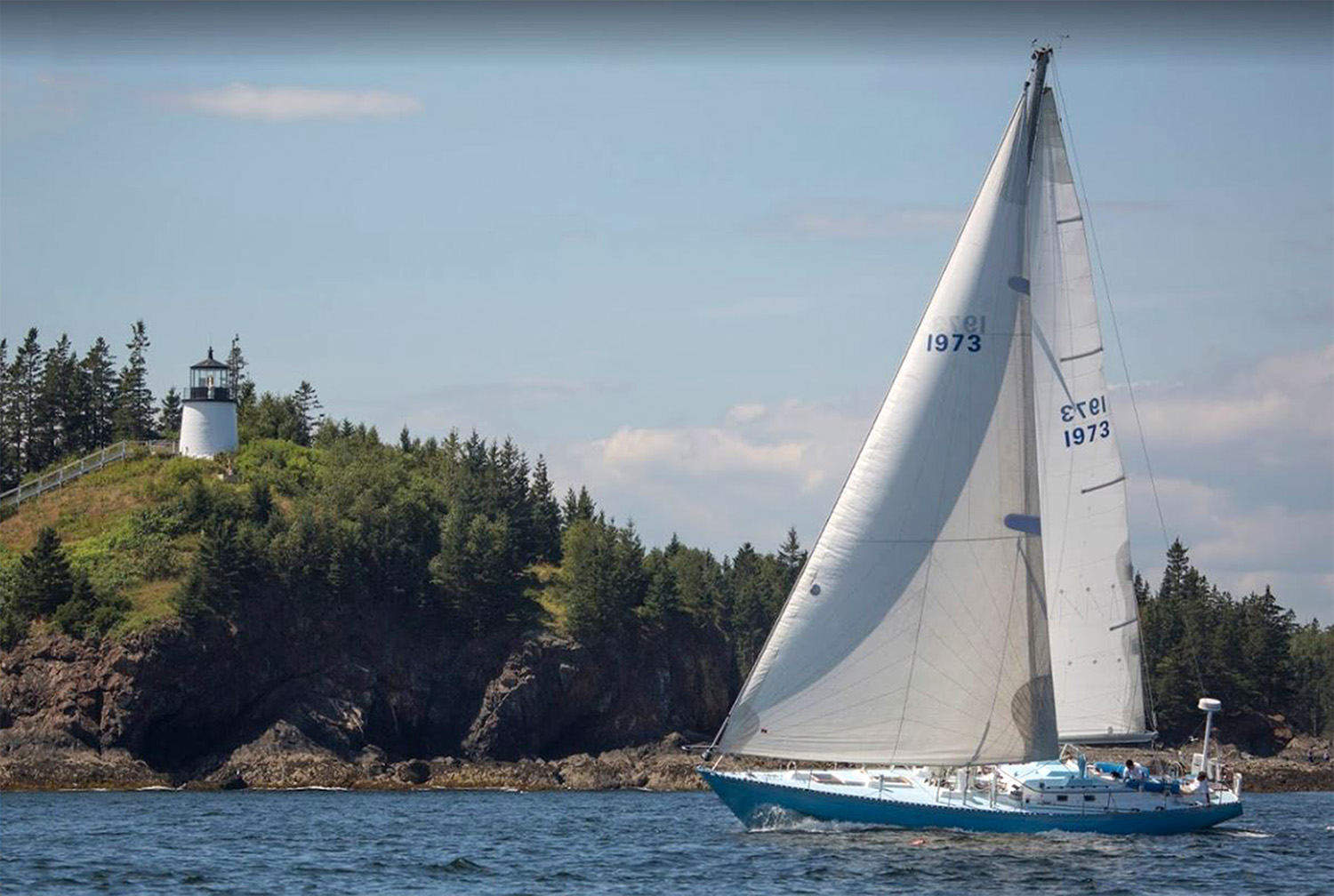 One of the most unique cruising opportunities is the beautiful Anjacaa, a 54-foot Sloop built for speed and comfort. Anjacaa is available for intimate (6 passenger maximum) hands-on, group sailing trips and private, customizable charters.
The famous waters of Penobscot Bay are also home to the Camden Classics Cup, a two-day regatta featuring classic sailing vessels off the shores of Camden. In town with your boat for this fun, festive regatta? Take advantage of the expertise offered at Lyman-Morse in Wayfarer Marine, Camden. Or browse a selection of Maine's best watercraft offerings for sale at Yachting Solutions in Rockport.
Visitors must enjoy lobster and clams, and all the fresh, local food available in the area's fine restaurants. Rhumb Line in Camden has updated many of the classics (think fish tacos and a perfect lobster roll) and features a delicious raw bar and craft cocktails. Pull your boat right up to the dock if there is room or call the Lyman-Morse launch (VHF channel 71) for transport from a mooring.
Long Grain's Thai street food has earned a cult following and thanks to their new location at 20 Washington Street in Camden, they now offer an Asian market in addition to a larger dining space. McLaughlin's Lobster Shack on the beach in Lincolnville features beautiful and tasty renditions of traditional Maine seafood classics. Perched on a grassy knoll beside Lincolnville Beach, one of area's best sandy beaches, enjoy views of Islesboro and the Islesboro ferry. The local lobstermen don't mind if you leave your boat on the Lincolnville dock for a quick meal, but not all day!
Camden, Rockport and Lincolnville offer an abundance of public land and a day hike in the Camden Hills State Park will not disappoint. This mostly wooded region covers 5,500 acres of land and is marked with intersecting trails offering hiking for every age and ability. Many popular hikes such as Maiden's Cliff and Mt. Battie offer expansive views of the hills, lakes, oceans and islands.
Interested in owning a home in this beautiful area? Please view a selection of our available properties:

260 Bay View Street | $5,975,000



Birchfield | $945,000



Cape on Penobscot Bay  | $1,275,000



Nimaha | $7,500,000



Northeast Point | $5,000,000



Sherman's Point | $2,475,000

For more information on these properties in Midcoast Maine, please contact Terry Sortwell, tsortwell@landvest.com or Joe Sortwell, jsortwell@landvest.com in our Camden office, 207-236-3543.
Header Image: Northeast Point, Camden