The underlying simplicity of Mid-Century Modern, both inside and out, offers a sense of balance and contentment we crave in this fast-paced world. Below are three gems that reflect Mid-Century Modern at its best. These stand-out houses built in the 1950s exhibit many of the key architectural features of the period, including open floor plans, expansive walls of glass, angular details, exposed beams, and sleek lines.
Another feature key to this style of architecture is its integration of nature, where design blurs the boundaries between indoors and outdoors to make us think differently, go outside and be healthy, and perhaps even to bring about a change in society. Mid-Century Modern reflects the trends that influenced architecture and interior design in a prosperous, post-war America.
All three properties below have been sensitively renovated and have remained true to the aesthetic integrity of the spare design. If you fall in love with one of these properties, you can buy it.

I. 344 Dedham Street. Dover, Massacusetts – $1,695,000

An exquisite retreat on a bend in the Charles River, 344 Dedham Street is an elegant Mid-Century Modern house set on 6 private acres within a larger envelope of conserved land. An atrium with clerestory windows runs much of the length of the house, filling it with bright indirect light.

Designed by famed architect Hugh Stubbins and built in 1951, 344 Dedham Street offers 2,800 square feet of open living surrounded by terraces and beautiful gardens while taking maximum advantage of long river views.

Thoughtfully conceived to maximize its footprint, the house includes floor-to-ceiling windows, fieldstone fireplace, stone floors with radiant heat, and recently-upgraded systems. The photo above is a classic example of the integration of nature into the living space.
For more information and photos for 344 Dedham, click here.
---
II. On The Rocks, Londonderry, Vermont – $1,695,000

"On The Rocks" is an iconic c.1950 Mid-Century Modern on 34 verdant acres just outside Londonderry village, with handsome views of Bromley Mountain and Styles Peak. Renowned New York architect Philip Ives' stunning design uses clean lines and simplicity to create a flow from room to room with easy access to outside courtyards, terraces and gardens.

The heart of the house is the Great Room, which includes the kitchen, dining area and library with a fireplace. It has an open floor plan with vaulted ceilings, hand-hewn beams, radiant floor heat, and lots of light and windows. The Danby marble used on the counters and sink were hand-selected from a local quarry. This house has soul.

The residence was thoughtfully renovated in 2008 by architect Jeff Barnes, and now offers 5 en suite bedrooms, 8 baths, and 4,500 square feet of living space with antique wide spruce and pine floors and plaster walls.
On The Rocks is close to hiking and cross-country trails. Bromley Mountain and the Weston Playhouse are nearby.
For more information and photos for On The Rocks, click here.
---
III. Dublin Mid-Century Modern, Dublin, New Hampshire – $1,310,000

The dramatic setting for this mid-century modern home offers complete privacy in the high, mountain town of Dublin in the Monadnock region of New Hampshire. Dublin has long been known as a retreat for artists and writers with its unpretentious lifestyle and healthy living.

The house is set on 135 acres. East and south-facing walls of glass take in sweeping views of Mount Monadnocks' eastern slope, Pack Monadnock and Temple Mountain. Mark Twain summered in Dublin a few times and called it "the one place I have always longed for, but never knew existed in fact until now."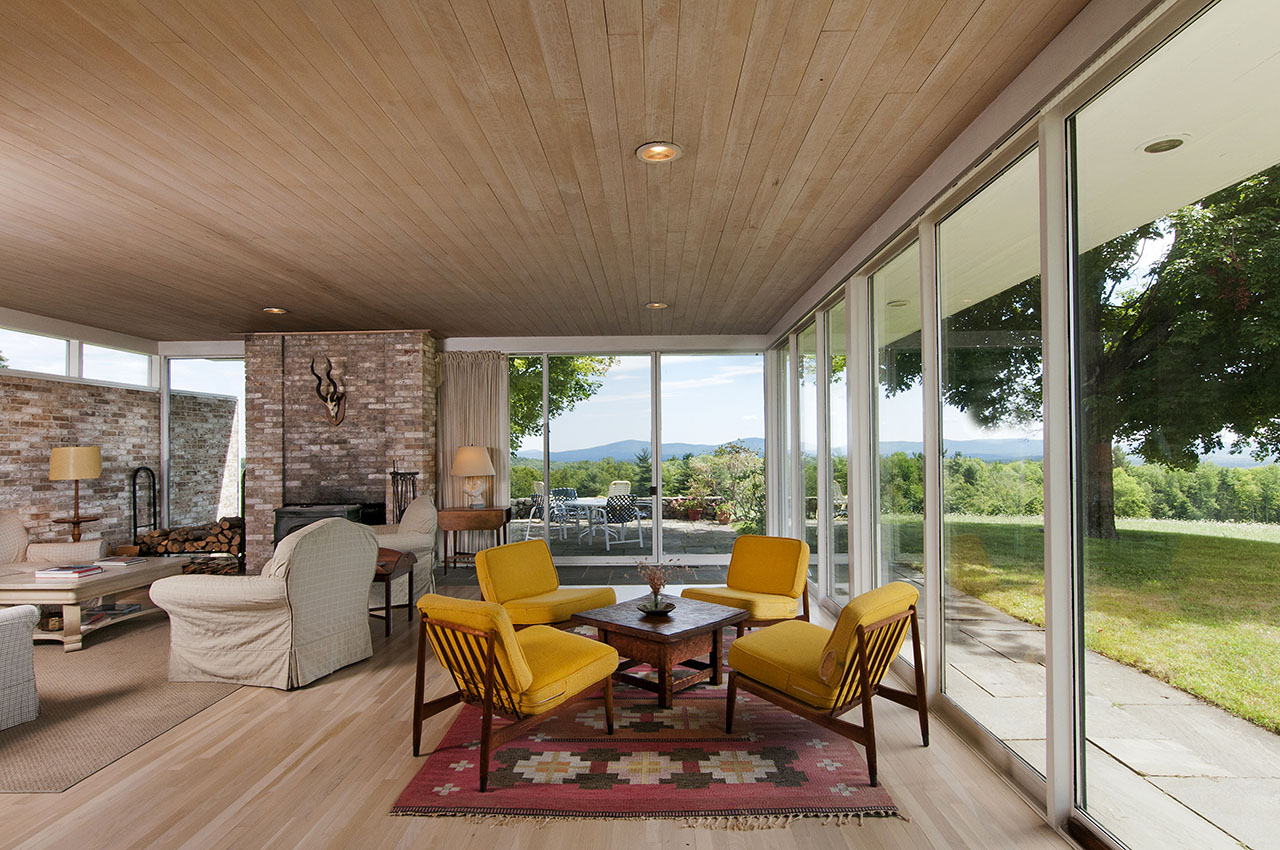 The 1955 home was designed by architect Alexander James, Jr., who studied with the famed Walter Gropius whose influence is clear in the design of this property. James designed a one-level, L-shaped structure to take advantage of the setting which consists of approximately 3,645 square feet of living space with nine rooms including three bedrooms and three baths.
The property is a short hike from Mount Monadnock and the Pumpelly Trail on the northeast side of the mountain. Monadnock is the second most climbed mountain in the world and is surrounded by thousands of acres of protected land offering year-round recreation.
For more information and photos for Dublin Mid-Century Modern, click here.