In late November we gather our family and friends together to celebrate, feast, and give thanks. In this 2-part blog series we'll explore LandVest's favorite places to celebrate Thanksgiving: by the sea, in town, in the mountains, and in the country. Looking for last minute recipe's? Our brokers share some of their holiday go-tos.
Stanley Edwards, a Luxury Real Estate Broker in Boston's MetroWest, shares her favorite Thanksgiving leftovers dish – Turkey Hash. A great way to make a tasty dish with all the extra turkey.
TURKEY HASH
PREP TIME: 15 minutes
COOK TIME: 15 minutes
INGREDIENTS (serves 6):
4 CUPS, diced leftover Thanksgiving turkey
4 to 6 large POTATOES, diced
2 large ONIONS, diced
1 Large stalk of CELERY, diced
2 glass jars of HEINZ TURKEY GRAVY
1 envelope LIPTON'S ONION SOUP MIX
INSTRUCTIONS:
Combine potatoes, onion, celery in 5 cups boiling water
Reduce heat to simmer and cover
Simmer until potatoes are blanched (about 4 to 5 minutes)
Add diced cooked turkey and cover
Simmer for additional 3 to 4 minutes
Add onion soup mix and stir, cover and simmer until the potatoes are tender
Drain the liquid in which the ingredients are simmering
Add Heinz (glass jars) turkey gravy amount determined by amount of hash
Simmer for 1 or 2 minutes
Add ground pepper to taste
Serve hash over Dressing(stuffing) balls
Add cranberries on the side and/or orange hulls stuffed with sweet potatoes
---
THANKSGIVING IN THE COUNTRY
These country retreats offer our favorite estates to bring the family together this year, and many years to come.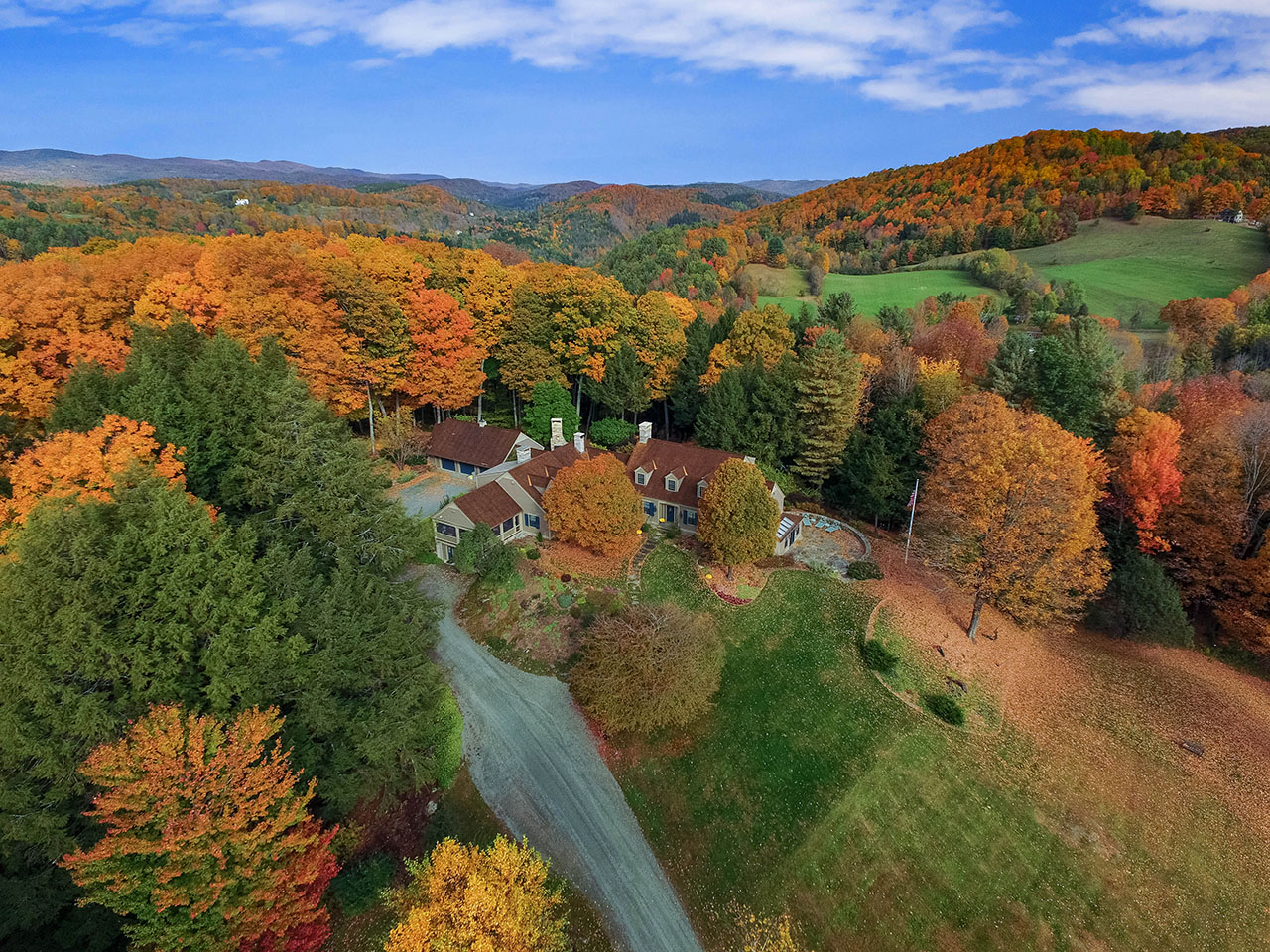 Havenwood
Woodstock, VT
---
Dia Jenks and Story Jenks, Luxury Real Estate Brokers in Woodstock, Vermont, have put their own twist on a tart recipe Dia read in Country Home. Dia says, "It is tradition at the farm for our sons to make the pies and this is always a favorite. If you're in Vermont, we recommend that you serve the tart with Strafford Creamery's maple or cinnamon ice cream."
GINGER MAPLE PEAR AND CRANBERRY TART
PREP TIME: 60 minutes
COOK TIME: 30 minutes
INCREDIENTS (serves 8):
2 Cups all-purpose flour
¼ Cup sugar
¾ Tsp. salt
½ Cup unsalted butter, cut into small pieces
Egg yolk
6 Tbsp. water
5 Cups of cored and sliced pears – use different varieties such as Bartlett and Anjou
Tbsp. lemon juice
Tbsp. sugar
Tbsp. all purpose flour
½ Tsp. ground cardamom
Cup fresh cranberries
Milk
Sugar
¼ Cup apple cider
Tbsp. maple syrup
Tbsp. finely chopped crystallized ginger
Tbsp. fresh ginger
Parchment paper
INSTRUCTIONS:
PREHEAT OVEN TO 375˚
DOUGH:
In a large bowl mix together 2 cups of flour, ¼ cup of sugar and ¾ tsp. of salt. Cut in butter with a pastry blender until the mixture looks like coarse corn meal.
In a small bowl combine egg yolk and 3 tbsp. of water. Stir yolk mixture into dry ingredients and add remaining 3 tbsp. to just moisten. Roll into a ball, flatten into a disc, cover with plastic wrap and refrigerate for 30 minutes (or up to 3 days in advance if you want to start early).
Roll dough into a 13-inch circle. Place on a parchment paper lined baking dish. Set aside.
FILLING:
Gently toss pears in a large bowl with lemon juice. Combine with 3 tbsp. sugar, 1 tbsp. flour, ground cardomon and dash of salt. Place pear slices on dough in concentric circles beginning with a big circle on the outside and ending in the center. Leave a 2 inch border of dough around the edges. Spoon onto pears any remaining mixture from the bowl. Lightly press the cranberries onto the top of the pears.
Loosely fold dough edges up and over pears, pleating gently. Brush dough edges with milk, and sprinkle with additional sugar. Bake tart in a 375˚ oven for 20 minutes.
Prepare maple ginger syrup. Bring apple cider, 3 tablespoons maple syrup and crystallized ginger to a simmer in a small saucepan. Lower heat and simmer, uncovered, for about 5-8 minutes, stirring occasionally. Remove tart from oven and pour syrup over filling. Bake for another 15-20 minutes until the dough is golden and the filling is bubbling. Cool to room temperature before serving.
THANKSGIVING IN THE MOUNTAINS
These in-town properties offer some of our favorite places to bring the family together this year, and many years to come.

Fleetwood Farm
Tamworth, NH
For more information on these and other LandVest luxury properties, visit LandVest.com or call our Boston office, (617) 723-1800.