Market Highlights
Inventory down 9% (229 vs 253 last year).
Record sales up 1% (69 vs record 68 last year).
Top sale: $14,000,000 26 Neel Road, Harwich Port.
LandVest's markets continue to perform strongly with significant record sales.
Special properties, expertly presented, reaching out to a broad market with a strong value proposition, are well received by the market.
---
Active Listings
On Cape Cod, Massachusetts, in the first three quarters of 2017, the inventory of high-end listings decreased by 9% to 229 listings compared to 253 last year and the record of 283 listings in 2015. On average since 2008 there have been 200 listings at the end of the third quarter.
---
High-End Sales
Record number of sales (69) in the first three quarters of 2017, up 1% from last year's record of 68 sales.
On average since 2008 there have been 48 sales at the end of the third quarter.
---
First Three Quarters 2017 –  Top Sale
Property: 26 Neel Road • Town: Harwich Port • Selling price: $14,000,000
Waterfront property with two parcels on 6.4 acres and 616 ft of sandy beach. House and carriage house with potential for an additional residence. Per MLS, second highest sale ever on Cape Cod.
---
Highest & Median Sale
---
Days on Market
Days on market for high-end sales increased significantly to 405 from 305 last year and are above the average from 2008-2017 of 298.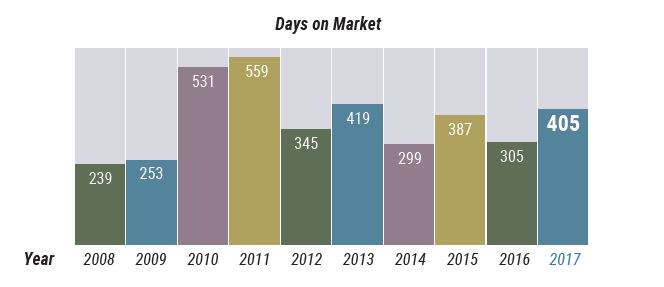 ---
Sales by Town
In the first three quarters of 2017, 14 of the 15 towns on Cape Cod had sales at the $2,000,000+ level. Barnstable leads with a repeat of last year's record 18 sales, of which 10 were in Osterville, followed by 8 sales in Chatham vs 16 last year and 8 in Falmouth. Provincetown has been active this year with 7 sales vs 2 last year.
Chapoquoit Island Waterfront West Falmouth | $4,275,000
Seapuit Waterfront – Under Agreement
Osterville | $4,400,000
---
For additional information about LandVest's brokerage, real estate consulting, and appraisal services, please contact:
Stewart Young | syoung@landvest.com | 617-359-8930 or
Jamie Crowley | jcrowley@landvest.com | 508-982-4029
Click here to to see available Cape Cod Real Estate listings.