2017 Market Highlights
Reduced inventory of listings (261 vs. a record 277 last year).
96 High-End $2,000,000+sales (vs. 100 last year).
Top sale: $5,500,000 – 50 Nobscot Road, Weston.
LandVest's markets continue to improve in volume and turnover, with significant record sales.
Special properties, expertly presented, reaching out to a broad market with a strong value proposition, are well received by the market.
---
Active Listings
In Middlesex County, Massachusetts, in the first half of 2017, the inventory of high-end listings contracted to 261 listings from a record level of 277 last year. On average since 2008 there have been 212 listings at this point in the year.
In Middlesex County, the high-end market is predominately in the $2-$3 million range.
---
High-End Sales
Sales in the first half of 2017 were reduced with 96 sales vs. 100 in 2016 and the record 102 in 2015.
---
First Half 2017 Top Sale
Property: 50 Nobscot Road • Town: Weston • Selling price: $5,500,000
New construction stone-and-shingle home, with 5 bedrooms and 8,500 sq ft on 1.4 acres. Amenities include a custom kitchen, a vault-and-beam ceilinged family room, and a custom wood library. The lower level features a wine cellar, home theater, exercise room and spa bath.
---
Highest & Median Sale
---
Days on Market
Days on market for high-end sales increased to 148 from 137 last year and are slightly below the average from 2008-2017 of 166.
---
Sales by Town
Nine of the 54 cities and towns in Middlesex County, Massachusetts, had high-end sales in the first half of 2017: Belmont, Cambridge, Carlisle, Concord, Lexington, Lincoln, Newton, Weston, and Winchester.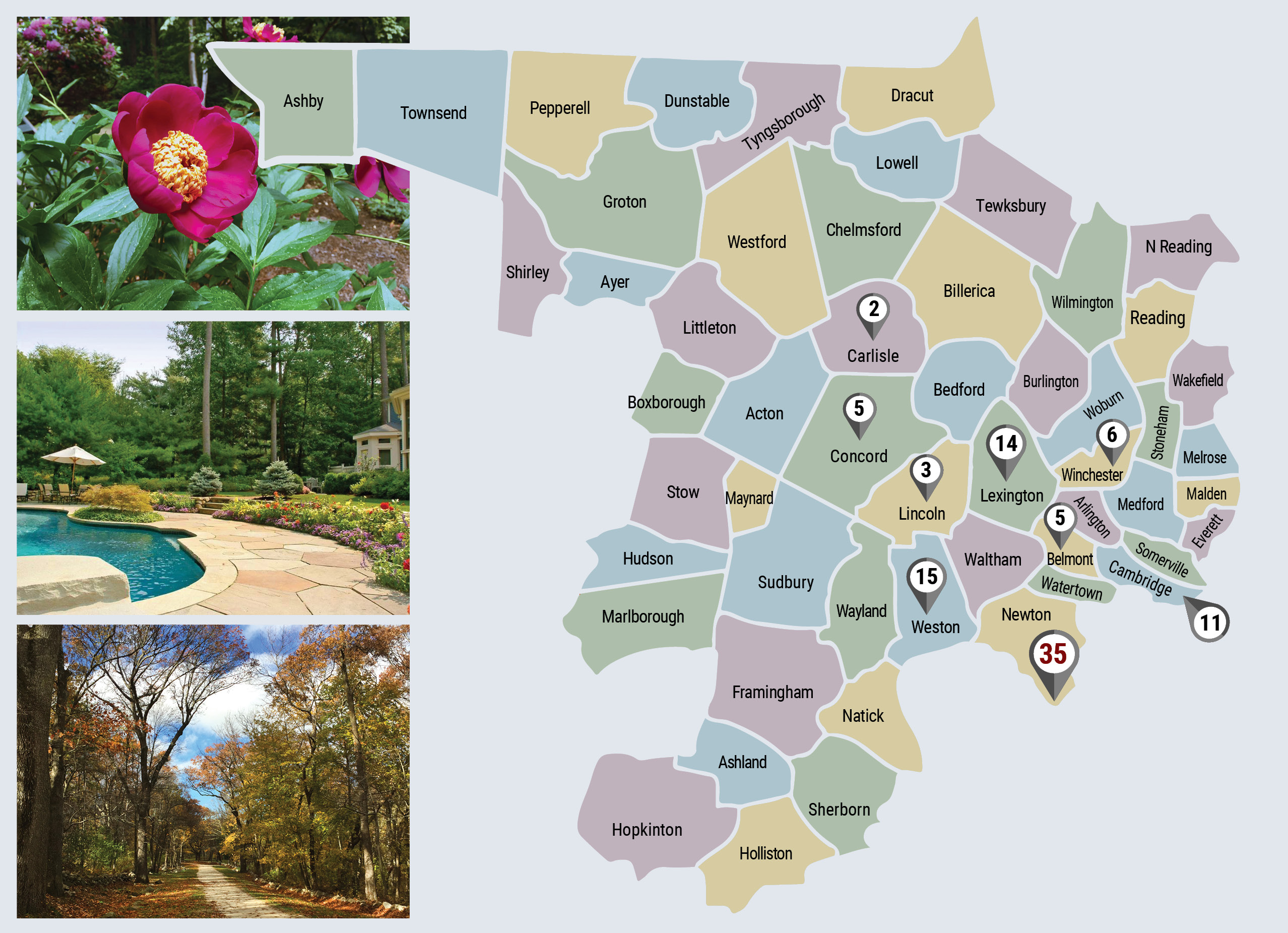 In the first half of 2017, Newton is the leader with 35 sales followed by Weston (15), Lexington (14), and Cambridge (11).


7 PINE SUMMIT CIRCLE Weston | $3,900,000
136 WESTON ROAD Lincoln | $3,300,000
301 MUSTERFIELD ROAD
Concord | $1,795,000
---
For additional information about LandVest's brokerage, real estate consulting, and appraisal services, please contact:
Stewart Young | (syoung@landvest.com) | 617-359-8930
or click here to view Stewart's current Real Estate listings.