Have you ever wondered what it would be like to live in one of LandVest's properties? We invite our owners to tell us a bit about their experience, what they love about their homes and a bit of their history. The owners of 136 Weston Road in Lincoln shared what drew them to Lincoln, their ideal location, and some of their favorite features of this custom home.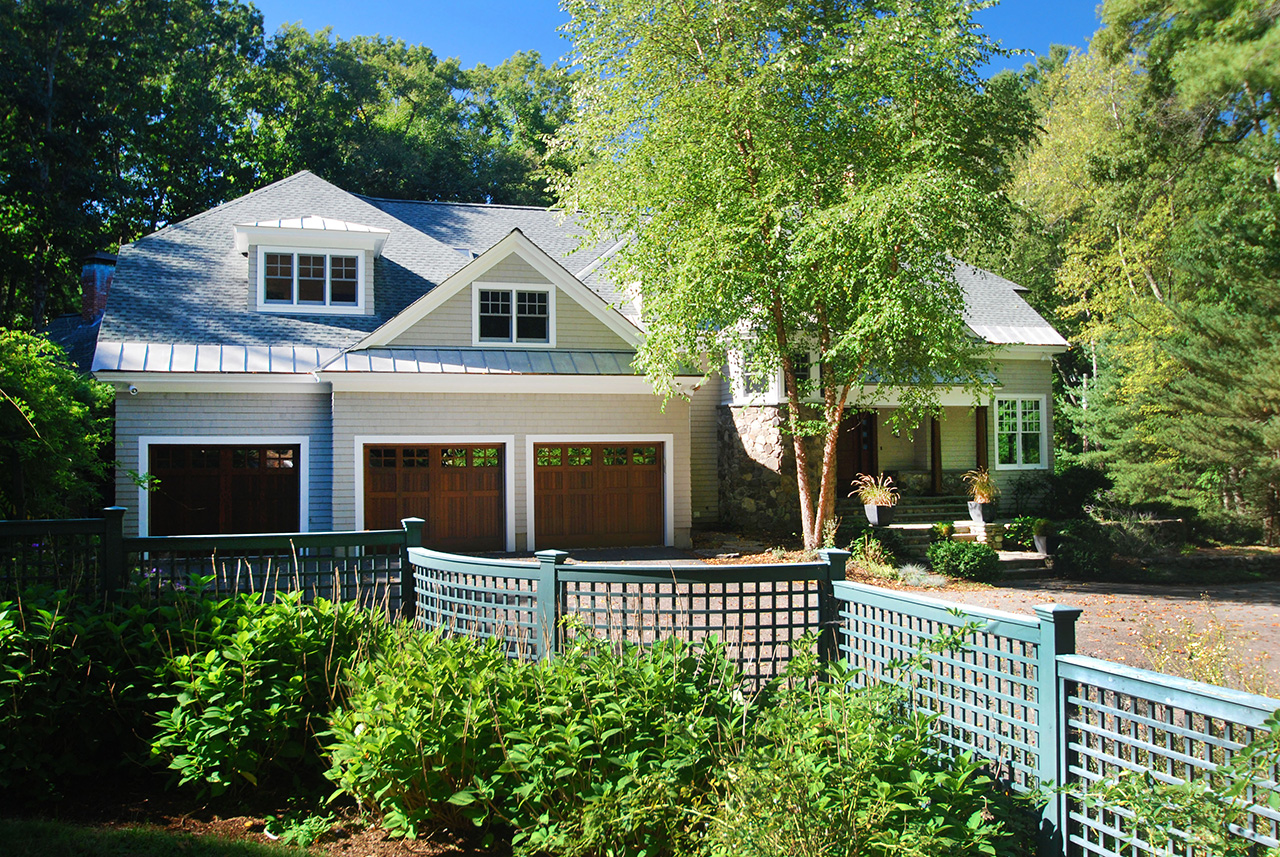 How did you find this property and what made you choose Lincoln, MA?
In our home-buying process, we focused on the town of Lincoln very early on. Previously we lived in the city and would drive out to Lincoln to enjoy biking, walking in the woods and visiting the deCordova Sculpture Park and Museum. In 1999, we married in Lincoln at the historical Codman Estate in the Italian garden. Lincoln, MA was always meant to be our hometown!
We did not initially consider building a new home, as that felt a little daunting, but we fell in love with the location, so we dove into the construction process to build something special. The lot itself is very private, well off the road with woods all around. A short walk across the street connects us to acres and acres of conservation land, including miles of trails. Nearby there is additional conservation land of 30+ acres of fields. The location is quite serene.
What are some special features of 136 Weston Road?
Outdoors,  a Japanese-inspired garden that stays cool under the arbors of wisteria, makes up the backyard. This is connected to an open lawn that allows for lots of play and transitions up into the woods for exploring. A fence surrounds the entire area which is great security for kids or dogs running around!
We designed the interior of the home to focus on details and quality craftsmanship. There are wood moldings, picture rails, coffered ceilings and other features that were uniquely designed just for this home. We wanted to provide a sense of modern timelessness – clean lines and classical details. That is also reflected in the calm, warm paint colors that bathe the walls.
We designed the finished basement to feel like an entirely different experience – dark cherry wood panels with a lounge, bar and movie theater. A fun place to host parties, hang out with friends, or just watch a movie with the family.
Do you have a favorite spot on the property?
The screened porch off the family room – open the doors on a summer evening, listen to nature with a cool evening breeze.
Are there any recent significant improvements?
A few years ago we installed a solar photovoltaic system, which has worked wonderfully – saving on electrical costs while also doing our part to help the environment. In the summer, it's always fun to receive an electric bill where the utility owes you a credit for surplus production!
Are there any notable architects, landscape designers, interior designers?
Architect: Janovsky/Hurley Architects by Vladimir Janovsky
Landscape Architect: Zen Associates
Interior Designer: Alan Melad
What are your reasons for selling 136 Weston Road?
After 15 years, we decided it's time to downsize.
---
If you would like more information about this property on 136 Weston Rd, please contact Stewart Young or Stanley Edwards.