This is the first in a blog series "What I Love About ….", covering unique residences, shops, restaurants and experiences found in the upscale neighborhoods of Boston.
Where to begin to describe the things I love about Beacon Hill? Having lived there for two decades, I've come to appreciate the special things that lend a sense of time and place to the neighborhood.
Walking along picturesque Charles Street, with its brick sidewalks, decorative iron work and gas lanterns, you have a feeling that you're in Europe, especially when it comes to shopping.
Pick up your fresh produce, cheese and specialty meats at Savenor's Market your fresh bouquet at Rouvalis Flowers (at Pinckney and West Cedar Streets) and your dessert at Tatte Bakery. Be sure to stop at Gary Drug, one of the few independent pharmacies left in America.
Rather eat out, European-style? Visit Toscano for a traditional Tuscan dinner or Hungry I for fine French cuisine.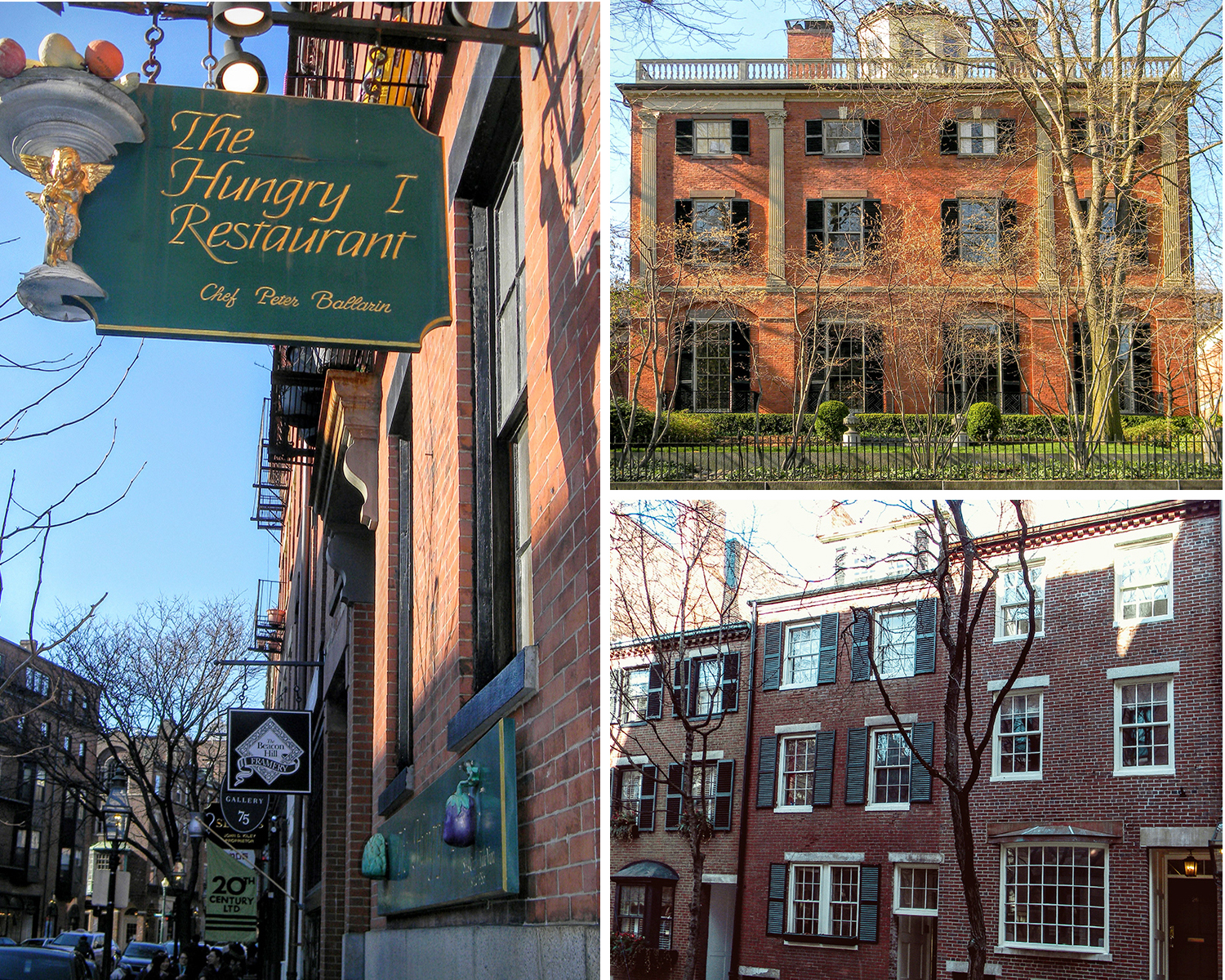 You'll feel transported back in time when you see residential buildings from various historical periods reflecting unique architectural styles. The "South Slope" of the Hill was the originally developed area, with residences built for Boston's wealthy families.
In the early 1800s, Charles Bulfinch was a renowned designer of homes, primarily on Beacon Street and Mount Vernon Street. Of note is the only remaining free standing homes in Beacon Hill, at 85 Mount Vernon Street.
Beacon Hill's early residential history includes homes built by sea captains or other people of means for their daughters. I lived in one of these, built in 1826, by a sea captain, with many original features including wide pine floors and 6 original fireplaces, one with an attached bread oven. The homes at 22, 24 and 26 Garden Street are on the "North Slope" of the Hill.

From a later period stands the early art-and-crafts style "Sunflower House" at 130 Mount Vernon Street . This is located on the "Flat" of the Hill, which was created by filling in part of the Charles River.
The hidden nooks and crannies of Beacon Hill can be discovered and enjoyed by the public throughout the year. A favorite annual tradition, Hidden Garden of Beacon Hill, a tour held annually in May, features delightful landscaped gardens that are rarely seen by the public. The Beacon Hill Art Walk, an annual favorite June, uses small alleys and walkways for artists to display their works and musicians to entertain passersby.

One of my favorite "quirky" residential homes in Beacon Hill is on Rollins Place. At the end of this small brick lane off of Revere Street you see a trompe l'oeil of a home façade, with columns decoratively painted on a brick wall.
Visit this historic neighborhood and you'll come to appreciate why it's considered one of the most coveted addresses in Boston.
Select LandVest Sales in Beacon Hill:
| | |
| --- | --- |
| | Amy L. Donovan – Amy comes from a successful career as a marketing professional, with tenure at Boston's leading financial services firms. She is based in the firm's headquarters in Post Office Square in Boston. She can be seen walking her spirited West Highland Terrier around the city. |
Save
Save