Have you ever wondered what it would be like to live in one of LandVest's properties? We invite our owners to tell us a bit about their experience, what they love about their homes and a bit of their history. Here is what the owner of White Island in Deer Isle told us about his property, what life is like on the island and what he loves about it.
We are at the southeastern end of Eggemoggin Reach, the major thoroughfare between Blue Hill Bay and upper Penobscot Bay. Our location is ideal for its access to all points on the Maine coast. In addition, we are 2 miles by water from WoodenBoat Magazine and School, and 3 miles from Brooklin Boat Yard, at the heart of Maine boat building. From here we can sail north, south, east, and west in both bold or protected waters. Our 14' cat boat has sailed safely and happily here for more than 40 years.
White Island is large enough that it enjoys a varied terrain: bold shoreline and granite bluffs on the Reach side; open fields, woody portions, fern-filled meadows, and sandy beaches running almost the full length of the south side. The island provides for fine hiking in hilly terrain, open sloping land, or along the white-sand beaches. Along the way we are neighbors with deer, bald eagles, seals, mink, and loons. We can go clamming, musseling, raspberry or blueberry picking, or we can just plain relax in this mixed and very unique environment.

Seemingly remote, White Island is easily accessible from either side of Eggemoggin Reach, or from a privately-owned mooring at Center Harbor, next to the yacht club. Distances to the mainland are relatively short and manageable, especially since the surrounding waters are semi-protected and seldom, if ever, impassable due to bad weather. If you wish, you can hunker down with the fog, the silence, and seeming isolation, or enjoy the nearness of the yacht club (3 miles by boat),  Stonington (6 miles by boat), or Mt. Desert (1 hour by boat or by car). The yacht club, it should be noted, has a wonderful sailing program for kids of all ages.


Except for a daughter who now lives abroad, our kids have spent a part of every summer of their lives on the island. The island, they say, is where they grew up; where they learned to navigate and drive a boat, and sail by themselves, even in fog. They learned to clam and pick berries; how to change propane tanks, and fix a broken pipe. They learned self-reliance, safety and caution, and competence in areas where most kids have little experience. The island is and will remain our family's collective spiritual home, and a crowd of six grandchildren is now reminding us of how special our years on the island have been.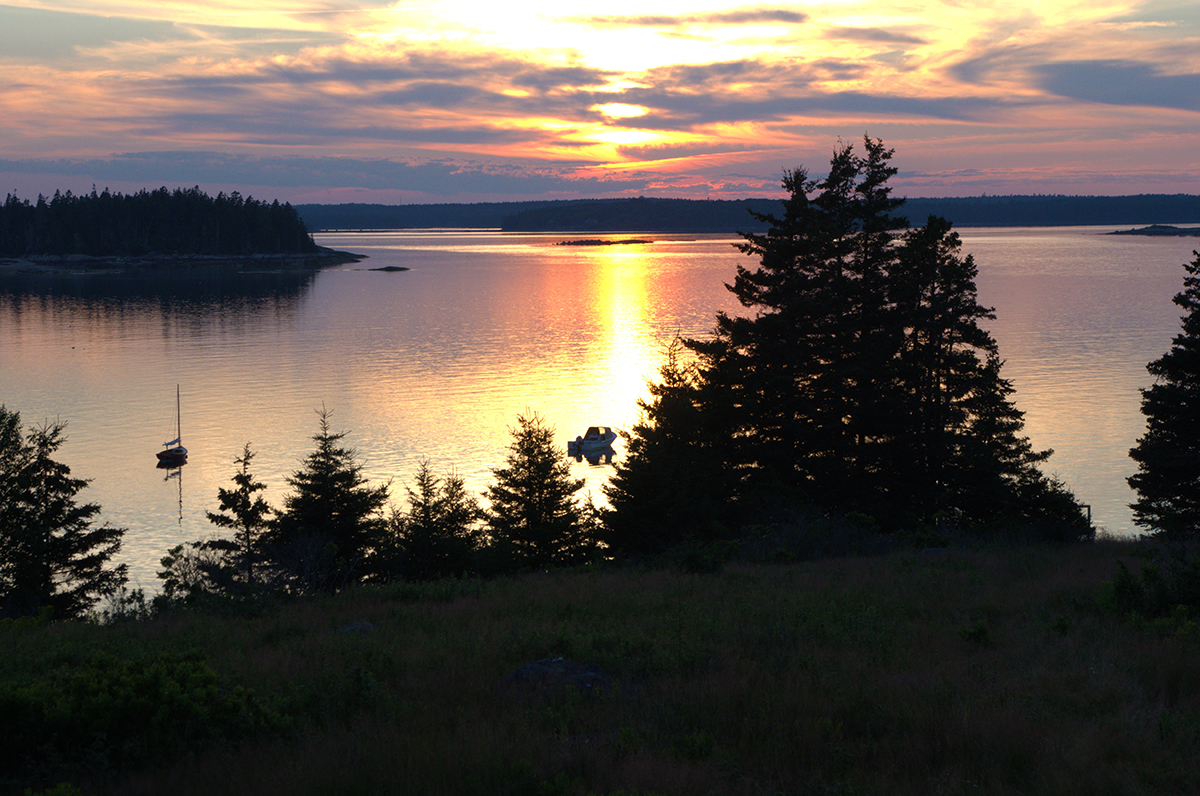 If you ask our now-grown kids they likely won't mention their competence, self-reliance, and skills at doing things with their hands, but they will most assuredly mention more mundane joys like stargazing, hearing seals barking in the night, clamming, sunbathing (no one's watching), sitting around the fire at night, collecting sand dollars on the quarter-mile sandbar, and the long, lazy afternoons sailing in local waters. The day often ends with ever-changing sunsets, and the Camden Hills in the background.