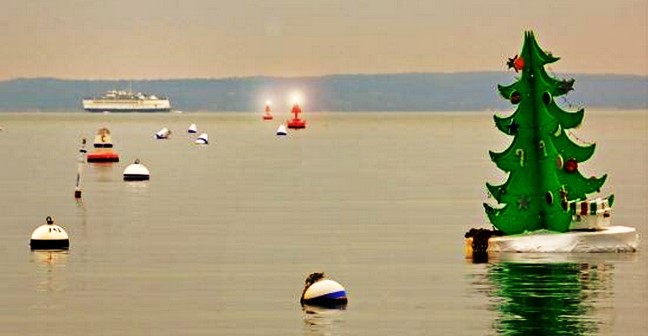 Make it a plan to gather the whole family at an oceanside retreat this season, and you will surely be rewarded with the delightful charm of Cape Cod during the Holidays. Here are some of our favorite traditions:
Warmth and Sparkle: On Fridays and Saturdays from 5:00pm to 8:30pm and on Sundays from 4:00pm to 7:00pm, the Cape Cod Surftones and Santa will be strolling around the Cape Codder, singing carols and spreading holiday spirit through song. The property has been transformed into The Enchanted Village, which sparkles with a dazzling light display. Hot apple cider, hot chocolate and cookies may be enjoyed by the glow of the Cape Codder's bonfire, while children roast marshmallows and sing along with the carolers.
1225 Lyannough Road, Hyannis, MA 02601. Now – Sunday, December 20th
Gifts and Giving: Monday–Saturday, 10:00-4:00pm, and on Sundays, 1:00pm-4:00pm, The Falmouth Art Center opens its Holiday Market and Gift Gallery. The market features works of fine art and unusual, creative, and locally made gifts created by artists from across the Cape. This is a wonderful opportunity to finish your last minute holiday shopping and give back to the local community.
137 Gifford Street, Falmouth, MA 02540. Now – Wednesday, December 23rd
Ride and Dine: At 5:00pm, 6:30pm or 7:30pm, climb aboard the Train to Christmas Town, for a two hour tour filled with Bumblebee the Polar Bear, Wabash the Squirrel, even Zephyr the depot cat. Laugh along with Elves while they're busy serving cookies and cocoa – and leading guests in singing Christmas carols. Upon arrival at Christmas Town, Santa climbs on board and walks through the cars greeting each child with holiday cheer and his signature "Ho, Ho, Ho!" It's the perfect family holiday event on Cape Cod.
Cape Cod Central Railroad Depot, 252 Main Street, Hyannis, MA. Now – Saturday, December 26th
Make sure to check out LandVest's gift bag of great New England properties. Our Holiday Gift Guide has something for everyone.
Cape Cod Featured Properties
---
123 Penzance Road | Woods Hole, MA | $13,900,000
---
50 Fox Island Road | Osterville, MA | $5,900,000
---
39 Juniper Point | Woods Hole, MA | $5,300,000
---
108 Red Brook Road | Mashpee, MA | $4,400,000
---
140 Associates Road | West Falmouth, MA | $4,275,000
---
Lot 5 Bassett's Island | Pocasset, MA | $490,000
---
For more information on these properties, contact Stewart Young, at syoung@landvest.com.