In the spring of 2014, the LandVest Timberland Division became certified to the Forest Stewardship Council® (FSC) Forest Management and Chain of Custody Standards – FSC® C120428 as a Group Certified Manager (GCM) by the Rainforest Alliance.
| | |
| --- | --- |
| Today, we are proud to announce that in March of 2015, on behalf of Sweet Tree 1, LLC, LandVest Timberland expanded the scope of our certification to include maple syrup collected and sold from the subject property as an FSC-certified non-timber forest product (NTFP). To change the scope, LandVest and Sweet Tree evaluated the operation against the Rainforest Alliance Interim Standard for maple syrup. An auditor examined everything from the forest management and tapping infrastructure to all elements of the sap to syrup processing in the RO Center and Sugarhouse. | |
The FSC NTFP Maple Syrup certification of the Sweet Tree property is the only one of its kind currently held in the United States. As a member of LandVest's certified Group, the maple sap and syrup from the Sweet Tree property in northern Vermont can now be sold at market as FSC-certified, just like the FSC-certified lumber purchased from your local lumber yard. LandVest and our client Sweet Tree are proud of this accomplishment because it shows consumers and the public that we are strongly committed to ecologically and socially responsible forest management, regardless of whether we are producing wood fiber or maple syrup.
| | |
| --- | --- |
| | A little more about Sweet Tree…The Sweet Tree maple syrup operation is not your grandparent's sugar shack. It is a state of the art vacuum and reverse osmosis (RO) collection system fed currently by 95,000 taps from 1,200 acres of a prime sugarbush. Sap is collected at the RO center, then shipped to an off-site boiling house, that is a repurposed former Ethan Allen furniture manufacturing facility.The Sweet Tree project is an unparalleled operation that is setting a new bar for maple syrup producers across the region. |
A little bit about LandVest's FSC Group…

Forest certification is a market-driven, voluntary third-party process to identify and recognize well-managed forestland. The management regime is compared to an established set of rigorous standards which includes maintenance of the ecological, economic, and social components of forests and surrounding communities.

Through chain-of-custody, fiber from certified forestland can move through production streams, thus enabling the end product to receive a certified logo informing customers that the product came from a certified, well-managed forest and manufactured responsibly.

As previously mentioned, LandVest's Timberland Division is a Forest Stewardship Council® (FSC) Group Certified Manager and manages timberland ownerships across the northeastern US. LandVest's forest management policies, procedures, and field operations have been compared to an established set of rigorous standards which address the social, environmental and economic impacts of forests and surrounding communities.

What does that mean for landowners?

In working with LandVest Timberlands, our clients realize that the high social and ecological standards we hold ourselves to is validated by third-party certification entities

The group certification model provides a cost effective opportunity for timberland owners to market and sell their forest products as certified, allowing them to demonstrate their commitment to responsible forest management, while LandVest bears the burden of compliance.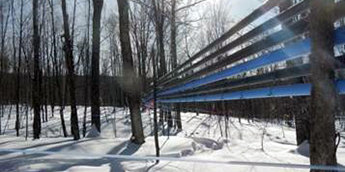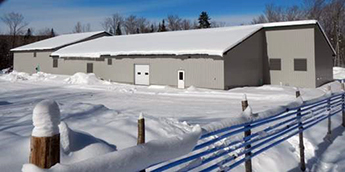 Maple sap flows from the FSC certified forest (L) to the RO Center (R) for collection,
where it will be shipped off-site for boiling into FSC certified maple syrup.



LandVest Timberlands

For more information regarding…

FSC Group Certification and other
Forest Certification Services
please contact
Jonathan McGrath at


jmcgrath@landvest.com

Forest Management and
Consulting Services
please contact
Richard Carbonetti at


rcarbonetti@landvest.com