Summer has officially come to an end, but that doesn't mean there aren't still plenty of weekend activities abuzz in New Bedford, MA.  There is always something happening in "The Whaling City," and here's what we have on our radar for this weekend:
Friday, October 3rd
What: National Park Walking Tour
Where: New Bedford Whaling National Historical Park, 33 William Street, New Bedford
When: 10:30AM, weekdays


Photo credit: Peter Pereira (source: http://www.nps.gov/nebe/parknews/walking-tours.htm)
New Bedford has a long and fascinating history, filled with stories of whaling men going to sea for years at a time, wives left to run businesses, escaped slaves seeking freedom, and a connection to the sea that spans centuries. The public is invited to enjoy free weekday tours that include: Risks and Rewards of Whaling, Unknown Heroes and Their Secrets; New Bedford's Working Waterfront: Then and Now, and In Ishmael's Footsteps: Herman Melville's New Bedford. You can find out more information here.
Saturday, October 4th
What: 9th Annual New Bedford Oktoberfest
Where: New Bedford State Pier
When: October 4, 2014 @ 3:00 PM – 12:00AM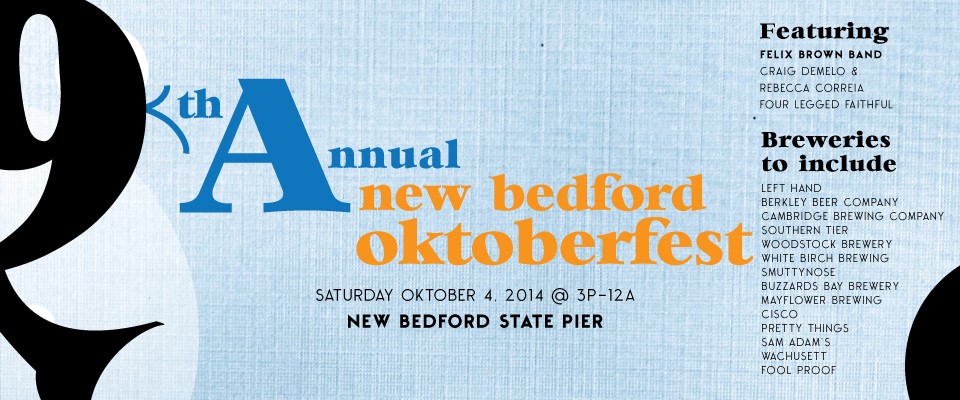 Photo source: http://scballiance.org/
The SCBA presents the 9th Annual New Bedford Oktoberfest featuring live music and over 25 different brews, like local favorite Buzzard's Bay Brewery's Boo! Brew & IPA. One of many excellent local brew fests it is sure to be the biggest of the season. Come help pack the pier to raise money to support at-risk youth and educational based charities along the South coast. Find out more information here
Sunday, October 5th
What: 9th Annual New Bedford Seaport Chowder Festival
Where: Pier 3, New Bedford Working Waterfront
When: October 5, 2014 @ noon – 5:00PM

Photo source:

http://www.newbedfordguide.com/nb-chowder-festival/2014/09/03/nggallery/thumbnails

A must-attend fall festivity, the 9th Annual New Bedford Seaport Chowder Festival is a family friendly chowder showdown that features food, drink, music and more. Twenty-five participating restaurants will serve up clam chowder and signature soups for you to taste and cast your vote for the People's Choice Award. The "2012 Chopped Champion" Chef Joe Rego and a panel of judges will determine the Judge's Choice Award. Find out more information

here

.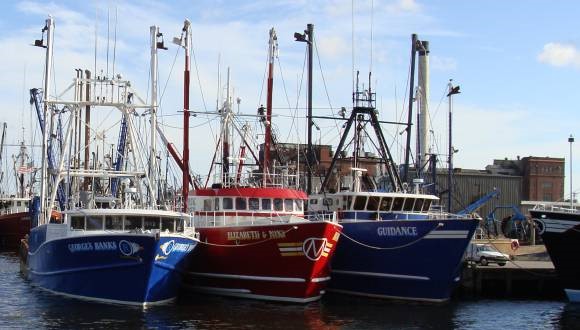 About New Bedford
New Bedford, nicknamed "The Whaling City," was once one of the most important, if not the most important, whaling ports in the world. The vibrant and culturally rich city sits along the coast just south of Freetown and north of Dartmouth. Made famous for whaling, the New Bedford of today is home to world-renowned feasts and festivals, boats and beaches, great architecture, cobblestone streets and the New Bedford Whaling National Historic Park.
Herman Melville, author of "Moby-Dick" describes New Bedford as, "perhaps the dearest place to live in, in all New England..nowhere in all America will you find more patrician-like houses, parks and gardens more opulent, than in New Bedford…all these brave houses and flowery gardens came from the Atlantic, Pacific, and Indian oceans. One and all, they were harpooned and dragged up hither from the bottom of the sea."
Featured Properties Nearby
To find out more about listings in the area visit the regional listings page, and for more information about the above properties you can contact our Cape Cod listing broker Stewart Young, at syoung@landvest.com, or South Shore listing broker Terry Boyle at tboyle@landvest.com.