What's better than taking a nice walk in the cool fall weather to your local farmer's market and picking up fresh produce for the week ahead? This is the season for crisp apples, sweet cabbage, spicy peppers and so much more. LandVest Brokers share some of their favorite New England Farmer's Markets.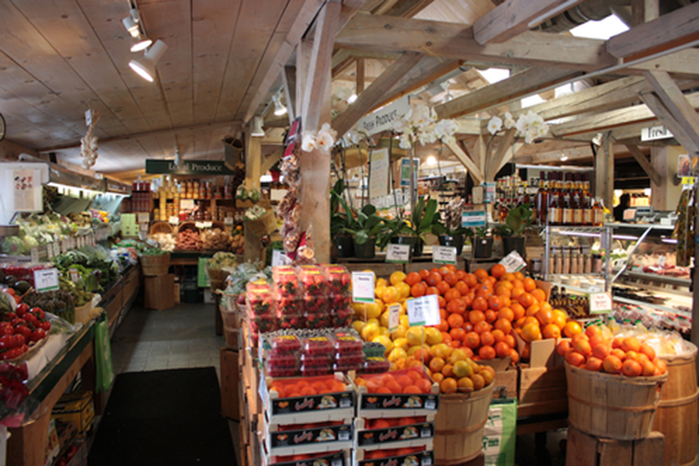 (Photo credit:

http://openplac.es/trips/woodstock-farmers-market-in-woodstock-vt-27010

)
Lanse Robb: "My favorite is the Cape Ann Farmers' Market in Gloucester at Stage Fort Park, with blue sky and ocean as a backdrop. A festival atmosphere with a large selection of food purveyors and artisans.  Cooking demonstrations, live music and children's activities."
Stewart Young: "My favorite farmer's market is Codman Community Farm in Lincoln, Massachusetts. Codman is more than a farm stand. Its mission is "to operate a working farm that is open to the public in a financially and environmentally sound manner, to preserve traditional regional farming practices that ensure our animals are treated humanely, and to promote agricultural education in Lincoln, Massachusetts and the surrounding communities."  The farm raises a wide variety of animals, mostly heritage breeds including Dorset sheep, Devon cows, Tamworth pigs, Nubian goats, chickens, ducks, Bandit the rabbit, and a miniature albino donkey named Opal. There is a farm store selling farm-raised eggs, beef, pork, bacon, and Crescent Farm milk. My son loved the farmer's helper program when he was in elementary school and there is a meat-oriented CSA and vegetable garden plots for rent."


(Photo credit:

http://www.pbase.com/ellen_morgan/image/95177704

)
Terry Boyle: "The Duxbury Farmer and Artisan's Regional Market is a great spot to pick up local fresh food, and a great place to get to know the local folks who are working the land and sea near Duxbury."
John Hayes: "The Hancock, NH Farmers Market is terrific. It's held in the circular horse shed behind our beautiful and historic Meetinghouse/Church rain or shine on Saturday mornings from early spring until late fall. Artisans include painters, sculptors, blacksmiths, photographers and a variety of others. Locally grown vegetables, flowers, berries, apples are for sale. There is a popcorn vendor, specialty coffeemaker, pastry chef, and more for visitors to eat and drink. Pony rides for kids and local musicians are usually in attendance. Of course a tour of Hancock and its historic district is also a favorite way to spend part of the day."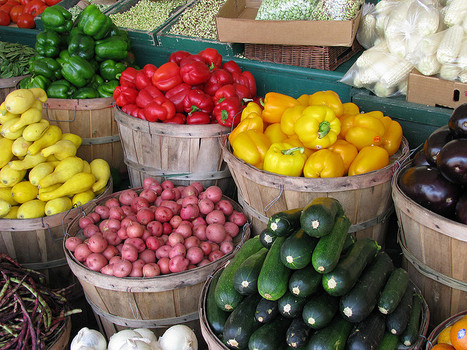 (Photo credit:

http://www.examiner.com/article/monadnock-region-new-hampshire-farmers-markets

)
Joseph Sortwell: "The Camden Farmers Market is available twice a week with wonderful, seasonal local produce, such as locally foraged mushrooms, grass-fed beef, amazing cheeses. They offer most anything that you could possibly need. Everything offered is local and such a treat for mid-coast Maine."
---
To get information about properties in Middlesex County, North Shore and South Shore, MA, Woodstock, VT, New Hampshire, and Camden, ME visit LandVest.com.