Have you ever wondered what it would be like to live in one of LandVest's properties? We invite our owners to tell us a bit about their experience, what they love about their homes and a bit of their history. We spoke with the owner of The Barn House at Indian Neck, to talk about the property and the ideal reasons for owning it.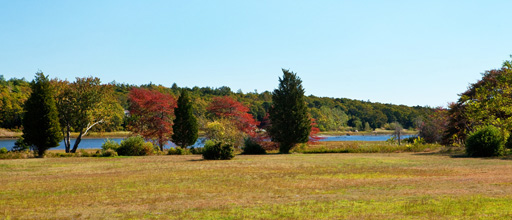 LV: What are the top 5 reasons to own The Barn House?
Milo Fay: After summering on Indian Neck since the 1950s, my mother bought The Barn House in the 1970s, and lived there into her 90s. She loved the location, the great meadow, waterviews, and a community dedicated to preserving the beauty of the surrounding area. Along with my mother's reasons for loving the property, I think there are many great reasons to own it –
A thriving community. The summer offers a classical music festival, an outdoor theatre production, a tennis tournament, outdoor movie night and weekly small boat races. These activities enhance the summer experience and provide an avenue to become involved in the community.
A year-round home. It is a fine place to live any season, as the winters are mild compared to Boston. The peace and beauty coupled with its proximity to Boston is unparalleled.
A great living room. It invites family reunions, parties and long conversations by the fire.
Expansive views. From the second floor sitting area there are striking views of the lush grounds and Bourne Cove.
A sandy beach. A key feature of the property is its access to Land's End Beach. Just a quick stroll away, the sandy shore is a great place to take a walk and enjoy the sunshine and sound of rolling waves.
A rich history. Evidence suggests that this house was designed by noted and leading architectural firm Peabody and Stearns, the leading architects of summer resort homes in the late 19th century. Once a stable, the property was converted to housing in World War II by the Indian Neck Associates.  The home was featured in "Remembering Indian Neck," a collection of Wareham memories compiled by Nick Benton.



21 Warren Road, Wareham, MA
$775,000

The 2,270 square foot residence is tucked away from the private road with paths leading to the water's edge. Offered at $775,000, 21 Warren Point Road is located in the serene community of Indian Neck which offers privacy, sandy beaches, a modest yacht club, tennis courts, fantastic bird watching and miles of walking trails with over half of its 600± acres preserved as open space.
---
To find out more about this unique property you can contact
Terry Boyle at 617-357-0432 or email tboyle@landvest.com.