As Timberland Region Manager in

LandVest's Timberland Division

, Steven Hawkes spends the majority of his time in the woods of Pennsylvania and New York, carefully taking measures to protect and improve his clients' timberland investments. Employed with LandVest since 2007, Steve oversees the management of nearly half a million acres of high-value northern hardwood forests.

In his spare time, Steve heads into his workshop, where trees morph into masterpieces. While Steve might see a standing tree and see that it would have beautiful grain or other unique characteristics, his inspiration comes from the practical side.

He starts with a need, request or gift idea, finds a photo of a similar piece, sketches the item to scale using his mathematical and drafting skills, then decides which species of wood will work or look the best.

He prefers to use the wood that will be appropriate and beautiful in its natural color, but isn't afraid to use stain or paint when needed. His wife, Diana, often assists with the staining and painting.

Steve built this rocking clown fish for his niece Sydney. Now 13, Sydney passed the heirloom on to cousin Zoey.
Zoey slept well in this solid black cherry sleigh crib with matching changing table/dresser.  The crib converts to a full size head and footboard and the changing table top can be removed.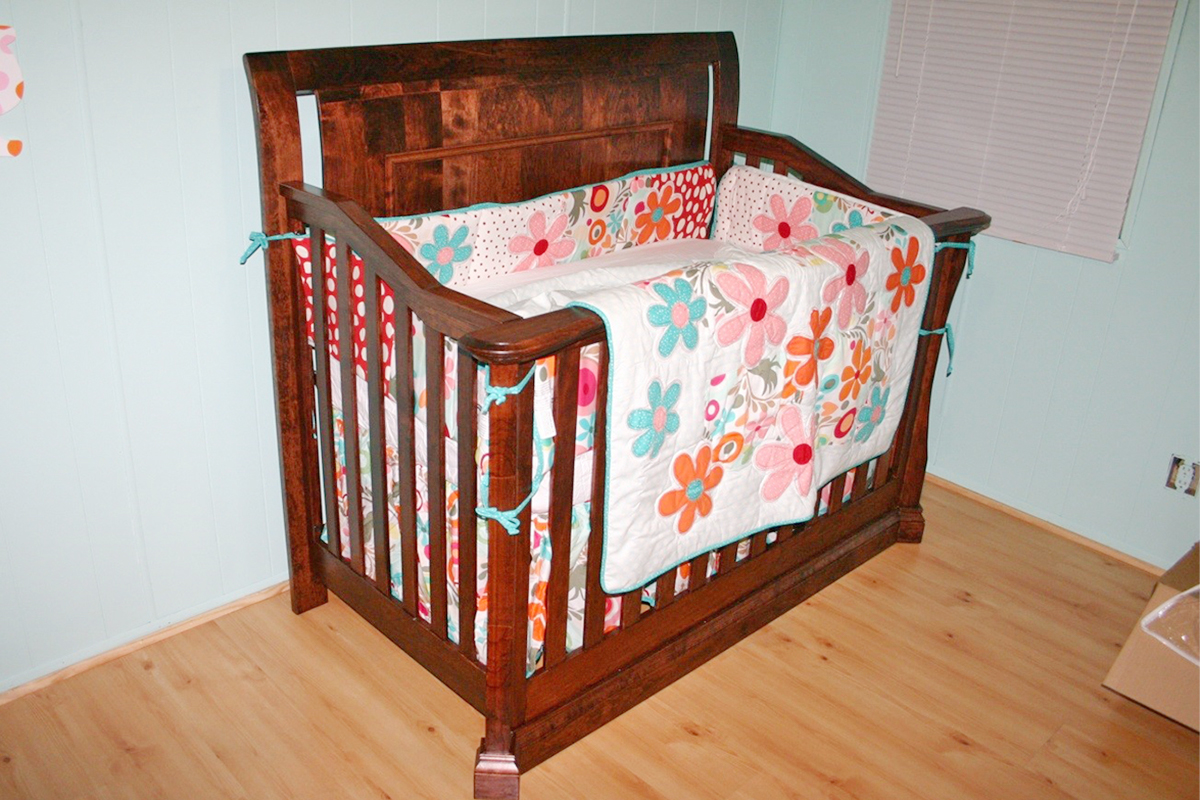 Steve's only formal woodwork training is an 8th grade shop class. The rest he has learned by watching public television, reading books and magazines, and of course, trial and error. The keys to quality work are patience, good quality and well maintained tools, and planning for mistakes. Steve usually starts with rough cut lumber and planes it himself to get it as straight and flat as possible. Buying S4S (surfaced 4 sides) lumber from big box retailers certainly saves a lot of time, but costs a fortune and provides very limited choices of species and grade. He has built several custom pieces for sale, but now focuses mostly on projects for family and friends. Since woodworking is his form of relaxation, Steve does not want to be under the pressure of deadlines by customers. He gets plenty of that during the week. The truth is Steve just uses the woodworking to justify his power tool obsession!
Steve's latest work is this 4' tall jewelry armoire he made as a Christmas gift for his wife. The darker wood is unstained African Padauk and the lighter is Curly Maple. The drawers are all velvet lined.
If you would like to learn more about timberland investments, please find your local LandVest forester at http://www.landvesttimberland.com/about_landvest/office_locations/ or contact Steve Hawkes at 814-561-1018 or shawkes@landvest.com.