Market Highlights
First quarter volume of $2,000,000 + sales was strong (23 vs peak 24 sales in 2005).
Top sale for the first quarter: $3,820,000, 233 Highland Ave, Newton.
First quarter inventories having been growing over past three years.
LandVest's markets continue to improve in volume, turnover, and with significant record sales. Special properties, expertly presented, reaching out to a broad market with a strong value proposition, are well received by the market.
Active Listings and Sales, $2,000,000+, Q1, 2000-2014

In Middlesex County, Massachusetts, in the first quarter of 2014 the inventory of high-end listings grew to 157, a significant jump from 102 at year-end. This compares to the record level of 174 listings at the end of Q1 2006.

Following on superior performance in 2013, sales in the first quarter of 2014 were strong with 23 sales vs. 14 in Q1 2013 and 15 in Q1 2012. Of the 23 high-end sales, 18 were in the $2,000,000 to $2,999,999 range and 4 were in the $3,000,000 to $3,999,999 range. The average sale price was $2,585,891. Q2 2014 is starting out strongly with 23 properties under agreement as of April 2.

Highest And Median Sale, $2,000,000+, Q1, 2000-2014

In the first quarter of 2014, the top sale in Middlesex County was $3,820,000 for 233 Highland Avenue in Newton. This 1879 Gambrel Colonial on West Newton Hill was completely renovated in 2013 with 6,879 square feet of living space and a new carriage house.

Days On Market, Sales, $2,000,000+, Q1, 2000-2014

Improving demand is resulting in quicker sales. Days on market for high-end sales decreased to 135 in Q1 2014 from 178 in Q1 2013 and are lower than the average from 2000-2014 of 180.

Sales by Town, $2,000,000+, Q1, 2000-2014

Seven of the 54 cities and towns in Middlesex County, Massachusetts, had high-end sales in the first quarter of 2014: Belmont, Cambridge, Concord, Lexington, Lincoln, Newton, and Weston.

Over the period 2000-2013, Newton is the leader with 61 sales followed by Weston (55), Cambridge (42), and Concord (22). Newton and Weston were particularly strong, more than doubling their first quarter 2014 performance compared to last year.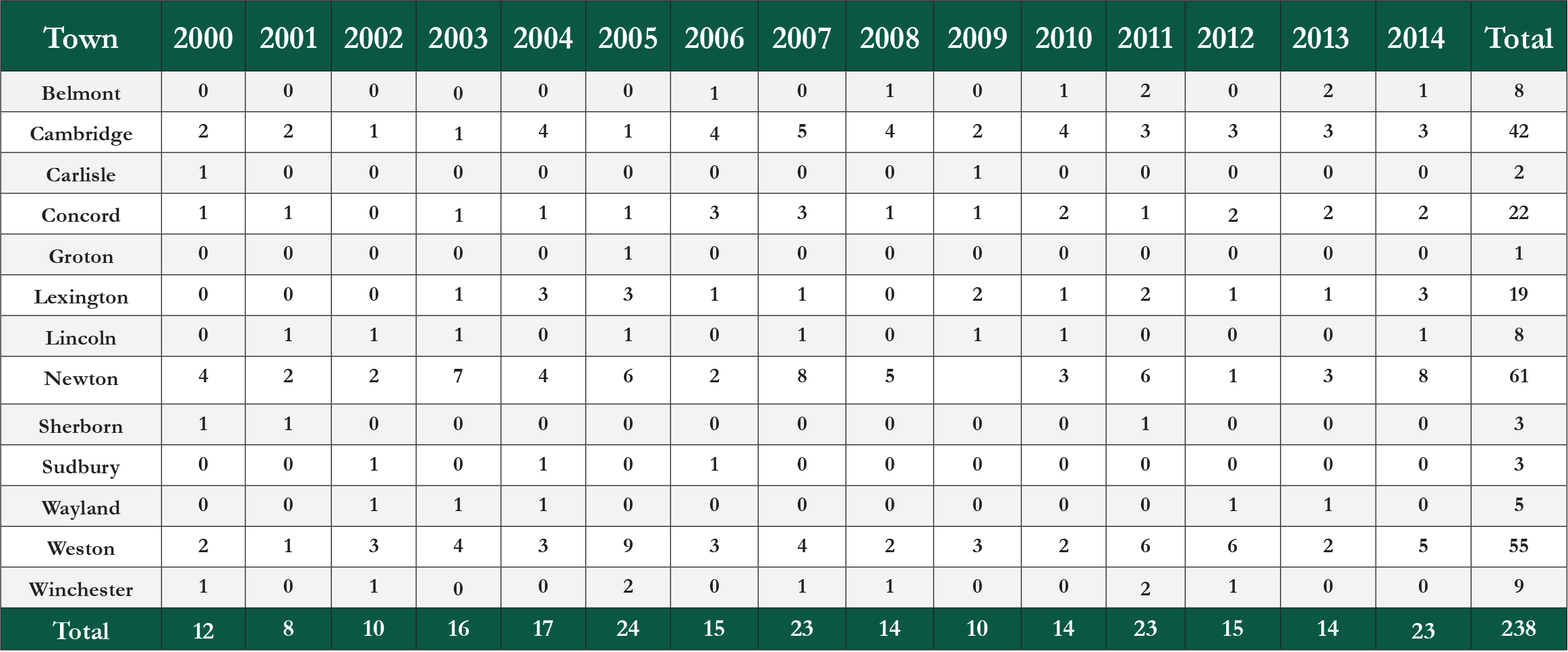 The LandVest High-End Market Watch is a periodic review of select high-end markets in Maine, Massachusetts, New Hampshire, Vermont and the Adirondacks. Market data are collected from Multiple Listing Services and do not include private listings. LandVest makes no representation as to the accuracy of the data and therefore is not responsible for any actions taken as a result of use of or reliance on this information.
For additional information about LandVest's brokerage, real estate consulting, and appraisal services,
please contact: