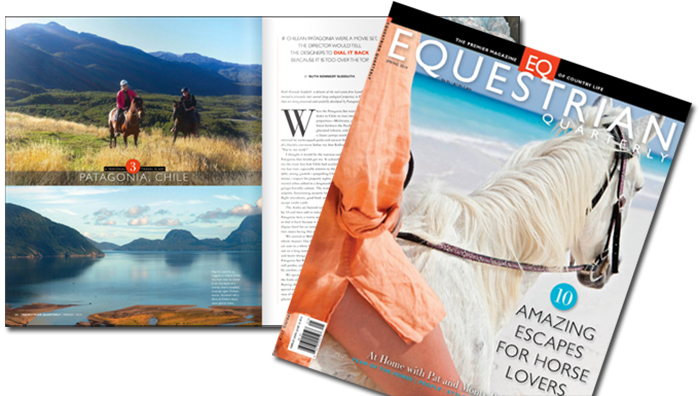 LandVest's beautiful listings in Chilean Patagonia were selected by Equestrian Quarterly for their top ten "Amazing Escapes for Horse Lovers". The staff at EQ asked LandVest's Director of Residential Brokerage, Ruth Kennedy Sudduth, to condense her travel blogs into a brief overview of what made her trip to Patagonia so extraordinary.
"If Patagonia were a movie set, the directors would ask the set designers to dial it back, because it is too over the top", she begins. To read the rest of the story from kayaking with dolphins to galloping on agile little Chilean horses, click here.
LandVest is proud to be representing the Patagonia Sur Portfolio, a world-class conservation real estate project in Chilean Patagonia. For more information, click here or contact Ruth Kennedy Sudduth at 617-359-5584 or rsudduth@landvest.com. To see the full Spring Issue of Equestrian Quarterly, click here. The Patagonia story begins on Page 62, but check out the other destinations, from Casa del Campo to Provence (or a manor with giraffes in Kenya).