In 2013 the luxury real estate market in New England and the Adirondacks continued to perform at historically high levels due to a combination of pent-up demand, price reductions, low interest rates, and a strong stock market.
Sales volumes decreased by 4% compared to 2012 (886 vs 918 sales). Compared to 2006 (861 sales), our baseline year, sales are up 3%, and have recovered substantially from a bottom of 533 sales in 2009. Compared to the peak in 2007 (976 sales), sales are off by 9%. Concerns about the fiscal cliff tempered sales and a flurry of tax-motivated sales at the end of 2012 took some of the steam out of the market for 2013. More detailed year-end reports for selected markets can be found at www.landvest.com/blog.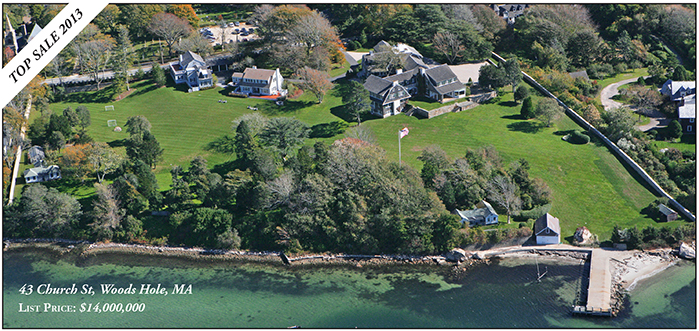 The LandVest Real Estate Index tracks high-end real estate sales in Maine, Massachusetts, New Hampshire, Rhode Island, Vermont, and the Adirondack region of New York. The lower limit of high-end prices ranges from $1,000,000 to $2,000,000 depending on the market.
Stewart Young, LandVest's Regional Manager on Cape Cod and in Boston's western suburbs, compiles the LandVest Index. According to Young, "The market was mixed this year with record numbers of high-end sales in primary residential markets around Boston and significant contractions in many vacation markets. For example, Middlesex County, MA, was up 12%, while Barnstable County (Cape Cod) was off 25%. The Adirondacks, Southern Vermont, and Woodstock area were notable exceptions with approximate doublings of their sales volumes."
Ruth Kennedy Sudduth, LandVest's Managing Director of Residential Brokerage, observed: "After the strong improvement in 2012, it's not surprising that 2013 was a year of sorting things out. With some of the most motivated sales having already gone through, there were fewer opportunities to bottom fish. That produced some stand-offs between buyers and sellers. We saw improvement in buyer activity as 2013 drew to a close and it continues into early 2014. There are tremendous values out there."
LandVest, founded in 1968, provides real estate advisory and brokerage services for buyers and sellers of land, luxury real estate, timberland, and other special assets in New England and beyond.
---
The LandVest High-End Market Watch is a periodic review of select high-end markets in Maine, Massachusetts, New Hampshire, Vermont, and the Adirondacks. Market data are collected from Multiple Listing Services and do not include private listings. LandVest makes no representation as to the accuracy of the data and therefore is not responsible for any actions taken as a result of use of or reliance on this information.
For information about LandVest's marketing of residential real estate, contact:
Stewart Young | syoung@landvest.com | 617-359-8930
Ruth Kennedy Sudduth | rsudduth@landvest.com | 617-359-5584
View Extraordinary New England Real Estate for Sale www.landvest.com