Have you ever wondered what it would be like to live in some of LandVest's properties? We invite our owners to tell us a bit about their experience, what they love about their homes and a bit of their history. We followed up with Bill Chorske, to talk with him about wintertime experiences at his property, Garvin Hill located up a quiet country road close to the village of Woodstock, Vermont. Click for our first conversation in early summer.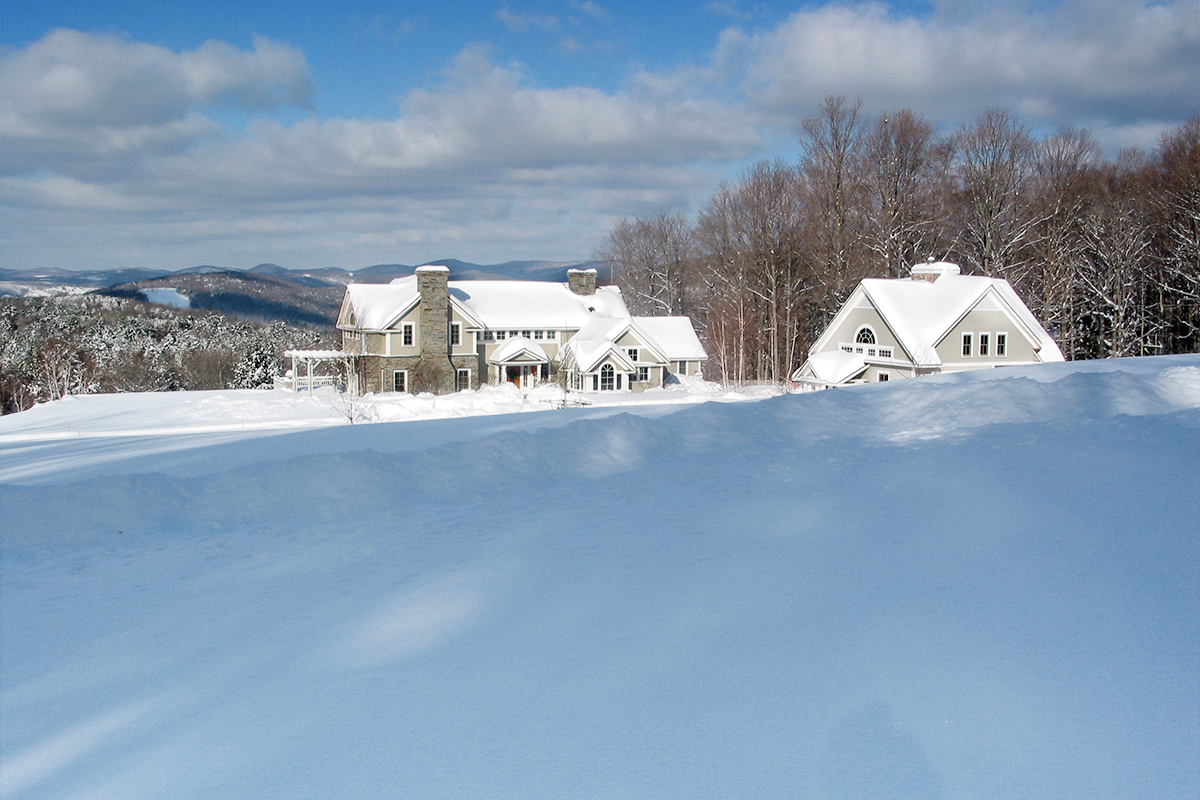 Garvin Hill recently had a substantial price reduction,
from $1,775,000 to $1,575,000.

LV:  What do you like the most about Garvin Hill in the winter?

Bill Chorske:  The same things I like about it in the summer: the views, the sense of complete privacy, and the short distance to the village of Woodstock.

The views: on a cold clear winter day, you can see 60 miles to the spine of the Green Mountains.

Privacy: you can see 60 miles… and no lights

Short trip to the village: everyone loves the dirt roads, but we really appreciate being under 10 minutes into town on a snowy icy day.

LV:How does Woodstock stack up as a place for winter activities?

Bill Chorske: My family really appreciated that they could get to the big mountain skiing of Killington within a forty minutes. Especially for young kids or for a more relaxed experience, Suicide Six is just down the road in Pomfret, a real local gem which we used all of the time. My kids learned to ski at Six, and have never lost their enthusiasm for the sport. Suicide Six has produced generations of fantastic skiers.

Of course, for most people, the best part of skiing is unwinding somewhere warm afterward. I like the tavern at The Prince & the Pauper, it's really cozy. My adult kids like Melaza's mojitos or Bentley's.

My personal favorite is Garvin Hill's sauna – and if you're up for a hardy roll in the snow, it's easy to race out and back from the lower level.

The real beauty of Vermont in the winter is revealed at slower speeds, I think: whether it's going for a snowshoe or a ski on the trails on the property, or to the Woodstock Nordic Center for a more groomed experience. The trails on Mount Tom are really beautiful in the winter because you can see all the diverse species of trees against the snow in the beautifully managed woodlands. The carriage trails are really gentle and wide, and the view is rewarding at the top. Those Rockefellers did it right.

______________

 
 
 
For more information on Garvin Hill, please visit the listing page or the individual property website, or contact listing brokers Story Jenks, sjkenks@landvest.com, and Ruth Kennedy Sudduth, rsudduth@landvest.com.