January 2014
In the last year, Maine's high-end real estate market showed some improvement over the previous year. In select markets around the country (such as Marin County, Miami, the Hamptons, and in-town Boston), the upper end of the market has made a solid recovery. While we haven't seen such a dramatic reversal here yet, we're optimistic that the rebound will make its way to Maine, as it historically has.
A FEW HIGHLIGHTS
There were 164 sales statewide of properties priced above $1 million (There were 151 in 2012).

Of these sales, 33 were in the midcoast region from Boothbay to Blue Hill, including islands. (There were 27 sales in this region in 2012.)

The very top of the market (above $3 million) has also improved, with 11 sales last year over 2012's low of 8.
SALES AND VALUES
Data from the MLS reveal an interesting pattern, as shown in the graph below. Real estate sales and values were at record highs in 2005-2006.  Both the median sale price and the number of sales plummeted in the crash of 2008. In 2009, the median price went up, but there were far fewer sales. It seems that 2010 brought a correction, with prices coming down and more sales resulting. Since then, both the number of sales and sale prices generally increased. Last year brought sales almost at 2007 levels, but with lower prices. It will be interesting to see what happens this year—if we see continued growth in the number of sales, and if so, whether continued price reductions are necessary to fuel it.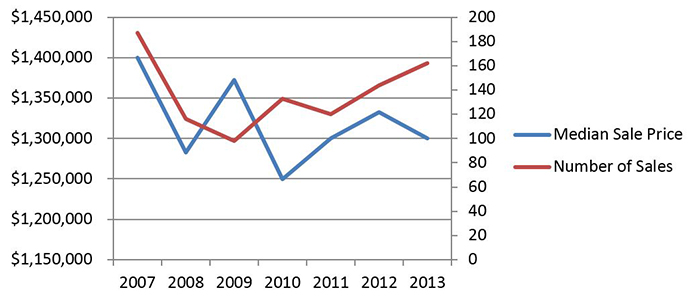 The stock market is at new highs, there's bonus money on Wall Street, and the downturn has already cycled through year seven. Maine gets more appealing every year, as it retains its natural beauty and privacy, as the food, art, and film scene grows, and as waterfront property offers increasingly good value in comparison to other parts of the country.
A CHANGING MARKET
Younger buyers (in their 30s and 40s) are entering the luxury market in higher numbers.

Buyers definitely prefer village areas, with community and amenities within walking distance.

Buyers favor houses that are "done", versus those that require a lot of work.

Most buyers don't come up to Maine and stay for a whole season. These buyers come and go throughout the year, so proximity to airports is key.
Terry Sortwell, Shannon Thompson, and Joseph Sortwell represent distinctive waterfront properties, islands for sale, and fine farms for sale on the coast of Maine.
For exceptional Maine coastal properties, visit the Camden real estate office site to view our listings.