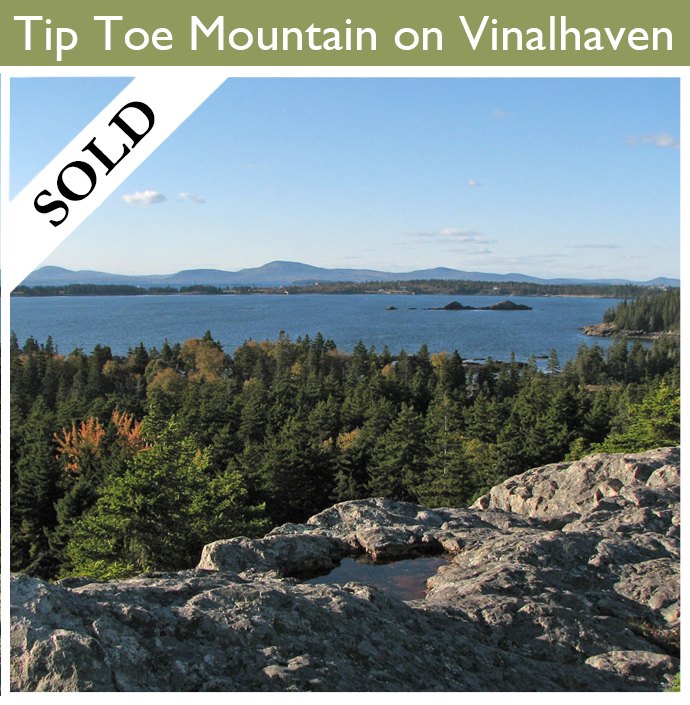 We're very pleased to announce the sale of Big Tip Toe Mountain on Vinalhaven, an island about 15 miles off the coast of Maine in Penobscot Bay.  The land  was recently purchased by Vinalhaven Land Trust (VLT) to preserve the property's diverse habitat, ensure public access, and offer opportunities for environmental education.
The beautiful property includes one of the highest mountains on the island and an adjacent hill that has long been a popular spot for hiking, picnicking, and watching sunsets. The views of the Fox Islands Thorofare, North Haven, West Penobscot Bay, and the Camden Hills from the top are breathtaking. The land just sold abuts the Little Tip Toe town park, and extends to the shore on both sides of Crockett Point, offering shorefront on both the Thorofare and Crockett Cove.
Last year, VLT acquired an option to purchase the property and launched a capital campaign to raise the necessary funds. The nonprofit organization was able to complete the purchase as scheduled and now seeks donations to complete final stages of the campaign, which will create a dedicated fund for stewardship of the property.
We at LandVest, along with the property owners, are delighted with the outcome, and pleased that this natural treasure will be protected and accessible to residents and visitors who cherish it.
View photos of the Tip Toe Mountain parcel here:  http://www.landvest.com/soldproperty/10408260/4A-Crockett-Point-Road-Vinalhaven-ME-04863
View the listing for adjacent land still available for sale here:  http://www.landvest.com/property/10408261/4A-Crockett-Point-Road-Vinalhaven-ME-04863 or contact Terry Sortwell, tsortwell@landvest.com in our Camden office.