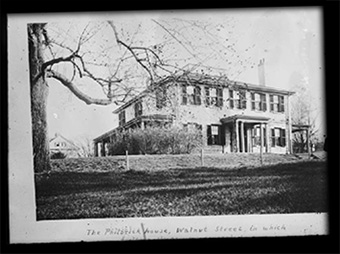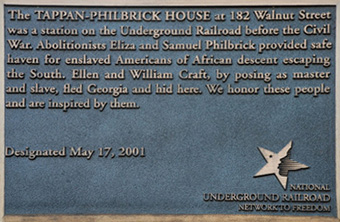 The highly successful Stephen Spielberg film "Lincoln," for which Daniel Day-Lewis won an Academy Award for his portrayal of the 16th President, has focused renewed attention on the epic struggle Lincoln faced to enact the 13th Amendment that abolished slavery. The film centers on the herculean efforts of Lincoln and his cadre of loyalists, including abolitionists and legislators to pass the landmark amendment in early 1865.
Based largely on the book Team of Rivals by historian Doris Kearns Goodwin, the film and book detail the pivotal role played by Northern abolitionists, including members of the Tappan family who built the Federal–style house in 1822. Lewis Tappan appears in Team of Rivals as an ardent abolitionist who was acquainted with the leading figures of the day.
A successor owner of the house was Samuel Philbrick, also an abolitionist who hosted lectures at his Brookline home. Among the attendees were the celebrated poet John Greenleaf Whittier, and fellow abolitionists William Lloyd Garrison, Ellis Gray Loring and Theodore Parker.
The Tappan-Philbrick house was known as a stop on the Underground Railroad, and once concealed a runaway slave couple from Macon, Georgia, for three days while bounty hunters searched for them in Boston. In 2001 the house was listed in the Underground Railroad Network to Freedom by the National Park Service.
As one of a handful of 19th century stone houses located in Brookline, the Tappan-Philbrick House is considered one of the Brookline's most significant structures. It sits on a rise amid rolling lawns and commands a view over the Pill Hill neighborhood, itself a local Historic District. The house offers five bedrooms and four full baths, abundant original details and moldings, and eight fireplaces. The property is also marked by fabulous gardens as the current owners are enthusiastic and talented gardeners, and this property is on the verge of announcing the spring with a great burst of color, including tulips, roses and wisteria that is trained along the south side of the house.
Click for more information on Tappan-Philbrick House or contact Terry Maitland (tmaitland@landvest.com) at 617-357-8949.