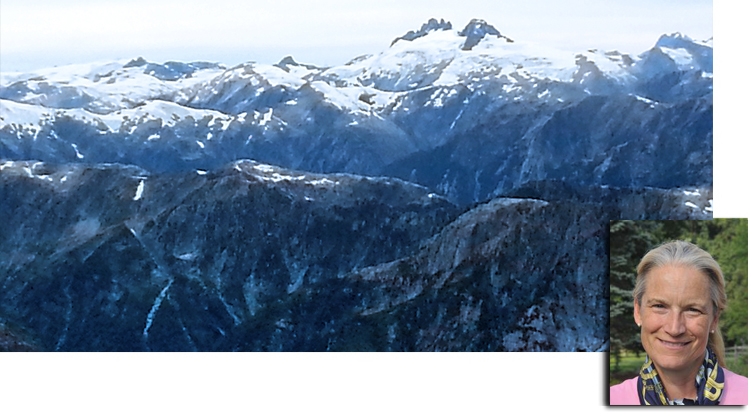 LandVest is honored to be the global marketing partner for the Patagonia Sur Portfolio of properties, an innovative project blending conservation, luxury real estate, ecotourism, community involvement and scientific research. Ruth Kennedy Sudduth, director of LandVest's Residential Brokerage Division, recently visited Chile to learn more. This is the second blog from her trip.
From Puerto Montt, where the highway ends, we helicoptered down the Patagonian coast, where small towns give way to villages then to scattered houses and finally to roadless green mountains and blue ocean.

The Andes are beyond vast. Imagine the Rockies photoshopped by ten and then add volcanoes and a deep teal ocean. If Chilean Patagonia were a movie set, the director would tell the designers to dial it back since it is too over the top. Watch 180 Degrees South, for an introduction to Patagonia and to the conservation issues facing this amazing place.

Blue Hills: You couldn't make this place up!

Melimoyu is set on a perfect blue bay (think Avatar). The Bell landed in clearing in the rainforest, next to a white farmhouse overlooking the bay. Lunch was laid out on a long rustic table, with fruit and cheese and warm things coming out of the wood-fired oven. And Chilean wine…

Each of the Patagonia Sur Reserves properties has a top flight chef, house staff and guides, and the level of environmental sensitivity is matched by comfort, cuisine and local expertise.

Apu, the chef at Melimoyu, made ceviche from fresh caught salmon (interlopers in this environment thus harvestable) and fantastic pisco sours (try to just have one…). Good thing there was hiking to do.

Isidora Llarena, our guide, took us up to a refuge built into the side of the mountain, along boardwalks and up stairs and ladders. It felt like a kids' adventure to the perfect tree house.

The following days were spent exploring the rainforest, where the birds are so unused to people that they fly right up to you, floating the rivers, and paddling among dolphins and sea lions. A special trip was a helicopter up to the Melimoyu Glacier, the vastness of which puts humans in context. As we flew down from the glacier, we circled over multiple Yosemite-size waterfalls.

The Patagonia Sur guides are fluent in this unique ecosystem which combines high mountain habitat with rainforest and pristine ocean to produce a series of edge habitats uniquely rich on the planet. For a sense of how serene Melimoyu is, click here. Patagonia Sur is offering the Melimoyu reserve for sale subject to conservation easement permitting environmentally sensitive construction in designated areas. Pretty much like having your own national park (with no tour buses). It's paradise.
---
The next in Ruth's series of travel blogs will show how Patagonia Sur is helping to increase scientific understanding of this rich ecosystem through their Melimoyu Ecosystem Research Institute(MERI).
If you would like to know more about Patagonia Sur Ecotourism, please visit their website.
For more information on Patagonian Sur Portfolio properties, please visit LandVest.com
or contact Ruth Kennedy Sudduth at 617-357-0455 or rsudduth@landvest.com.