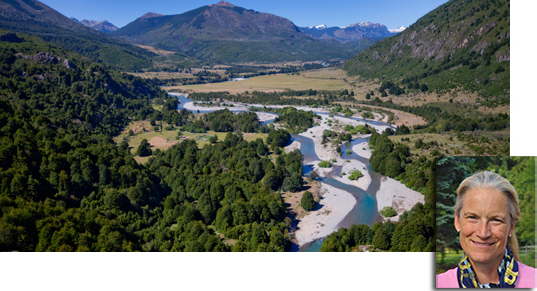 LandVest is honored to be the global marketing partner for the Patagonia Sur Portfolio of properties, an innovative project blending conservation, luxury real estate, ecotourism, community involvement and scientific research. Ruth Kennedy Sudduth, director of LandVest's Residential Brokerage Division, recently visited Chile to learn more.
When the Patagonia Sur team invited me down to see what we were selling, I was reminded of a friend's comment before my first Rolling Stones concert: "you're not ready!" I thought it would be the vastness and unspoiled character of Patagonia that would get me. It certainly did. But what struck me the most was how Chile had accelerated in the 20 years since my last visit, especially relative to the United States. Low national debt, strong growth (propelling Chile into 'developed world' status), respect for property rights, and an emerging environmental ethos added to a longstanding sense of civil order and a gringo-friendly culture. The more mundane surprises (especially in fiscal cliff America) were new airports, functioning security lines, gleaming planes, welcoming flight attendants, good food, smooth roads, and clean taxis that take credit cards.
| | |
| --- | --- |
| | |
| Our visit was to two Patagonia Sur's Reserves, Valle California and Melimoyu | |
Patagonia Sur's offices in Santiago, Chile are staffed by a group of top-flight young talent, (check out our blog series) bringing expertise in luxury ecotourism, conservation planning, land sales, and logistics to bear on their far-flung portfolio of seven unique properties, each representing a best in class ecosystem. I was to visit two of the largest, Melimoyu, a temperate rainforest between the ocean and a glaciated volcano, and Valle California a classic pampa ranch with trout rivers rimmed by snowcapped peaks and ancient forests. On the way, we flew into Puerto Montt, spending the night in the Cumbres Hotel in Puerto Varas, a lovely lakefront town very reminiscent of Lake Constance, Switzerland. Our Patagonia Sur guide explained that the area had been settled by Germans, hence the Alpine style houses and pastry shops. We loved Puerto Varas, but were eager for the skies to clear so we could helicopter to Melimoyu. Stay tuned for our next blog!
For more on Ruth Kennedy Sudduth's Patagonia Sur experience, stay tuned for our upcoming blogs. For more information on Patagonia Sur Ecotourism, please visit their website.  For more information on the Patagonia Sur Portfolio properties contact Ruth Kennedy Sudduth at 617-357-0455 or rsudduth@landvest.com.