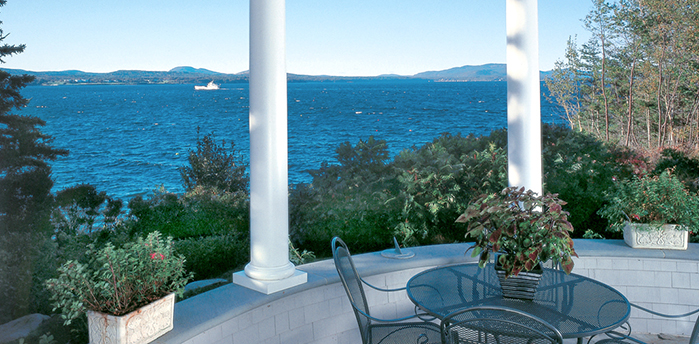 Owls Head, Maine is a tiny hamlet of only 1600 people.  Fishing and lobstering are still the mainstays of the town's economy. There's one general store, one post office where the postmaster calls everyone by name, and one elementary school. The small state park has a spectacular crescent beach and a few picnic tables in the woods.
The town's scale is governed in large part by its geography—the  entire town is on a peninsula bounded by Penobscot Bay, so its growth is inherently limited.  However, even while you feel like you're in your own world, this peninsula happens to be located right next to one of the coolest small cities in the country.
Rockland, Maine was developed in the early 1800s and has a long history with small industry including limestone quarrying, fishing, and canning.  In the last 20 years, however, Rockland's downtown has been totally revitalized, making it a destination for foodies and art lovers—all without losing its authentic Maine coastal character. Primo Restaurant was recently named a James Beard award finalist. One of the nation's best farm-to-table experiences, the restaurant is a destination for food lovers from around the country. Suzuki's Sushi Bar has also received national recognition and is one of the top sushi restaurants in New England. Don't miss the tasting room at Fiore, a gourmet olive oil and vinegar shop, or a cup of freshly roasted coffee at Rock City.
The Farnsworth Art Museum is most famous for its Wyeth collection.  There are dozens of excellent art galleries in Rockland. Catch a movie, the Met Opera live stream, or a live performance with a national act at the beautifully restored Strand Cinema.
This is all within easy reach, thanks to the proximity of Knox County Regional Airport which has three commercial flights to Boston daily in addition to charter operations. By the way, there's a remarkable transportation museum with an impressive collection of classic cars and airplanes just adjacent to the airport.)
We have a wonderful property listed right in the heart of Owls Head, on a private small peninsula that was developed with about a dozen other fine homes. Neighborhood residents all enjoy access to a tennis court, a substantial granite wharf, and a mooring field. This lovely residence offers beautiful views of Penobscot Bay and the Camden Hills, and it's only a ten-minute drive from the airport and the heart of downtown Rockland.
For more information on this property or other listings in the Camden area, contact
Terry Sortwell, tsortwell@landvest.com, in our Camden office.