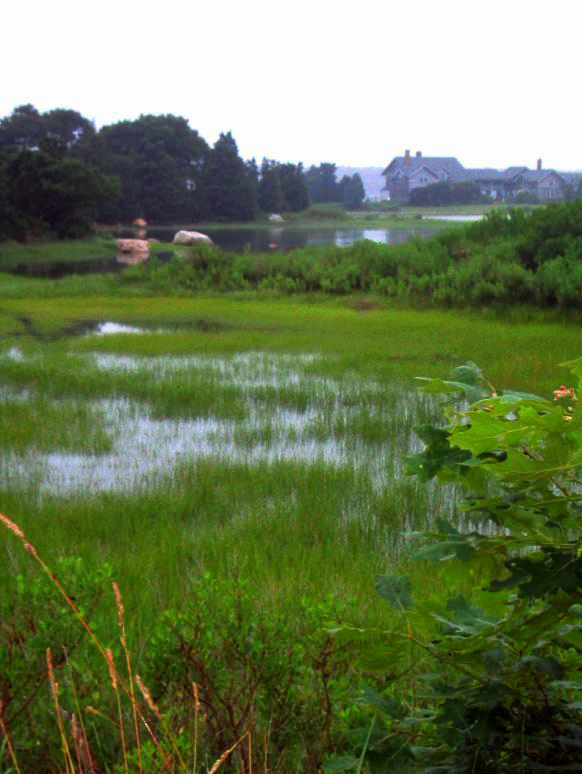 Our listing, Rocky Island, is a rare offering that "would be a magical family summer home for years to come."  Cape Cod Magazine called it the "ideal private home because of its unique layout, great location and classic charm." Current owner, Grace Bates, reflects on the paradise, magic and memories of Rocky Island in Cataumet Massachusetts:
First of all it is an island and no one else lives on it. It is special and magic. To get there one must meander between cedars and sea ponds on a little dirt road, built in the 1890s, which connects the mainland with "Swifts Lower Islands". "Rocky Island" is the outer of the two small islands. Go over the wooden bridge and you are there!
In 1891 the Winsor family bought all the land around what's now known as Winsor Cove in Red Brook Harbor. Robert Winsor, our great grandfather and his brothers flipped a coin to see which parcel would be theirs. Robert chose the outer island. Originally he built a small block shaped home, just in time for the birth of our grandfather, Alexander Winsor, in September 1894. On October 10, 1901 license was granted by the Massachusetts governor and the US Secretary of War permitting construction of a pile pier with float, a marine boat railway and a seawall, which would connect the north end of the sandy spit to the main part of the island. This area "could be filled solid". In 1897 after doubling the size of the outer island, Robert built the large portion of the "Ark".
Between 1900 and 1915 a boat house, a garage with apartment and a tennis court were constructed. According to accounts of that day, Robert's tastes were concentrated on comfort not lavishness, and his main interests were to educate his children and provide a natural environment by the bay for them to enjoy. Sailing, exploring the beaches and coves surrounding the island, playing tennis and hide and seek around "elephant rock"; his children made memories they never forgot. Robert's son Alexander and his family (including our father) would spend their summers on Rocky Island until 1931. The stock market crash of 1929 and the great depression followed. Our father would have been 5 years old when the house sold.
What followed is a succession of owners from 1931 to 1967. In 1967 John Winsor with the summer memories of his childhood intact, bought back the property; it has remained in the Winsor family ever since.
Summer memories – this is what Rocky Island is all about – memories of family and friends spending time together; it absorbs people. Here laughter and tears, fair play, living close to nature, being creative, beauty, beautiful sunsets, quality of light and air, uniqueness and being at peace are part of every moment. One former owner writes, "As a child I grew up there in the summers. It embodies everything in life that I value and sets every standard for family life – gracious living – health and well-being which I now hold dear". Another regular visitor comments about the magic of the house; "joy is the organizing principle of our days". And we have even received a note about a dog's enjoyment of Rocky Island; "It is dog heaven. Jo supervises the clamming every day"…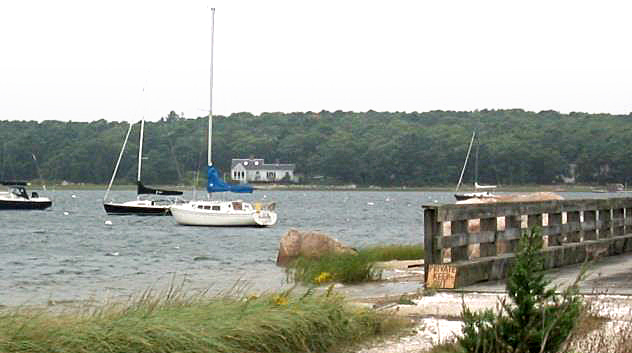 It has been a source of comfort and shaped the lives of every father, mother and child who has crossed over the bridge. Rocky Island is also a story about one of these children who returned to the island and has enjoyed sharing his beloved treasure with family and friends ever since.
_________________________
75 Winsor Road, Cataumet, MA
$3,900,000
For additional information on Rocky Island, contact Terry Boyle, (tboyle@landvest.com).
To see LandVest's additional Cape Cod listings, contact Stewart Young, (syoung@landvest.com).