MIDCOAST MAINE REAL ESTATE REPORT, MARCH 2013
We have begun the new year with a renewed feeling of optimism about the high-end real estate market in Maine. A slight increase in sales statewide, some robust activity in select regions, and a shift in media commentary all have us feeling more positive about the direction of real estate on the Maine coast.
The number of sales at the top of the market in 2012 was up, with the multiple listing service recording 151 sales of properties priced at $1,000,000 and above (vs. 125 such sales in 2011.) However, almost 80% of these sales were between $1,000,000 and $2,000,000; despite the increase for properties above a million, sales at the very top were down. There were only 8 sales of properties above $3,000,000 in the state, down 50% from the 16 sales recorded in 2011. LandVest was pleased to handle 4 of the 8 sales, including the top two in the state. There were no sales above $3,000,000 in the midcoast region from Boothbay to Blue Hill.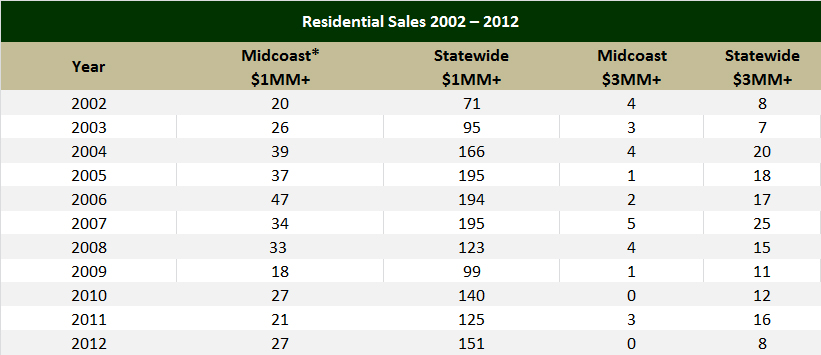 *Boothbay Harbor, Damariscotta, Newcastle, Bremen, Bristol, South Bristol, Friendship, Cushing, Owls Head, South Thomaston, Rockport, Camden, Vinalhaven, North Haven, Islesboro, Northport, Castine, Penobscot, Sedgwick, Brooksville, Brooklin, Blue Hill, Deer Isle, Stonington
Certain parts of the state experienced an encouraging upswing of activity in 2012. For example, in Camden and Rockport, there were 8 waterfront sales above $1,000,000, whereas there were just 4 in 2011, and only 2 in 2010. Many of these were properties that had been on the market for more than two years and that were originally listed for much higher prices. Some of these—most notably the sales on Camden and Rockport Harbors—were houses that will be substantially renovated or completely rebuilt. In many of these cases, prices had finally come to down to the point where buyers felt it was time to step forward and make an offer. This activity is a strong indicator that we truly have come off the bottom of the market, at least in this region.

This data is interesting to us not only because it provides a clear picture of what has happened in the Camden/Rockport market, but because we expect this pattern to eventually emerge in other local markets that are currently languishing. The towns of the Blue Hill peninsula, for example, have experienced a steady increase in inventory of available properties above a million. There were three residential sales last year above $1,000,000, and two sales the year before. There are 42 such properties currently listed for sale. Clearly demand is not keeping pace with the supply of available inventory, and it seems likely that it will take some significant reductions in price to begin to generate some significant activity. Sellers who have priced their properties properly for this market will find themselves ahead of the curve when demand begins to pick up.
Even while the improved activity is extremely localized, we are encouraged by it, and it lends further credence to the growing perception that that the real estate market is turning around.
We're also heartened by the media's shift in emphasis from depression/recession and housing collapse to growing discussion about the housing recovery, economic growth in general, and the fact that the stock market is approaching the highs of 2007. Furthermore, investors are making a shift from bonds—and the defensive position of capital preservation—to equities, indicating a sense of stability and a willingness to take on more risk. As investors' confidence grows, the real estate market should continue to keep pace
Overall, while the market for top properties on the Maine coast remains relatively quiet, there are definitely new signs of life and increasing reasons for optimism.
---
This entry is brought to you by Terry Sortwell and Shannon Thompson, who assist and advise real estate buyers and sellers of fine homes and estates and farms throughout mid-coast Maine.
Click to view more Camden, Maine (and surrounding area) real estate for sale.
Click for more information on real estate properties in the Camden, Maine area.