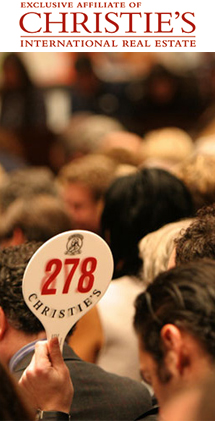 LandVest represents Christie's International Real Estate (CIRE) through much of New England, giving unique global reach and marketing firepower.  Christie's is the only real estate marketing network actually owned by a fine art auction house. Rather than franchising, Christie's affiliates with the proven leaders in each market. Christie's is the largest international real estate marketing network with 127 affiliated brokerages with 920 offices, 32,000 sales associates in 43 countries producing $100 billion in sales. Each of the member firms is admitted by invitation only.  The focus is strictly high-value with 85% of the properties listed at prices above $1 million and an average property price of $3.2 million.
Christie's affiliates are the thought leaders in the field of luxury real estate marketing evidenced by this latest white paper on the global luxury real estate market. Compiling demographic, economic, and real estate sales data from ten key markets, CIRE has created the Christie's International Real Estate Index, the first global tool to evaluate and rank luxury real estate markets.
LandVest is proud to be an affiliate of Christie's International Real Estate  in New England ranging from the Adirondacks and Northeast Harbor, Maine to Martha's Vineyard. We offer land planning and appraisal, conservation, timber marketing and management, and renewable energy and environmental valuation and marketing.  Current projects include  60,000 acres in Patagonia, Timberland Investment properties, horse farms, waterfront estates, and in town properties.
---



Learn more about  the New England luxury real estate market here  and see the latest issue of the 2012 Index tracking the high-end market from 2006 to the present.