The South Shore of Massachusetts is a geographic region stretching south and east from Boston toward Cape Cod along the shores of Massachusetts Bay and Cape Cod Bay. It is subject to varying descriptions but is typically thought to include municipalities in eastern Norfolk and Plymouth counties. For our purposes, we look at the region as all of Plymouth County (with the exception of the Buzzards Bay towns of Rochester, Wareham, Marion, and Mattapoisett), and including the coastal town of Cohasset, which is located in Norfolk County (map of South Shore market towns). South Shore communities typically feature parks and beaches, with multiple recreational and cultural options combined with a location that makes commuting to Boston convenient. Area features that appeal to both locals and tourists are: World's End, a 250+ acre preserve in Hingham; the South Shore Music Circus in Cohasset featuring a 2013 schedule with bands and entertainers like The Four Tops, The Beach Boys, comedian Ron White and many more; Nantasket beach in Hull; camping and hiking/biking in Wompatuck State Park; Duxbury Beach; and historic Plymouth and Plimoth Plantation to name a few of the area attractions.
ACTIVE LISTINGS AND SALES, $2,000,000+, Year-End, 2000-2012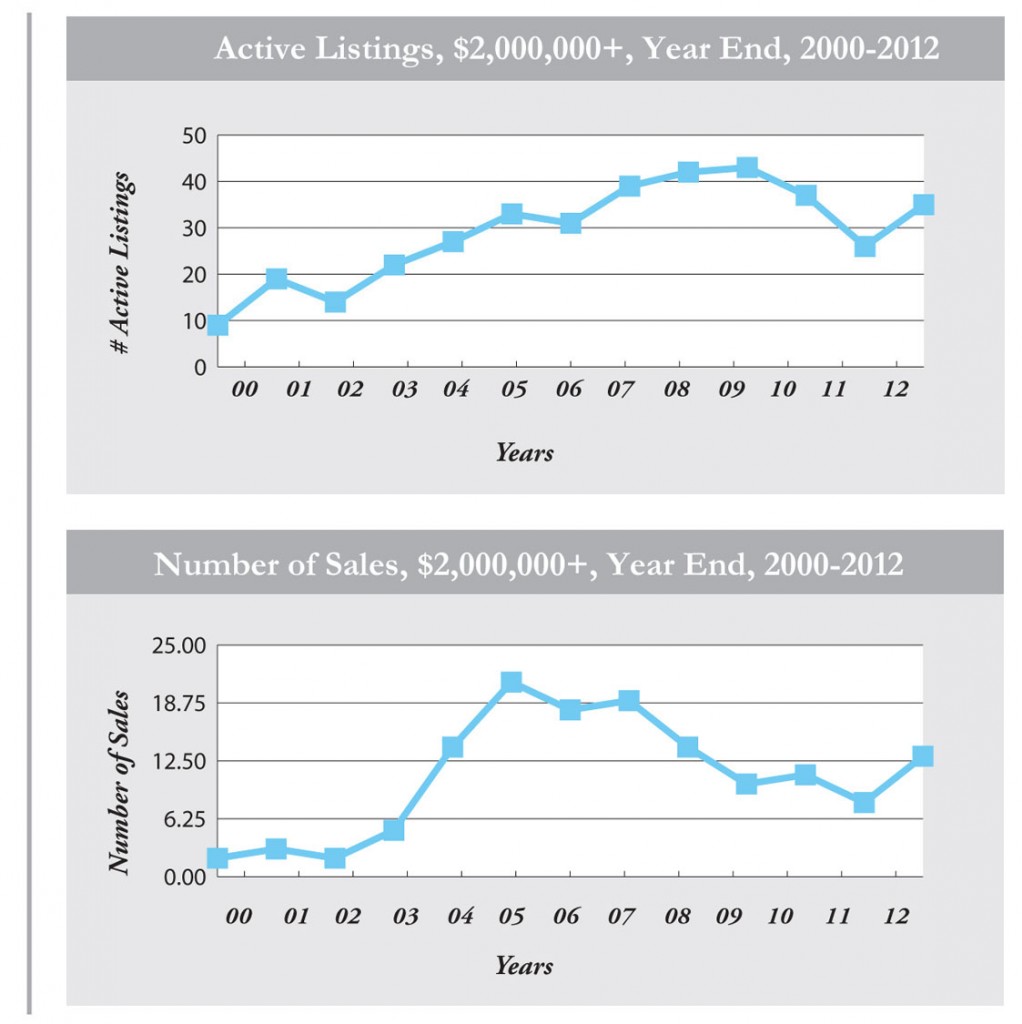 As predicted in LandVest's Market Watch, 2000-2011, Massachusetts South Shore high-end real estate rebounded in 2012.
LandVest observed the following trends in the high-end real estate market* on the South Shore of Massachusetts**. Since 2000, the market above $2M on the South Shore has been through 3-4 distinct market cycles. The 2012 data indicates that the market resurged – almost doubling the 2011 levels. On the South Shore pre "bubble" (2000-2003) there were between 2-5 sales above $2,000,000. In 2004 it jumped to 14, then set a record in 2005 at 21 sales. It then dropped gradually to 18 in 2006, 19 in 2007, 14 in 2008, 10 in 2009, 11 in 2010, and 8 in 2011. In 2012, the market jumped back up to 13 total sales.
*Land and home sales above $2M as reported by Massachusetts Multiple Listing Service
**Cohasset and all Plymouth County towns with the exception of Wareham, Rochester, Marion and Mattapoisett (we have covered those in the South Coast study)
HIGHEST AND AVERAGE SALE, $2,000,000+, Year-End, 2000-2012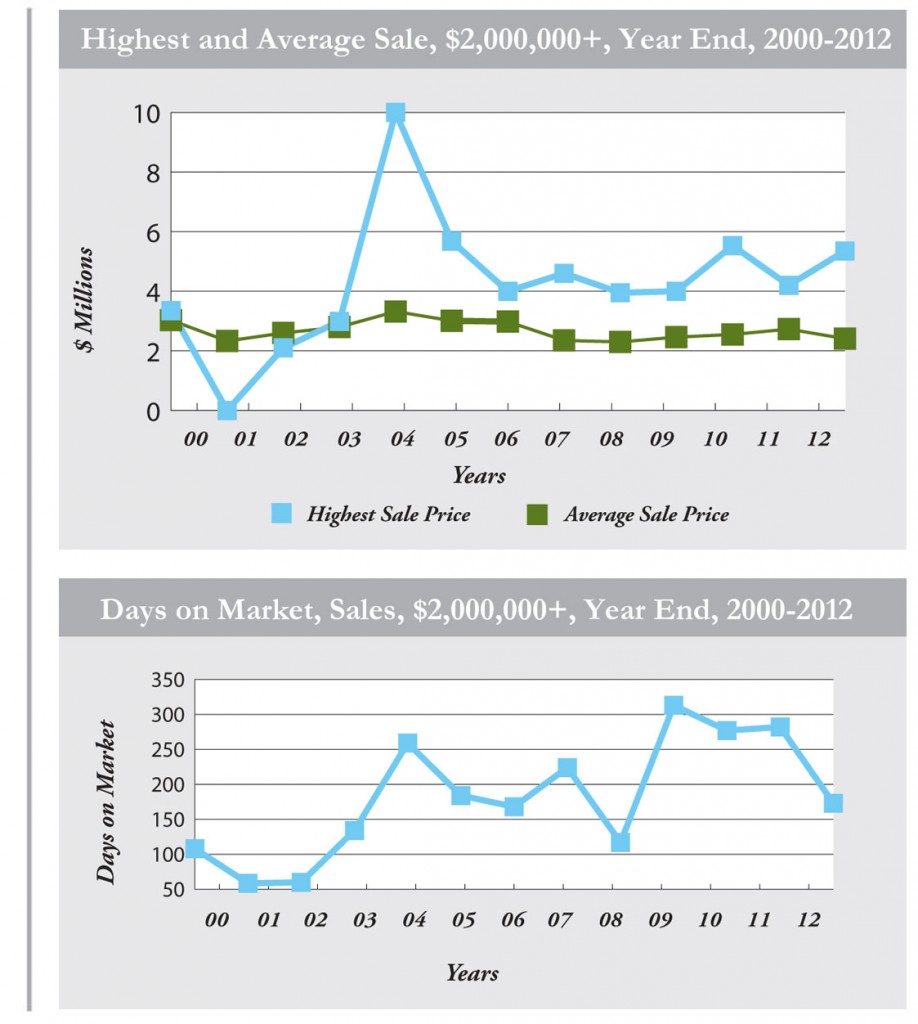 A bright spot for the high-end of the South Shore market is that the average days on market for sold property dipped in 2012 to 173 from 2011's level of 282. According to MLS, Terry Boyle of LandVest again set the record for the highest sale on the South Shore in 2012 (having previously set that record in 2011).  It was the sale of 63 Nichols Road in Cohasset for $5,350,000.
DAYS ON MARKET, SALES, $2,000,000+,
Year-End, 2000-2012
In 2012, inventory of available properties was lower than in 2011 for the first half of the year and higher for the second half of 2012, leading some to conclude that as the market strengthened, prospective sellers who had been waiting for the market to improve, finally listed their property during the latter part of the year. The number of high-end listings in the first half of 2012 compared to 2011, when compared quarter over quarter, was down anywhere from 6-10%. In the second half, listings increased over 2011 in the range of 33-34%.
SALES BY TOWN, $2,000,000+, Year-End, 2000-2012
Of the nine cities and towns of the South Shore of Massachusetts that have experienced sales above $2,000,000 since 2000, only four towns had sales at this level in 2012 (2 in Cohasset, 5 in Duxbury, 5 in Hingham, and 1 in Norwell). Over the period 2000 2012,Cohasset is the leader with 54 sales followed by Hingham (32), and Duxbury (29).

Overall, we are seeing a dramatic change in the volume of sales in the market over the past 12 months. This segment of the market has always exhibited a relatively low volume of sales but an almost 60% increase in volume is certainly significant. What we are still waiting to observe is whether the increase in volume becomes pronounced and leads to a corresponding uptick in values. So far this has not been the case as the high-end South Shore market is still very value conscious, with buyers only bidding on inventory that they can conclude is very fairly priced. Therefore, while we do not see any significant weaknesses in this segment of the market and believe that it remains very stable, we see no signs of dramatic upward movement either. With the financial markets improving and interest rates remaining low, we predict another modest increase in median sale price and volume in the above 2M market on the South Shore this year, with the potential for rapid growth of both sales volume and median price in 2014 and beyond.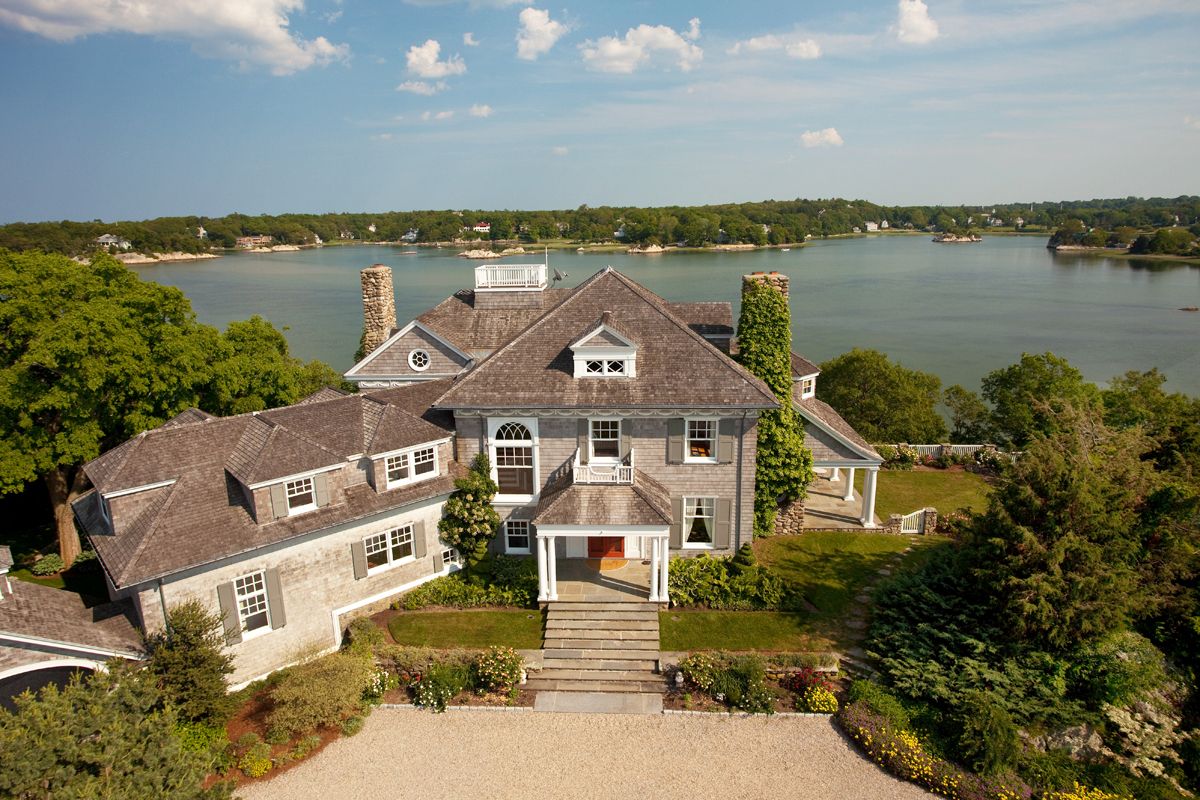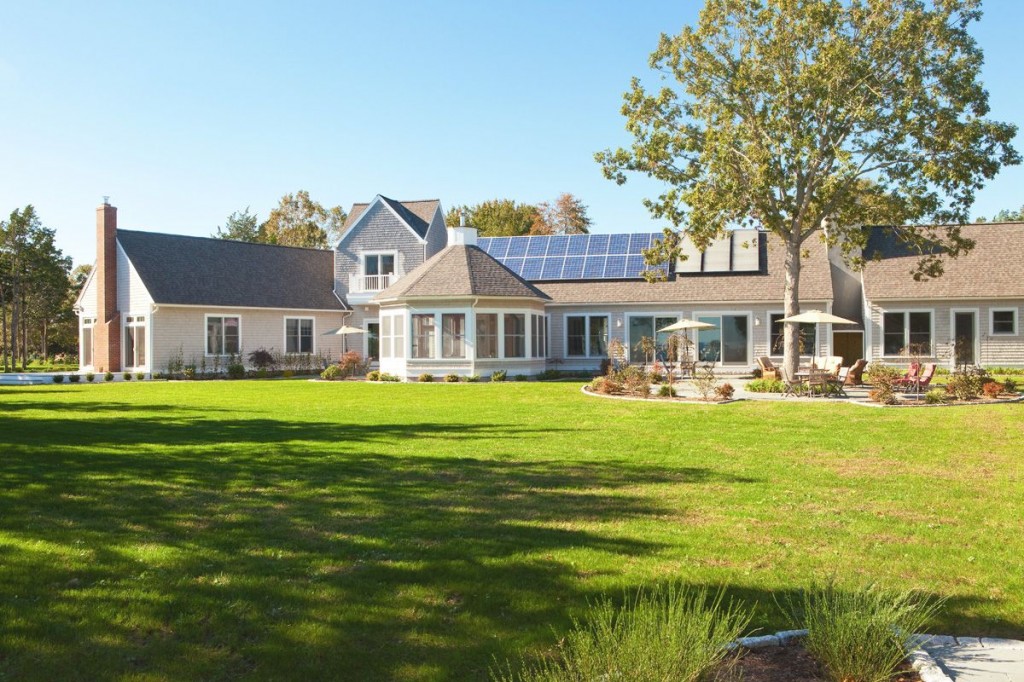 LandVest has a wonderful selection of listings on the South Coast with more in the works and there are always private listings percolating in the background. Check out our South Shore listings or contact Regional Director Terry Boyle, (tboyle@landvest.com), Sandy Olney (solney@landvest.com) or Nick Pratt (npratt@landvest.com) for additional information about LandVest's brokerage, real estate consulting, and appraisal services.
The LandVest High-End Market Watch is a periodic review of select high-end markets in Maine, Massachusetts, New Hampshire, Vermont and the Adirondacks. Market data is collected from Multiple Listing Services and does not include private listings. LandVest makes no representation as to the accuracy of the data and therefore is not responsible for any actions taken as a result of use of or reliance on this information.