Market Highlights
Record number of high-end $2,000,000 + sales, up 84% from 2011 and 4.5% above the peak in 2007

Cape Cod record sale of 17 Indian Trail in Osterville at $19,500,000. Overall the number of $5,000,000+ sales was about the same as last year.
Inventories are shrinking slowly, but still represent 2 years of absorption and 3 years at the $5,000,000+ level.
Strong performance in other high-end markets across New England suggests a return to a more balanced market,driven by significant price adjustments and pent-up demand.
Active Listings and Sales, $2,000,000+, Year End, 2000-2012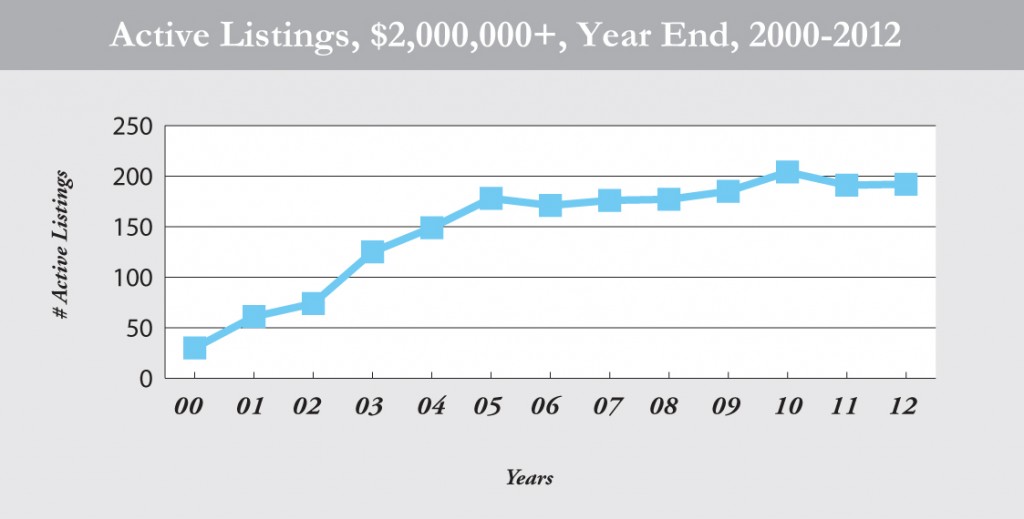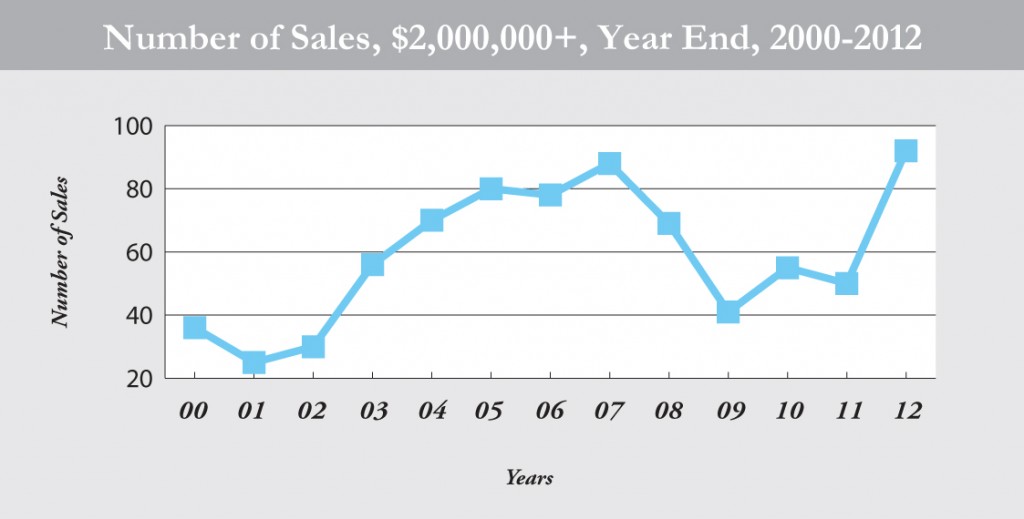 On Cape Cod, Massachusetts, the inventory of high-end listings remains high compared to previous years with 192 listings at year-end compared to 191 in 2011 and 204 in 2010. Typically the listing inventory grows through the first three quarters and then declines in the fourth quarter as sales are closed and properties are taken off the market. This year there were 265 active listings at the end of the second quarter and 257 listings at the end of the third quarter.
High-end sales boomed to record levels in 2012. At year-end there were 92 sales compared to 50 at year end 2011 and 55 sales in 2010. The previous peak level of sales at year-end was 88 in 2007.
For the past few years the Cape Cod market has underperformed compared to the peak years of the real estate bubble, but maintained a level of performance that was stronger than in the years before 2003. Feedback from leading Cape Cod brokers and LandVest's own recent experience confirms growing interest from prospective buyers in 2012.
Across New England LandVest brokers continued to report an upsurge in activity in our markets and signature sales throughout this year.
Highest and Median Sale, $2,000,000+, Year End, 2000-2012

In 2011 the very high-end on Cape Cod came alive with twelve sales above $5 million and this year kept pace with 11 sales. According to MLS the top sale was $19.5 million for the exceptional Mellon property on Indian Trail in the Oyster Harbors neighborhood of Osterville, surpassing the previous Cape Cod record of $12,500,000 set in 2006 for a property on Eel River Road in Osterville. Of the 11 top sales, 7 were in Osterville, 1 in Chatham, 1 in Woods Hole, 1 in Orleans, and 1 in Yarmouth Port.
The median value for high-end sales in 2012 was $2.7 million, about on par with median sale prices over the past decade. The high-end market on Cape Cod is predominately in the $2-$3 million range. During 2012, there were 92 sales above $2.0 million. Of these sales 57 of 92 (62%) were between $2 and $3 million and 77 of 92 (84%) were below $4 million. There were 2 sales above $8,000,000.
Days on Market, Sales, $2,000,000+, Year End, 2000-2012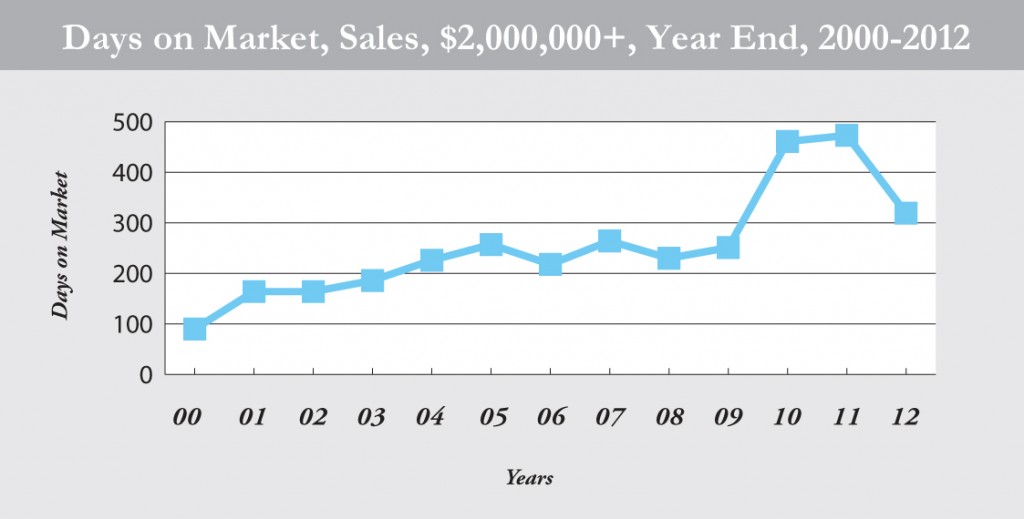 Days on market for high-end properties sold during 2012 decreased substantially to 319 days compared to a record level of 473 days in 2011. For 2000-2011, the average days on market ranged from 90 to 473 days, generally increasing over time with a significant jump in 2010. Hopefully, the decreasing inventory, growing demand, and competitive pricing will result in improving turnover in 2013.
Sales by Town, $2,000,000+, Year End, 2000-2012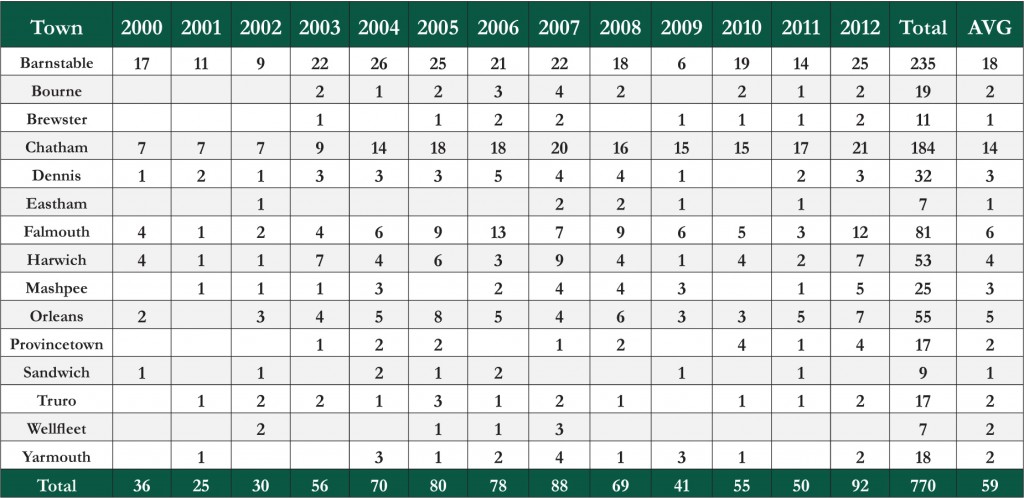 Starting around 2002 the high-end market on Cape Cod broadened as the perennial top markets were perceived as being too expensive and as buyers bid up the prices of special properties in other towns. Cape Cod towns with high-end sales in 2012 include Barnstable (25, 18 in Osterville), Chatham (21), Falmouth (12), Harwich (7), Orleans (7), Mashpee (5), Provincetown (4), Dennis (3), Bourne (2), Brewster (2), Truro (2), and Yarmouth (2).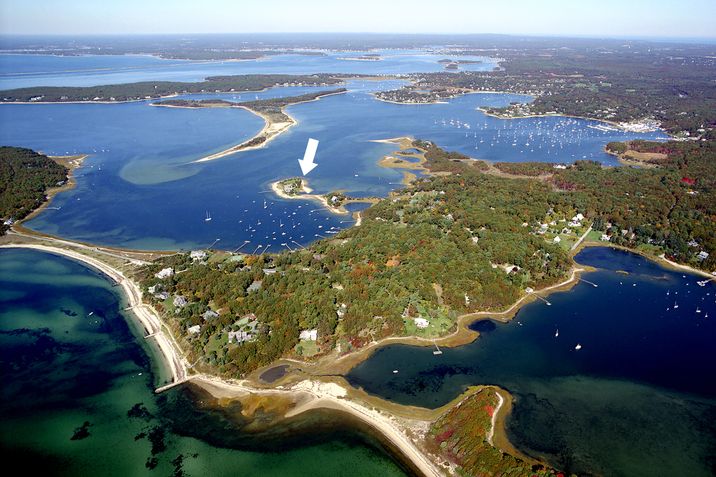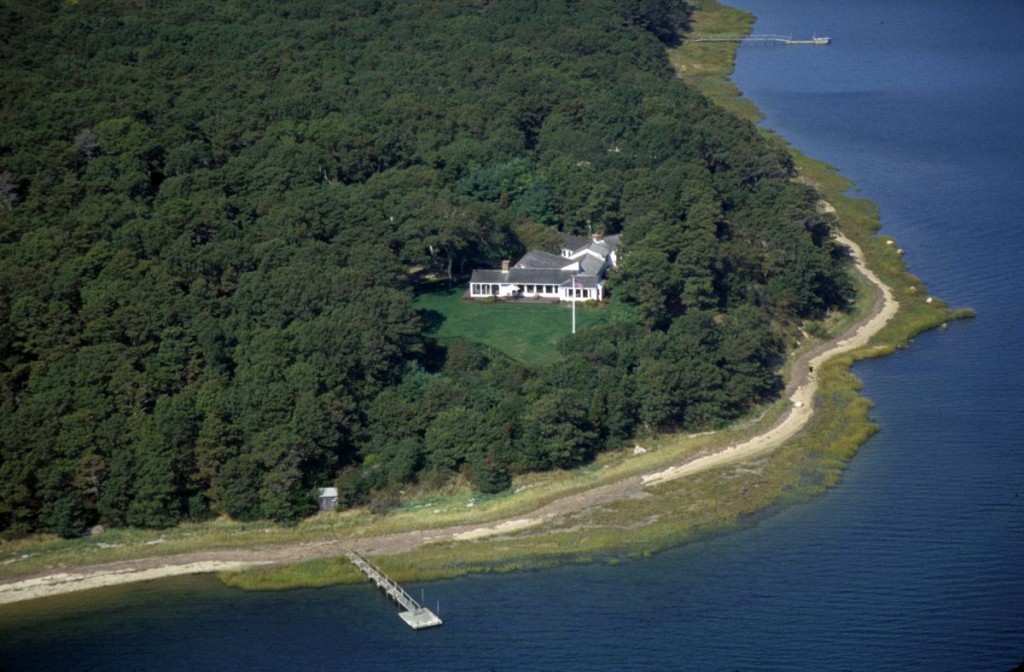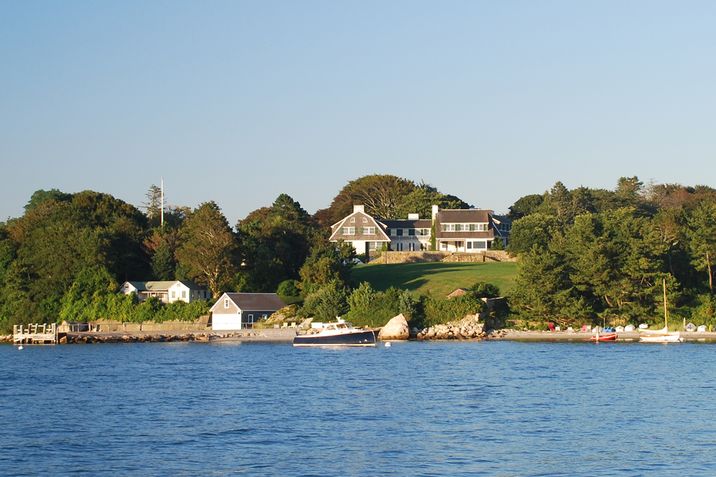 Cape Cod is internationally famous as a summer resort area and is increasingly popular for retirement living. It features miles of beaches, natural attractions, historic sites, art galleries, and four star restaurants and hotels. Outdoor activities include world class yachting, coastal and deep-sea fishing, numerous public and private golf courses, and a wide variety of other informal summer sports. The Cape is just 75 miles from Logan Airport in Boston, Massachusetts and T.F. Green Airport in Providence, Rhode Island. Executive jet services are available at the Hyannis airport and there are several other smaller airports. Cape Cod is divided into four regions: Upper Cape, Mid Cape, Lower Cape, and Outer Cape, each including several towns and villages. Upper Cape towns include Bourne, Sandwich, Falmouth, and Mashpee. Mid Cape towns include Barnstable, Dennis, and Yarmouth. Lower Cape towns include Harwich, Brewster, Chatham, and Orleans. Outer Cape towns include Eastham, Wellfleet, Truro, and Provincetown.
The LandVest High-End Market Watch is a periodic review of select high-end markets in Maine, Massachusetts, New Hampshire, Vermont and the Adirondacks. Market data is collected from Multiple Listing Services and does not include private listings. LandVest makes no representation as to the accuracy of the data and therefore is not responsible for any actions taken as a result of use of or reliance on this information.
For additional information about LandVest's brokerage, real estate consulting, and appraisal services,
please contact: