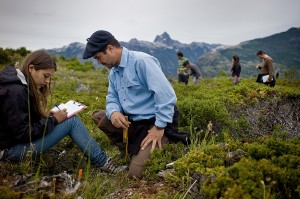 In addition to a spectacular portfolio of real estate for sale in Chilean Patagonia, Patagonia Sur also offers a unique opportunity to "go green" by generating carbon offsets through their Reforestation & Biodiversity Project, and selling them to individuals or companies who wish to compensate their carbon footprint.
Patagonia Sur has planted close to half a million native-species trees on its Valle California property in the Palena Province of Chilean Patagonia. Collectively, these trees are expected to sequester, or neutralize, a total of 235,000 tons of CO2. This is the first project in Chile to use native-species trees to generate certified carbon offsets.  Patagonia Sur's carbon offsets are accredited under the Verified Carbon Standard, one of the leading certifications within the global carbon management industry.
Ditec Automobiles, one of Chile's most important automobile companies, saw this project as an opportunity to not only reduce their environmental footprint, but also sponsor their own legacy forest in Patagonia.  For the past two years, Ditec has bought carbon offsets from Patagonia Sur to compensate the carbon emissions generated by the first 20,000 kilometers of every new Land Rover vehicle they sell. Each carbon offset represents approximately two trees planted by Patagonia Sur.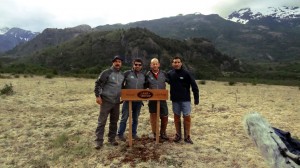 The Ditec team visited their Land Rover Forest in Valle California November 29-30, and invited the Chilean press to nationally broadcast their "green" campaign. They were able to enjoy the classic Patagonian ranch experience with beautiful views of the pampas and mountains, and ride with the gauchos up into the mountains.  Most importantly, they experienced the satisfaction of looking at the hundreds of trees in their forest, which are helping offset the carbon emissions of the vehicles they sell.
In addition to sequestering carbon dioxide, Patagonia Sur's Valle California reforestation program benefits the area's ecology by helping control soil erosion, strengthen native plant communities, reduce the number of invasive plant species, and improve habitat for the region's wildlife. Therefore, when clients like Ditec purchase a VCS-validated carbon credit from Patagonia Sur, they are able to achieve their own goals of carbon neutrality, while also ensuring the long-term preservation of one of the world's most remarkable ecosystems.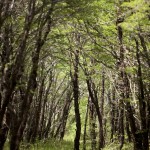 If you are interested in your own Patagonian adventure, Patagonia Sur offers fantastic custom-designed trips into two of the Portfolio's remarkable properties: Valle California and Melimoyu through The Patagonia Sur Reserves.  Guests who purchase one of the portfolio properties will receive a refund on their stay with Patagonia Sur Reserves .
Click for more information on the LandVest Patagonia Sur portfolio of Chilean Patagonia luxury real estate:  or click Ruth Kennedy Sudduth for contact info.