Menikoe Point
is a majestic and private waterfront compound situated in the coveted neighborhood of Falmouth Foreside, Maine.
The peninsula at Menikoe Point presents a beautiful Colonial Revival residence in an exquisitely designed historic landscape: an oasis, a park-like setting of expansive lawns, mature trees, flowering shrubs and formal gardens, a deepwater dock, anchorage, private beaches, and guest cottage.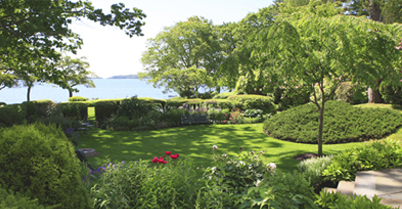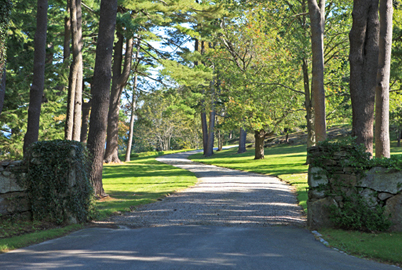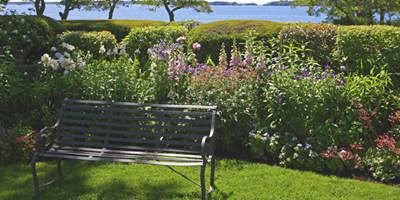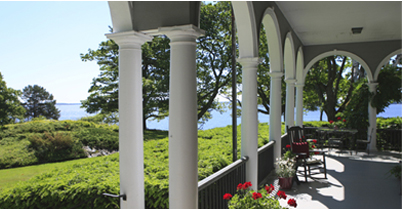 Charles H. Payson came to the Heron House with his family at Menikoe Point in 1920 and hired his niece Ellen Louise Payson, considered a pioneer of America landscape architecture and design, to create the early gardens.  At this time, landscape design (1890-1945) was heavily influenced by women, including the acclaimed botanist Annie Oakes Huntington (trained at the Arnold Arboretum), Beatrix Jones Farrand, designer of select Rockefeller gardens, Dunbarton Oaks and Mount Desert Island, Agnes Selkirk Clark, Ellen Louise Payson and others.
Ellen Louise Payson was born on November 12, 1894 to a prominent Portland family, studied at Waynflete School, Portland, Maine and graduated Walnut Hill School, in Natick, Massachusetts. After studies at the Lowthorpe School of Landscape Architecture, Gardening and Horticulture for Women in Groton, Massachusetts (later part of the Rhode Island School of Design), Louise joined landscape architect Ellen Biddle Shipman in the Cornish, New Hampshire practice. Continued studies were accomplished at Columbia University, New York.
It was Louise Payson who designed the stone pillar entry to Heron House, expansive tree plantings and at least two formal gardens at Menikoe Point. It is believed the European Linden trees were planted by and earlier owner, John Marshal Brown, c1901, after consultation with the Olmsted Brothers. The formal garden rooms positioned near the residence reflect existing plans from 1920. Stands of white, Japanese and Austrian pine, as well as native oak, rhododendron, creeping juniper, and azaleas create a private park for generations past and present. The mature grounds of today, the result of carefully selected and positioned plantings, is no accident of nature.
Margaret Payson, Charles Payson's daughter, lived here from 1920 until her death in 1985 and during her sixty-five years at Menikoe Point, Louise's landscape design and garden plantings would mature and flourish.
Margaret's detailed stewardship and loving legacy continues today with a renewed appreciation, by the current owners of Menikoe Point, a gift of magical proportions in the hurried pace of the twenty-first century.
The Menikoe Point neighborhood is four miles from Portland, eight miles to the Portland International Jetport, and 115 miles to Boston. Proximity to the Portland Country Club, the Portland Yacht Club, the cultural, business and transportation amenities of Portland enhances the quality of life on this exceptional property.
For further information, or to visit this property, please contact William Davisson in the LandVest Portland office, 207-228-0170 or at wdavisson@landvest.com.